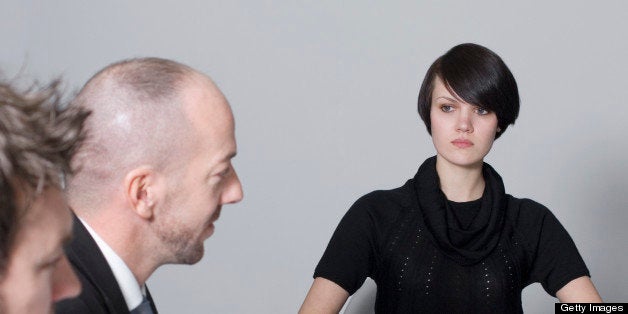 For many, the job interview is the most terrifying moment of the application process. It has caused countless qualified applicants to lose their cool under pressure, sometimes unraveling completely through vocal tremors and sweaty palms.
There's no denying that interviews are crucial in clinching most jobs -- and beyond the initial burst of adrenaline, nerves won't do you much good. Here are nine tips from career experts at colleges and universities across the country on how you can stay calm and give a confident, commanding interview.
1. Recognize why you're there.
Take comfort in the fact that you've been offered an interview at all. In many cases, this means you've already vaulted to the top pool of applicants.
"You wouldn't be interviewing for the organization if they didn't think you could do the job," says Sharon Givler, director of career services at Lebanon Valley College in Annville, Pa. "They want you to talk about your qualifying skills and experiences, but you wouldn't be there if they didn't think you had the basics."
"Be confident in your abilities," advises Nichole Lefelhoc, associate director of career development and internships at Mansfield University in Mansfield, Pa. "There's something about you that has already caught the interest of the potential employer. Think about these attributes and make sure you touch on them during the interview."
While you're preparing for the interview itself, don't forget to attend to the minutiae leading up to it. Doing whatever you can ahead of time will leave you with less to worry about on the day of the interview.
"Don't wait until the last minute to print out copies of your resume. You don't have many options left if your printer runs out of ink," says Ashley Strausser, associate director of the Center for Career & Professional Development at Otterbein University in Westerville, Ohio. "Lay out your clothes and do the ironing the night before. You don't want to pull your dress shirt out of the closet an hour before the interview only to realize it has a huge stain on it."
"A few days before the interview, drive to the interview location to figure out how long the trip takes and where to park," says Kim Heitzenrater, director of career and leadership development at Sewanee: The University of the South in Sewanee, Tenn. "On the day of the interview, arrive with plenty of time to spare. Wait in your car for a few minutes to breathe deeply and review your notes once more."
3. Practice interviewing.
A successful interview largely reflects the time you put in beforehand. You can and should hone your interviewing skills as much as possible.
"As with anything else, the more we practice, the more proficient we become," says Strausser. "If your voice trembles when you are nervous, conducting practice interviews will help you speak with more confidence. If you are unable to conduct a practice interview, then practice in front of a mirror, paying special attention to your posture, facial expressions and eye contact."
Your goal at the interview is to open up in a way that's captivating, flattering and honest. Long-winded responses can be hard to keep on topic. Organize your talking points in a way that will help you remember them.
"Reflect on the key points about yourself as a candidate you want to make during your interview," Heitzenrater adds. "Write these down and review them for several days leading up the interview."
Long-winded responses can lead to tangents. Tangents can lead to rambling. Rambling leads to even more nervousness.
To interview confidently, you will also need to demonstrate familiarity with the position and organization, and be able to articulate how you'd be a good fit for both.
"If you learn as much as you can about the company and position, you're less likely to be blindsided by a question or feel unprepared," says Lefelhoc. "Know the company's mission statement and think about how you would be able to contribute to this mission."
Doing your homework will also help you when you're confronted with one of the most common interview questions.
"You can expect to be asked whether you have any questions for the interviewer, and the only good response here is, 'Yes, actually I do,'" says Rob Liddell, director of career planning at Saint Leo University in Saint Leo, Fla. "Two or three insightful questions about the role or the employer can make the difference between getting a job offer and interviewing at another employer."
6. Step away from the mug.
You may think you need three cups of coffee to function but caffeine is not your friend during a job interview. Your adrenaline is already pumping fast enough and the added kick will do more harm than good.
"Avoid drinking caffeine before an interview to help prevent the 'sweaty palm syndrome'," says Desha Peacock, director of career development at Marlboro College in Marlboro, Vt. "Caffeine is anxiety inducing and can make you seem too chatty. Lay off the coffee before you head in for an interview."
7. Smile like your job depends on it.
During the interview, make sure you keep things positive and enthusiastic. This means not just giving upbeat responses but actively fostering the impression that you're an affable, compassionate person anyone would be lucky to work with.
"Smile!" Givler stresses. "Positivity and energy are initially conveyed in your facial expression. Let the first impression your interviewers have of you be the warmth that flows from your countenance."
8. Be an active listener.
While it's always beneficial to rehearse an interview beforehand, it's just as important that you stay actively engaged during the interview. Taking time to listen will give your body and mind a break from being on the hot seat where it feels every nuance is being detected.
"When asked a question, be careful not to simply recite a scripted response," says Liddell. "Actually listen to the question being asked and make sure you understand it before giving a response. Most professional interviewers, when surveyed, report that the most memorable interviews are the ones they recall as conversations more than interrogations."
Just as it's important to begin your interview with energy and enthusiasm, it's also important to carry that forward to the very end. Depending on the length of the interview, this can pose a difficulty if you're not adequately prepared.
"It's not uncommon for employers to ask candidates to come in for half-day or even full-day interviews, in which case you must sustain your energy," says Peacock. "Prepare yourself by getting a full night's rest, drinking plenty of water and eating a protein snack beforehand."
Most of the time, breathing is an involuntary act. We're even able to do it in our sleep but for some reason, many interviewers forget this basic necessity of life and it only makes matters worse.
"When we're stressed, we tend to take quick and shallow breathes," says Lefelhoc. "A deep and full inhale and exhale brings more oxygen into the blood and serves as a natural relaxant. When we're relaxed, we can think more clearly and give more thought-provoking responses to the interviewer."
Calling all HuffPost superfans!
Sign up for membership to become a founding member and help shape HuffPost's next chapter