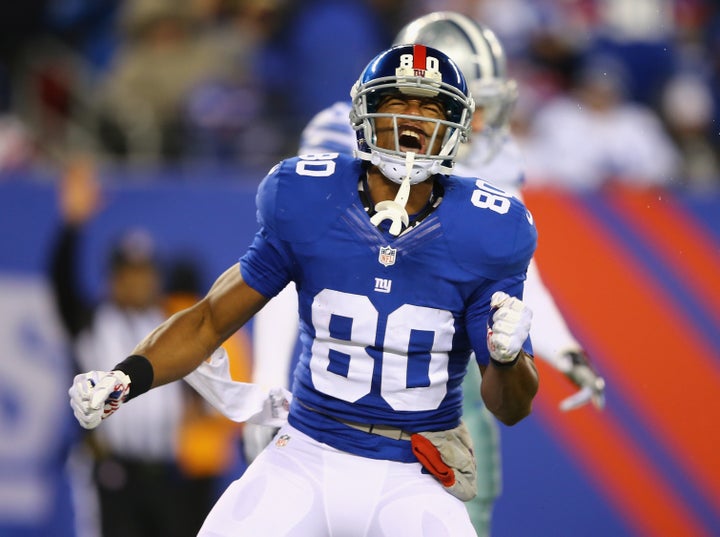 The trappings of success surround Victor Cruz as he sits in a private room in the basement of Manhattan's Crosby Hotel. Amidst recent professional and personal turmoil, Cruz still appears serene, ready for the night ahead. The luxurious furnishings and trim of such hotels are now common to the New York Giants Super Bowl winner, but it's a far cry from his tough upbringing just across the Hudson River in Paterson, New Jersey. Things have done changed.
Boxes of his first signature sneaker with Nike neatly line the doorway, ready to be given out to famous friends and family. Just outside, a small cocktail party for a screening of his upcoming Showtime documentary, "I Am Giant: Victor Cruz," which will premiere this Friday, is kicking off, but the jovial atmosphere has yet to infect Cruz. One could mistake his calmness for moodiness, given a rash of injuries that've kept him off the field since last October.
Speaking to The Huffington Post in advance of his documentary screening, Cruz dished on the need for higher NFL salaries, his relationship with LeBron James, how he uses meditation to keep his head straight and much more.
I need to ask you, as an NFL wide receiver who's had a tricky NFL rule named after yourself: What's a catch?
A catch is when a receiver gets two hands on the football and gets tackled to the ground and continues to have the football in his possession.
Have you been at all confused by plays where it sure looks like a catch, but according to the league's complicated rules, it's suddenly not an official catch?
It's a lot of back-and-forth. There is a little bit of confusion. I'd be lying if I said there wasn't. As an athlete, all you can do is control what you can control -- how you catch the football, the way you catch it, making sure you have it all the way to the ground. There's a little bit of confusion, though, especially in the end zone when you cross the plane or you don't cross the plane, or coming down with the football.
Would you like to see the NFL do something to make the rule simpler and clearer?
Just make it arbitrary. Give us one rule, the way it is, and judge everything off of that. You can't go making a rule one day and then, the next day, you make an alteration to that rule, and make another. We need one arbitrary rule to stick to and then go from there.
Thinking back to the preseason game against the New York Jets in 2011 that saw you explode onto the scene and earn a roster spot: How can you explain it, looking back over three years later?
I can't, man. Everything that I worked hard for -- all the days of playing catch in the backyard and coming up the ranks and wanting to get an opportunity to show how good I can be on the main stage -- I think it just overcame me. It overcame my body. It overcame my mind. I was just so focused and locked in on the football. I've had phases of that throughout my career, but to have that first one and really be dialed-in the way I was dialed-in, it was amazing.
Have you ever been dialed-in like that again?
The Super Bowl, I was dialed-in like that. There have been many games where I'm dialed-in that way. Certain games, you have different energy levels, but there's been a lot of games where I've been really locked in. When you see the ball, it's like a basketball being thrown at you, so you're catching everything.
From an outsider's perspective, you'll be 30 at the end of next season and already have a $15 million guaranteed contract and a Super Bowl ring. What's the motivation to truly come back from this recent injury?
My teammates. Guys like Odell and Eli Manning are great players that you have the luxury of playing alongside with. Those are the things I want to continue to do. I want to continue to win more Super Bowls and as many games as possible. But those moments with your teammates, you can't get back. Those moments on the field, in the locker room, on the road, plane, bus -- you can't get those moments back. You want to strive through those moments and create them to cherish for the rest of your life. Those are the things I look forward to.
Speaking of your teammates -- do you think players should be paid more because of how short and violent NFL careers can be, as your teammate Odell Beckham Jr suggested last May?
I agree with him. The pay scale is up to whoever -- I don't do numbers, so the pay scale is what it is. I do feel like we should at least have guaranteed contracts. Contracts that provide us with mental security for our families and physical security. To be given something one day and never know if that can be taken away from you, whether it be through injury or with the team.
Whatever the case may be, you want to have security for all of us. I think because of the violence and the short time span of this game, you want to be secure in the things you do financially.
I read that you actually pitched the idea for this film to Showtime, not the other way around. Would you say you're empire-building, in regards to your brand right now? Between your Nike signature sneaker release and your charity, I can't think of another active athlete who's not even playing right now, but still being this busy.
The goal is to build something that's strong and can live beyond football, that can live beyond the game and continue to keep you in a position that you want to be in monetarily, for your family, because you have people that look up to you for guidance in every aspect of their lives.
And for the culture. The culture of football, the culture of fashion, the culture of the sneakerhead. You want to continue to push the envelope on what the culture is and what barriers you can continue to break down. You want to build an empire that's so strong and lives in different areas fruitfully.
Does it affect you emotionally when fans question your football commitment because of the off-the-field ventures you take on?
No. I know who I am inside and the person I am. These quotes and these things that happen on social media, it's just fans venting their frustrations. If I was a fan, I'd vent mine too, because I'd want to see my favorite player out there on the field helping my team win.
It's something I battle with. I don't want to make it seem like the off-the-field ventures have overshadowed my football career, because that's not my intent. My intent is to be a football player first and have these off-the-field obligations come off of what happens on the football field. It's hard to juggle, but you have to stay true to yourself.
I've found that that sort of problem goes away with winning and success. Your film's executive producer, LeBron James, is perhaps the ultimate example of that. How has your relationship gone from him tweeting about you after that breakout preseason game against the Jets to now him being involved with your documentary?
He's been incredible. For me to be able to even have conversations with him and really pick his brain on certain things ... He and his team over there have been fantastic with the documentary and helping me throughout. Not just with the documentary, but they're friends [of mine]. They help me through my process in life and everything.
I'm excited to have him a part of this. He wouldn't attach his name to something he didn't think was something amazing and up to the same caliber of things that he does. I'm ecstatic that he has that type of [thinking] about me and my brand and my life.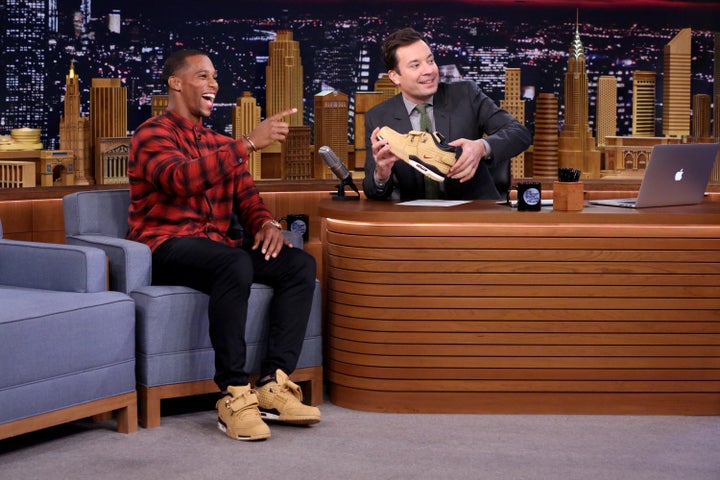 What are some of the insecurities that have haunted your mind since the injury?
Just being able to come back and be the same player. You see guys get hurt, come back and they're a shell of themselves. I wanted to really go out and be me again, but early on in the recovery process, those questions naturally enter your mind. How good are you going to be? How am I going to be good? Those question marks definitely enter your mind.
How do you handle the mental stresses that those insecurities create?
Meditation. I've really gotten into this form of meditation a friend of mine put me on to. It's really been beneficial. It's called mantra meditation. You're given a mantra and you repeat that mantra in your head with your eyes closed for a duration of time. It allows you to clear your mind and answer those questions internally about how you're feeling about different things you may be facing.
It'll surprise you, the things you think about in this state. I've thought about things from when I was 6, 7 years old. It helps me keep a level head and stay honest with myself and understand where I want to go in my life.
What's your mantra?
I can't tell you. [Laughs]
There have been so many extreme peaks and valleys, from getting kicked out of college the first time to winning the Super Bowl. What have life's ups and downs taught you?
To stay diligent. To stay focused on the prize. No matter what things you go through, there's always light at the end of the tunnel. You just have to continue to inspire yourself to reach that end. Of all the ups and downs I went though, I never lost faith in what I wanted to accomplish and achieve at every level. Every level, I had a set parameter of what I wanted to accomplished. I accomplished those things, but obviously the path wasn't the easiest. The biggest thing is that I finished.
Coming from a complete unknown in football at every level to becoming an All-Pro, you've also collected plenty of titles. You're a Super Bowl winner on the field, but people have also called you a "fashion icon," "designer" and "ambassador." How does one stay true to themselves, stay true to your roots in Paterson, New Jersey, when others are calling you things that you've never heard or faced before?
Essentially, that's what has attracted people to give me these titles. To be this person that inspires children and others, because of how I was raised and where I come from. All of these different moments and accolades throughout life have changed me and molded me into the person I am today.
There's never been something that I've done that's out of character or out of something that I didn't love or have a passion for. Everything that I've done has been through the trueness of where I came from in my heart and what I believe in. If you put positive things out there, positive things will come back to you.
This month has been, like so much of your life, a series of serious ups and downs. One of the biggest pieces of news, however, was the text message your fiancée Elaina Watley allegedly sent to you and other women. Elaina plays a really big, supportive role for you and your family in the film. Can you confirm the authenticity of the alleged text?
I don't have any comment on any of that stuff.
This interview has been edited and condensed for clarity.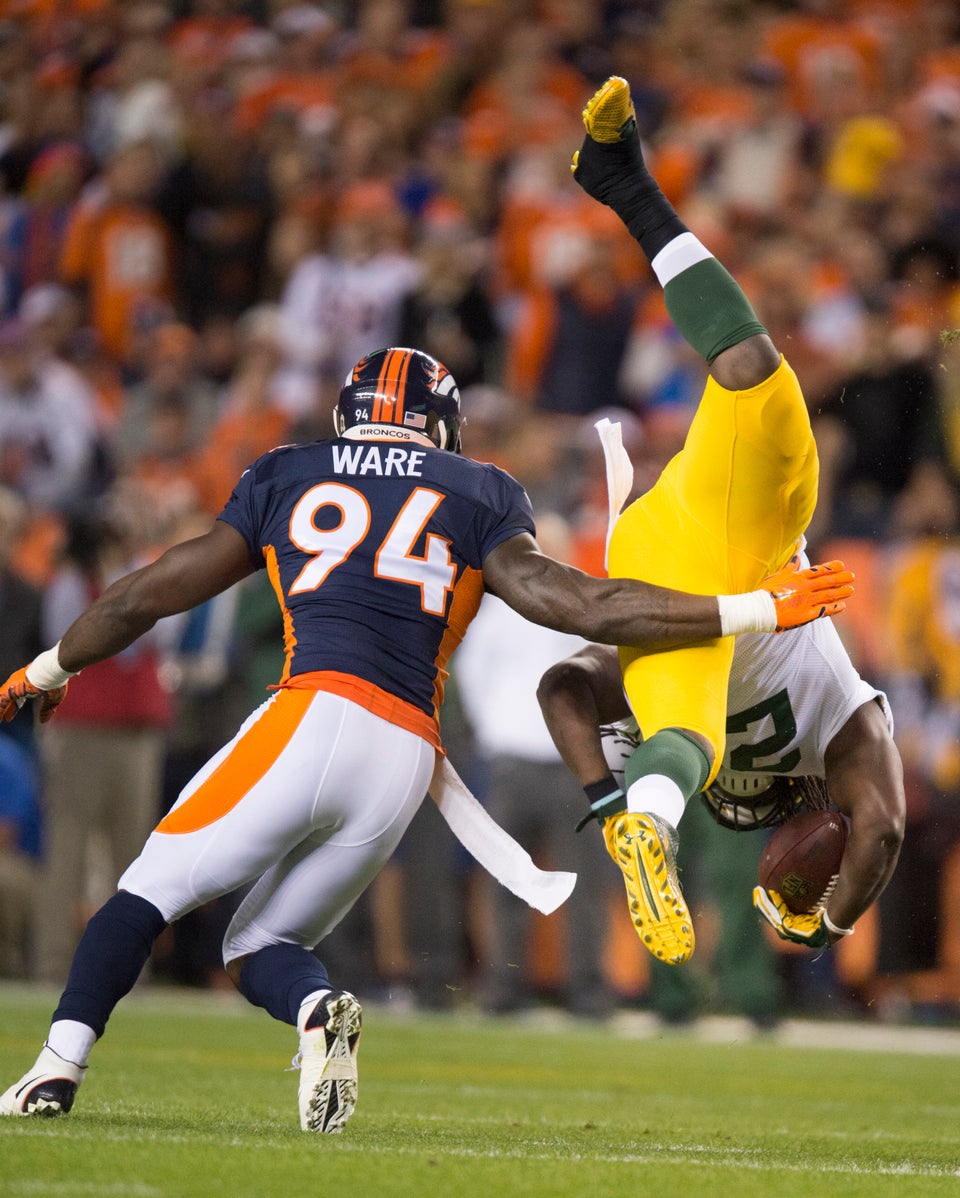 Amazing Photos From The 2015 NFL Season
Related
Popular in the Community