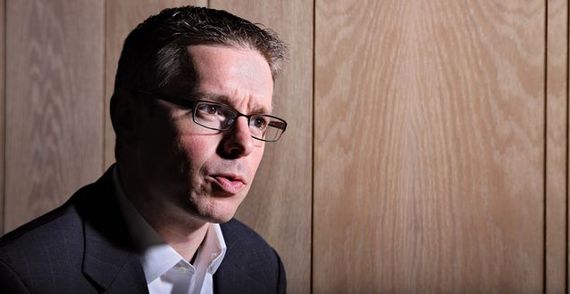 Photo: Matthew Glotzbach

Quizlet's Next Chapter

I recently had the opportunity to chat with Matthew Glotzbach, CEO of Quizlet. We discussed his professional path to Quizlet's top position, his vision for how to transform the education giant into something distinctive and his advice to aspiring entrepreneurs.

1. After working at one place for so many years, you must have become accustomed to a strict routine. Transitioning to a new job must bring many surprises. What surprised you the most about working at Quizlet?

Although I worked at Google for 12 years, I had the opportunity to work in different roles and with different teams throughout that time, so the routine has been more varied than you'd think. So, I wouldn't say I was surprised, per se, about these things at Quizlet, but I can definitely highlight some of the things have really stood out in my first few weeks.
Firstly, the passion and energy in the Quizlet community is inspiring. People all over the world, every age and from all walks of life use Quizlet to study and learn. There is a continuous stream of feedback in the form of tweets, posts and comments from people who use Quizlet and actively share how Quizlet has helped them learn new things, achieve greater success in class and increase their motivation to learn.
Next, the Quizlet team is composed of very talented people. We are all focused on our mission of harnessing the world's knowledge to help everyone reach their learning potential. In addition to that, they are a technical and business powerhouse. It's amazing to see how much our small and growing team is able to accomplish on a daily basis.
Lastly, the speed at which we can make decisions and act upon them is phenomenal. The benefit of a smaller organization, made up of passionate people, is that we can chart a realistic course and deliver on it quickly, while constantly assessing the landscape and adjusting accordingly in real time.
2. What are some similarities you've seen between Quizlet and YouTube?

There are so many analogies between Quizlet and YouTube, and in fact that is one of the things that drew me to Quizlet. I believe that Quizlet can do for learning and education what YouTube has done for creativity and video. Quizlet is uniquely positioned as a peerpowered learning network and, like YouTube, its content is all user generated. It's a viral application that spreads through word of mouth and people feel compelled to tell their friends about it. YouTube removed the gatekeepers to creativity and gave everyone a voice, and Quizlet is enabling this as well, allowing anyone to leverage the world's knowledge to learn something new. The opportunity is immense, and I look forward to Quizlet's exciting future.

3. What are your hopes for Quizlet? Where do you envision the company to be in five years?

Given the pace of change with technology and society, it's difficult to predict what things will look like five years from now. What I'm focused on at Quizlet is to help people reach their learning potential on a global scale. We will continue to expand globally, making Quizlet available in numerous languages and launching in as many countries as possible. We are creating a platform for users to contribute learning material in the form of study sets, and we have over 140 million sets created to date. I plan on expanding Quizlet's content model to allow users to learn across more subjects and more modes of study. We will continue to build new and enhanced study modes to deepen the learning experience for our users, helping them learn and remember core facts and concepts in order to apply this to their learning.

4. Quizlet Live came out in April 2016. Are there any other exciting new initiatives or programs you plan to start at Quizlet?

Quizlet Live has been a huge success and I'm excited to see more students and teachers benefiting from Quizlet in a collaborative and fun way. We've got a lot of exciting new features in the pipeline, but nothing to announce at this time...so stay tuned.

5. What excites you the most about your new position?

I'm excited to be working at the intersection of consumer technology and learning, especially since the space is really energized right now. It's also great to be in a role where I'm learning so much from a dedicated group of amazing people, and I'm honored to get to work with each of them.

6. What was your journey like to get where you are now?

I studied mechanical engineering at Cornell, but my career began in the software industry. I got my start in product management at Trilogy, Inc., and liked the experience of working in the intersection of technology and business. I joined Google in 2004 and helped build the Enterprise business (now Google for Work), and led the product team that built Google Apps and helped usher in the cloud-computing era.
In 2011, I transitioned to YouTube and first led our operations in Europe, the Middle East and Africa (EMEA), and then led various product initiatives, including the Creator Facing Products. More recently, I built YouTube's subscription business, YouTube Red. Throughout my career, I've sought opportunities to build new businesses leveraging great consumer technology and I've also been fortunate enough to work with strong managers and mentors who've taught me valuable skills that I continue to use today.
7. How do you feel that your time at Google prepared you for your current position as CEO at Quizlet?

Google believes in empowering people to build great things and having a tremendous impact on our society. The role of product management is often compared to being the CEO of your product, and in my time at Google I very much felt that. With Google Apps, I had the opportunity to shape the product and business from the ground up, much like a startup. More recently, with YouTube Red, I had the full responsibility of building YouTube's first subscription business at scale, and was accountable across all aspects of this initiative. I've been fortunate and successful at leading, managing and building strong teams, which has prepared me for my new role at Quizlet.
8. What is your philosophy about your work? What is your ultimate goal for Quizlet, or any business you may become involved with in the future?

Simply put, my goal is to impact people's lives, and society as a whole, in some meaningful way. I also believe that my work as a leader and manager gives me the opportunity to help those around me grow in their professional pursuits. I like a quote from Clayton Christensen's How Will You Measure Your Life?, where he says: "Management is the most noble of professions if it's practiced well. No other occupation offers as many ways to help others learn and grow, take responsibility and be recognized for achievement, and contribute to the success of a team."
I really believe in the importance of a team, and feel that it's my job to create a positive environment at Quizlet where everyone can be their best self and have the largest possible impact.
9. You are passionate about causes involving children and education, and you've also expressed interest in the environment. How do you incorporate that angle into your work?

Room to Read gives me perspective on what we are doing at Quizlet that is beyond our users of today. The children that Room to Read reaches are children that would not get an education without this amazing organization that gives them opportunity to stay in school and achieve the next level of education. Those kids may not have access to Quizlet yet, but we are going to be ready for them when they do.
10. Looking back, would you do anything differently in your career? Did you ever fail at something, and what important lessons did you learn from that?

I'm thankful for the great opportunities I've experienced throughout my career, and they certainly weren't mapped out; nor did I make strategic steps along some predetermined path. Instead, I put myself in situations where I was surrounded by talented people that I could continuously learn from and always tried to be open to new experiences. I've certainly had my fair share of failures, both big and small, but the most important thing I've learned is that setbacks are just lessons in disguise.
11. Do you believe there is some sort of pattern or formula to becoming a successful entrepreneur? What is the most important attribute an entrepreneur needs to be successful?

I think there is a simple pattern: 1) lots of hard work and perseverance, 2) an open mind and a growth mindset with a willingness to take risks and see obstacles and failures as learning experiences, 3) and the ability to enjoy the journey.
Popular in the Community