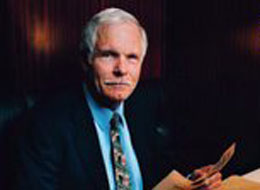 Nobody tells Ted Turner to shush, and that goes double for his publicist. While being interviewed by Wil Hylton for GQ's 50th anniversary issue, the mouthy media billionaire had the following choice words for his flack after being reminded of his time constraints:
PUBLICIST: We have eight minutes left.

TURNER: ALL RIGHT! SHUT UP!

PUBLICIST: So move on to other topics.

TURNER: I DON'T NEED YOU FOR THAT! YOU'RE JUST AN OLD PUSSY! YOU'RE JUST AN OLD PUSSY! YOU'RE JUST A LITTLE MOTHER HEN. [in falsetto] "WE'VE GOTTA DO THIS! WE'VE GOTTA DO THAT!" [back to regular voice] THIS IS IMPORTANT! THIS IS MORE IMPORTANT!
Clearly not one to be muzzled, Turner also flouted his publicist's request not to be asked about anything "negative" -- i.e. Bush, the Iraq war ("This is Rupert's war") -- and extended the interview three times to sound off on a number of different issues, including:
The Iranians don't intimidate! They're like the Vietnamese and the Iraqis. You want to start a war with them? They'll still be fighting in fifty years! They believe if they die in warfare, they get forty virgins in heaven. The Christians don't get that! We have more incentive to live, because we don't know what we're getting, you know? Our idea of heaven is lots of hymns, and theirs is lots of sex! The risk-reward thing is skewed the wrong way.
I lost 80 percent of my wealth and then gave away over half of the rest. So I'm a man of modest means now. But if you budget carefully and watch your expenditures, you can get by on a couple billion dollars. You know, you don't have to have twenty billion. You can squeeze by with a couple billion.
The sad thing about destroying the environment is that we're going to take the rest of life with us. The bluebirds will be gone, and the elephants will be gone, and the tigers will be gone, and the pandas will be gone. I don't like the idea of losing pandas or crocodiles or alligators. I just...you know, I think they're cool. I like snakes. I like hummingbirds. There's nothing on earth I don't like. Frogs. Salamanders. The bunnies, the giraffes, the hippopotamuses.
Related
Popular in the Community