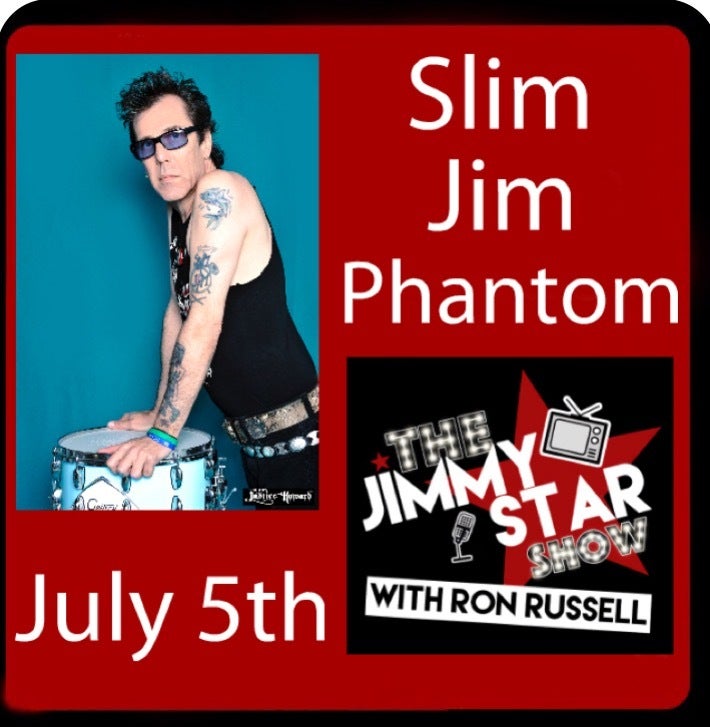 Slim Jim Phantom, best known as the drummer from "The Stray Cats", the super rockabilly band that stormed the 80's will be appearing on the largest internet TV/Radio show in the world, "The Jimmy Star Show, Featuring Ron Russell", on Wednesday July 5th at 3:00 pm. To tune in on your phone, iPad, or lap top go to: www.w4cy.com and hit ITV button at the top to watch.
Phantom has recently released his book entitled, "A Stray Cat Struts: My Life as a Rockabilly Rebel". In it he recalls his memories of his rise to fame with Long Island friends and band mates, Brian Setzer and Lee Rocker, and their signature sound that carried them to Rock 'n' roll stardom. From being homeless and hungry they became one of the most listened to bands almost overnight. He has also just recorded a tribute to his best friend, "Lemmy".
I spoke to Jim about the book and the new record, and exactly what he's been up to...
So what have you been up to since we last spoke?
I've been to Australia, I was in Texas, Europe, Japan....just doing some gigs and keeping it all together. I've been doing a lot of satellite radio shows for the book. The next book I'll do better, now I know the game. It's exactly like the music business. It's even a little more corporate to be honest with you. I thought it would be a little more artistic. My book has been out for 8 months now and just yesterday I did the Jillian Barberie show. It's big here in LA.
From this conversation I take it that you will be doing another book?
Well I want to. There are so many stories I forgot about. I think now that the foundation is laid...I have a lot of funny stories, like "All American", Billy Baldwin, I remembered a lot of stuff growing up. I was just back in Long Island, days ago.
Do you like the book signings?
I like doing them. I did one in New Jersey, but it was more like a convention. I sold 3 boxes of books there. I could do that all day long. It's easier physically than hiring a bass player. I'm kind of happy, the book is a really nice package. When you give someone that book it's very, very impressive. Very nice paper, a very nice cover...
Your going to be on the Jimmy Star Show with Ron Russell.
Yeah. I thought it was only audio but it's video too.
It is and you will have a lot of fun. You can put your little dog on your lap and he'll be famous. What's his name?
His name is Bandit. He's a little black dog. I take him everywhere with me so he's known around here.
I wrote a song, a tribute to Lemmy. I got a guy from the heavy metal world, and I pressed 500 singles, which all sold. It's on iTunes. The band is called, "Head Cat", like Motörhead and Stray Cats.... Lemmy and I had our side bands. So that just came out a couple of days ago, and everyone likes it. The song is called, "Born to Lose, Live to Win". That was Lemmy's "saying". It's brand new, it just came out. It's a tribute, labor of love thing, but it's getting a lot of action. The Motörhead organization is very strongly behind it, the other members of the band...it's a tribute thing. That's my most current thing.
Related
Popular in the Community