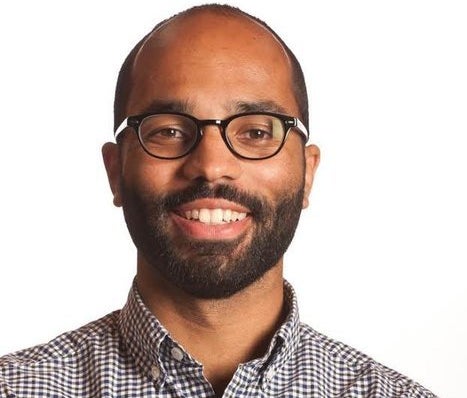 Behind most of the biggest names in Silicon Valley, and technology startups globally, is a venture capitalist who bet on the founders before they made it big.
Trevor Thomas is a general partner with Cross Culture Ventures (CCV), an early stage venture firm that is trying to identify the future big names in tech.
Although the firm may not be a household name yet, its founding partners are definitely notable. In addition to Trevor, Cross Culture Ventures founders includes Troy Carter, the founder/CEO of Atom Factory and previous Lady Gaga manager who guest starred on ABC's Shark Tank alongside Marlon Nichols, who previously was the director of investment at Intel Capital.
Unlike other VC firms, CCV holds a strong belief that global culture is changing, presenting unique opportunities for those able to get in early on investments.
Its portfolio includes rising startups like Mayvenn, Skurt, Afrostream, mSurvey and Thrive Market, among others.
I had the opportunity to briefly connect with Trevor Thomas for a brief interview to learn how he and CCV are approaching investing, with a special eye on the importance of culture in technology.
Here is the interview transcript.
Q. What do you think makes Cross Culture Ventures different from other VCs?
Our approach is non-traditional—we posit that global culture is a meta-value that is investable. We invest in early stage companies that we believe are most likely to attach to that value. So in addition to searching for incredible teams, creating beautiful defensible products in large and growing markets, we also look for the enduring cultural trends that inform the founders, make the products uniquely valuable, and help to pick which markets are most successful.
Q. What do you mean that "culture is a meta-value that is investable," and can you provide examples of enduring cultural trends?
We believe that a company's unique ability to benefit from mainstream cultural trends can be a material source of value and a predictor of success. We seek out that characteristic in the companies that we back. Some examples of enduring trends in which we have been investing are the the increasing consumer power of minority demographics, the replacement of the browser by text/chat functionality, and the democratization of healthy lifestyles to broader markets.
Q. How did you, Marlon and Troy first get connected? How did you all decide to become partners?
Marlon and I first met in a career prep program for diverse students called Management Leadership for Tomorrow (MLT), but really got to know each other in the Kauffman Fellows Program, a great venture capital education and mentorship program in Palo Alto. He was working at Intel Capital at the time, and I was working at a family office in Los Angeles. He decided to explore a fund idea as his final project, and reached out to me to help him think through the initial ideas. We brainstormed and morphed the idea a few times, and realized that the resultant idea was strong. We were then introduced to Troy through our first investor. He was a well known angel investor and artist manager in Los Angeles. With him, we evolved the idea a bit more and developed the vocabulary to really explain what we were trying to do. We paused for about six months to hang out and make sure our endeavor made sense, and then we started raising capital and investing together.
Q. What aspects do you look for in entrepreneurs and business ideas that other investors may overlook or dismiss?
In addition to looking for entrepreneurs and ideas that embrace our thesis around culture, we also look for scrappiness in entrepreneurs, and personal experiences that suggest a really deep connection to their product. By scrappiness, we mean a level of hustle, a level of grit. By personal experiences, we mean founders whose life storyline makes the particular business they are starting a necessary, inevitable next step. We tend to find this character synthesis in places where many VCs don't normally look. Many of our founders didn't attend elite schools or work at prestigious tech companies before starting a business.
Q. What changes do you hope and expect to see in your industry, in the next few years?
I think the next couple years will be extraordinary for the industry as we have a huge value overhang whose half-life is about to expire. Public markets may loosen up, providing a long-awaited opening of a robust IPO pipeline. After that explosion, I expect to see the industry lose some of the hype and many of the funds and founders. This is good too, as many of the best companies are built during recessions.
Q. What advice would you give VC firms that are not actively looking for investment opportunities from under-represented founders?
I suggest they go to any major city and visit a public high school; see how the next generation interacts, what languages they speak, what products they use. It will be difficult to serve an increasingly diverse market without an increasingly diverse base of founders.
Q. What made you interested in getting involved in venture capital?
It started while I was a grad student at MIT studying supply chains. Though I had enrolled with the plan to do an educational pit stop and continue to work in management consulting after graduating, I became excited by the founders, technologies and startups I saw sprouting up around me. I couldn't imagine something more exciting and challenging to get involved with, so I started a company, bright-eyed and bushy-tailed, with the vision to make airport delays delightful experiences. Though it wasn't as successful as I had dreamed, I raised capital, learned a great deal and met a bunch of investors in the process. One of them took me aside and said that I act and think like an investor—and I that I should think about doing that next. I took her advice. I was trying to be the frontman of a band, when I was really built to be a producer.
Q. Beyond successful financial returns, does the firm have any other goals?
Though we aren't an impact fund, we like to think that our investments will have enduring positive effects on society. We also think that diversity is important, and necessary to maximize access to cultural trends. We promote that. We have particular interest in how the diversity of youth culture is recasting global culture. We hope that both of these goals will positively affect returns.
Popular in the Community