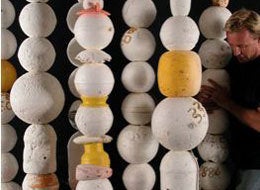 Meet
, an accomplished artist who finds inspiration from nature and science. No question about it- Steve is a
.
I wanted to get to know Steve on a little better. Check out our conversation below:
How do you define your job?
Doing service.
What has been your most challenging project and why?
The newest project always seems to up the ante from the one before. My most recent one, "Health of the Planet", is the most challenging so far because the source images begin in another country with another language. I needed high quality digital x-rays, and it took 3 years to find a hospital in Brazil that would allow me to take x-rays of Amazon plants. I had to learn Portuguese, which I have now been studying for two years. Finding access to an environmental research lab studying the rainforest has been a challenge. Part of the project involves getting photos from the favelas, which are impossible to enter without permission of the traficantes. The next phase of the project I'm working on involves a zoo in Belem. The challenges continue, but it's an incredibly exciting project.
How has your art affected your life?
I've had some incredible opportunities as an artist. I've spent a lot of time collaborating with scientists, including a Nobel Laureate, been on pilgrimages to the world's great museums and archeological sites and had a constant inflow of ideas, enriched through dialogue with other artists and a conversation with living history. Not to mention the fact that I've been exposed to great food, and I have made some great friends.
How do you incorporate the health of the planet into your life?
The environment is very important and there is always more to do. Nonetheless, there are a few easy things that anyone can do (and that I do). These actions are on just about every list regarding the environment: use energy efficient light bulbs, recycle all paper, glass and metal, make a mulch pile, buy organic where possible, lower the temperature when leaving the room, and put a thermal wrap around your hot water heater. These actions are possible for most people.
Role models?
There are too many, and the answer is always changing. My current one is Gonzalo Rubalcaba, the jazz musician, who I recently saw perform for the 6th time. He is a giant. His music has progressed from Cuban-based rhythm with an astounding blend of avant garde jazz to a place where he now has his own voice that is abstract, moody, ethereal, concise and expresses freedom. His discipline is incredible. He has the same intensity of Thelonious Monk, where it's about the sound between the notes. Inner Voyage and Avatar would be a good start for audiophiles.
It is difficult to separate role models from artists that I admire. Here is a short list of my favorite artists: Sigmar Polke, Francis Picabia, Richard Prince, Jim Shaw, Marilyn Minter, Mary Heilmann, Cy Twombly, Ashley Bickerton, Gabriel Orozco, Terry Winters, Anselm Reyle and Chris Wool. If you had asked me ten years ago, it would have been a different list, but with Titian always at the top.
Do you have your eye on any up and coming artist?
I LOVE Jarbas Lopes, an artist from Rio. His gallery is called A Gentil Carioca. Tell his dealer, Marcio Botner, that I suggested you take a look.
I know you live in the Hamptons...any must-do's next time I'm there?
There is a great book store and art gallery called Glenn Horowitz Booksellers in East Hampton. It is not to be missed. The art and photography sections are insane and the gallery is one of the best in the Hamptons. The Parrish Art Museum in Southampton always has an interesting show. I like my yoga at Lotus Blossom in Wainscott where the classes are usually less than eight people. I hope I don't regret mentioning this. For food it's Yama-Q in Bridgehampton. Coolest town is Sag Harbor. However, nothing trumps the beach.
What is your favorite time in the day?
11am. When I work in the studio, I always take a yoga class beforehand, and when I come back to work with my assistant it's 11am. There is nothing more exciting than to look at the promise of the day making art.
Any suggestions for Obama?
Number one suggestion for Obama is to keep your integrity. Suggestion number two is when wrong, promptly admit it and learn from the mistake. People want to believe it is a level playing field.
On the environmental front, there is a massive opportunity that has been lost in previous administrations. The idea of developing renewable power in the US is a vital necessity. If you factor in the $2 trillion (eventual) cost of the Iraq war over a certain period of time and the number of imported barrels of oil, we are paying WAY more than the current and temporary $2 at the pump. Green energy independence and government support of science, infrastructure and jobs is the key.
Thank you, Steve. Inspiring! You show us how the environment is a matter we must all consider- from the business men/women to the artists all over the world. You remind us to check up on the lungs and internal health of our planet.
Related
Popular in the Community