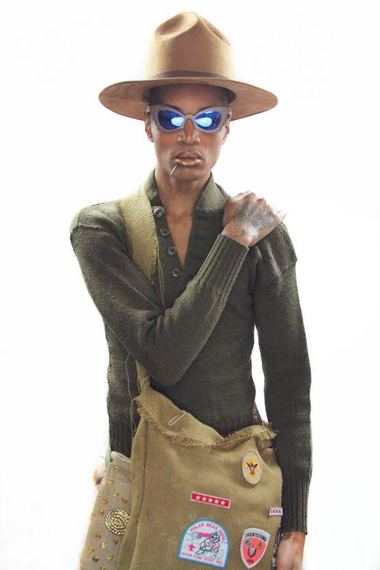 Fashion designing messiah, Srevie Boi, celebrated for his unique, eclectic eye wear for the stars, including: Lady GaGa, Elton John and Beyoncé, is feverishly preparing for New York Fashion Week, on February 13, followed by a "Rock Star" world tour, encompassing 30 countries and States.
His dazzling, colorful and flamboyant, often one of a kind, creations are sought after worldwide. This year to add to his collection he has announced an array of items he will be launching, including a luggage collection, and an optical reading eyewear collection, allowing the consumer over 900 choices... that's correct NINE HUNDRED different eyeglass designs!
The sparkling designer, soon to be a movie star/TV personality, is also in the midst of filming several projects, including a role in the film, Protocol 734, coming to theaters October 30, a reality show entitled, Stevie Takes Vegas and a Whoopi Goldberg executive production scheduled to be aired on Oxygen, about the first transgender modeling agency.
E. I am dying to get into your head, what are you thinking before you design or create something?
S. To be really honest, I really don't know. For one I don't flip though magazines looking for inspiration. It literally comes to me from out of nowhere. This is the way I best describe it: The only way I am able to design is working at a table, with no noise, no distractions, with a lot of material sitting around me, and then I'll just go to town and start making things out of nothing. I like working from scratch. I don't like looking at things... I don't know... it just comes out of nowhere. There is no explanation for it. No one helps me, I really don't value anyone else's opinion. When it comes to me creating... creating and designing are two different things. Creating is when you are create something new, when you are completely building something that's going to shock people, that's when I like people to bother me. When I'm designing, usually when I'm making something for a quick shoot, or remaking a product that I already made in the past... that happens a lot, people see some of the stuff I made for Lady GaGa, and they want me to remake it... and I do it, but then I start questioning..."maybe I should change this up... that's when I value other people's opinions. I put a time line on it too. I stress myself out a little bit. If I haven't made anything in that time, then I have to make two things. Monday through Thursday are my creating days. I put a time line of 45 minutes to create something I'm proud of. Everything on my website is a one of a kind piece. If I make it and you buy it... that's it. I'm not doing it again. It took me so much time to make it, so much effort... and I think people like that.

E. So you are preparing to go on tour after fashion week, where are you going, and what do you do on tour?

S. I'm about to do Australia, Russia, Germany... I start my tour in New York, on February 13. I am basically like a rock star designer. I created the whole tour thing. Instead of me creating in London and Paris, and all the normal places, I started taking it to places where people haven't heard of me. I basically just show my line.
E. I understand that you are working on something that Whoopie Goldberg is the executive producer for?
S. It isn't my show. It's about the first trans modeling agency. Basically they are providing models for my show, and I'm helping the trans models understand the business. It will be aired on the Oxygen channel.

E. And you're in a movie too?
S. I was cast in my first movie role. I'm acting in a movie, it's called, Protocol 734, and will be in theaters October 31 of this year.
E. I wish you the very best in all of your endeavors... see you at fashion week.
Popular in the Community