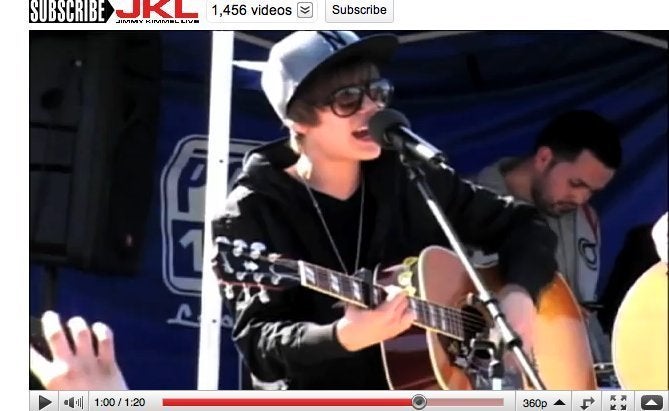 Emma McLaughlin and Nicola Kraus shot to stardom with their #1 NY Times bestseller The Nanny Diaries back in 2002, and have had an expansive and steady writing career since. Last year they published their first YA book, The Real Real and the sequel to Nanny entitled Nanny Returns. With a new adult novel on the horizon, a YA book just completed and a film script in edits, it's not a stretch to say this tag-team is busy.
Hardworking? Definitely. Serious? Only sometimes.
I caught up with the duo at a cozy café in the west village to chat about their books, the difference between writing for adults and teens, and just how they go about this tricky business of co-writing.
You've been working together for ten years and have written all of your books together. Can you talk a bit about your writing process? How does it work?
N: We start here, really. A place where we can chat and where we will be well fed. Then we fill each other in on whatever we've seen, read or heard about lately. We divide and conquer. Emma reads Vanity Fair, I read The New Yorker. We watch television, We try to put our finger on the zeitgeist and exactly what's happening now.
Emma: We want to figure out where the collective social impact is. Speaking of, did you guys see the VMA'S? Eminem's performance was, wow.
I know. I teared up a bit, I think.
Emma: Me too! And, I don't know, I'm pretty conflicted about him as a person. I don't want to love him but he comes on stage and he's just pure talent. It's basic.
I love that about your writing. You bring such a sense of immediacy to your books. Most writers shy away from grounding something in a moment. There's such a focus on a work "holding up" over time. But you make no qualms about putting us exactly where we are.
Nicola: Thank you! That means a lot to us, because we really work at that. The problem is that often there are things we are trying to satirize that are still unfolding. Specifically with Citizen Girl, we just couldn't keep up. It was a time when it was fully possible that Hillary Clinton would show up naked on the cover of Vanity Fair. Things we thought could and would never happen were happening every day -- Hooters had just launched an airline.
Emma: We really set out in all our books to say something. Every one is an effort to bring the reader over and show them our theory as to why what we're talking about needs to be talked about.
What does the process look like, from there?
Emma: As far as the work goes, we write a really detailed outline. The outline for Nanny Diaries was 26 pages. Then we divide it up.
Nicola: Sometimes there are things either one of us will call dibs on. Something we really connect with that we want to write. There are also hot potato items -- not it!
Emma: And characters that come naturally to each of us.
Nicola: Emma's the voice of Grayer -- at both ages.
Emma: And then there are those characters we just don't understand. We know they're important to the story, but we always end up re-writing their scenes.
Let's talk about writing YA versus adult. How was The Real Real different for you?
Emma: This seems like a small point, but it really isn't. With adult characters you can pin so much on exhaustion. We write a lot of Manhattan women who have a lot going on. They are dehydrated, hungry, sleep-deprived, and these elements really come in handy, and can build to a breakdown of sorts. With teens it doesn't work that way. No sleep? No problem. They are always on a journey. They're not tired.
Nicola: I think lack of perspective during those years is what balances that out. You have to channel the extremity. It's a breathless age, everything is a ten. There really is no middle ground.
Emma: You should have seen these teen girls going wild for Justin Bieber on the VMA'S. Wild. I worry about him. That's a lot of success at such an early age, and it can be confining.
He seemed uncomfortable up there.
Nicola: I remember when we first started. We found ourselves sharing a brand at 27 and it was overwhelming. The stakes were very high. We had created this book together but now we had to navigate the publishing world -- two very different things.
Emma: For a blink of an eye there was so much media glare. It was unexpected and I don't think we realized the magnitude of the message we were imparting with The Nanny Diaries. There was also this added challenge that some of the media power players whose publications were doing stories on us perceived us to be sniping at their lifestyles.
Nicola: We would eventually find out that Nanny was marketed as nonfiction. And people kept trying to "find the real family." There was no real family! We didn't know enough at the time to navigate those interviews gracefully. We wanted to give everyone answers, but the ones they were searching for didn't exist.
Emma: But this stuff is challenging and I just can't image going through what he is at 15, 16? Justin Bieber makes me feel old.
*Everyone together: same!
Do you think your Nanny readers also pick up The Real Real? There seems to be so much crossover in YA today.
Nicola: I do, yes. There were more adult women at our readings for The Real Real than I have ever seen before. Non-mothers, that is. I think these women like the fact that YA is romantic and inspirational, without being "porny." They don't have to hear about anything throbbing.
Emma: It's funny, we started writing chick-lit when it was just becoming a crowded marketplace and now the same thing is happening with YA. It really used to just be one shelf at the library -- Nancy Drew and Judy Blume. Who, by the way, I tweeted with!
Wait, you tweeted with Judy Blume?
Emma: Yea. It was pretty unbelievable. I said something like, "We love you. We bow down to you," and then I changed it to say, "Actually, we bowed down at thirteen, and never got back up."
That's an incredible tweet.
Nicola: We've met Madonna but a tweet from Judy Blume is right up there.
What did she respond with?
Emma: She thanked us and said she liked our book, too.
Nicola: Loved. She said she loved our book.
Emma: She's right, it's true: she loved it.
As we wind down brunch the conversation continues on to film (Emma has just seen Inception and it has blown her mind). We talk about Batman Returns and The Proposal. Both women explain to me that they're fascinated with the way the brain works and the obligatory scene -- what you have to deliver to your reader for them to feel satisfied. They bounce from neurology to Bieber without missing a beat, maintaining the same bubbly, smart and savvy attitude you'd expect of one of their characters. And with five bestselling books under their belts, one thing is abundantly clear: Judy Blume is in good company.
Calling all HuffPost superfans!
Sign up for membership to become a founding member and help shape HuffPost's next chapter