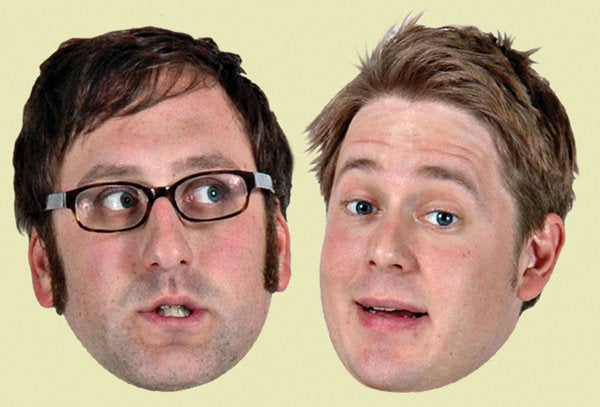 One of the most memorable sketches from Tim and Eric Awesome Show, Great Job! is a commercial for the Poop Tube, an apparatus that liquefies human waste, redirects it through a chute above the user's head and sprays it into (or at least near) a urinal.
Another advertises the D Pants -- plastic pants designed to contain diarrhea.
Clearly, toilet humor is not beneath Tim Heidecker and Eric Wareheim and their incredibly perverse television series. And they're just getting warmed up. In July, they told Vanity Fair that their grossest scatological bit yet will appear in the show's fifth season, debuting in early 2010.
But, as the writer of a recent Wired feature on the comic duo notes, dismissing Tim and Eric Awesome Show, Great Job! as just potty jokes would undermine its ingenuity.
The series, which airs on Adult Swim, the Cartoon Network's late night programming block, famously takes its aesthetic cues from low-budget public-access television. With its glitchy editing and awkward cast of amateur actors, it sometimes borders on the avant-garde.
Other times it's just plain silly. In a sketch called "Petite Feet," the two sing a Hall & Oates-style ditty about a man with a feminine-sounding step that causes people to mistake him for a woman before he enters the room.
And then there's Spaghett, a recurring character played by Heidecker who hides in obvious places, then jumps out and yells "Spaghett!" at his suspecting, unsurprised victims. It's hysterically anticlimactic.
When Steven Spielberg agrees to direct a Spaghett movie adaptation in season three, Tim shows off to Eric, saying, "film really is the next plateau."
Life imitating art, the two are bound for the next plateau with an upcoming film produced by Will Ferrell and Adam McKay called Tim and Eric's Billion Dollar Movie.
Like their series, it's impossible to predict what to expect from a Tim and Eric interview. Will they be in character, like their manic appearance on Late Night With Jimmy Fallon in April, or earnest about their craft, as they were in an interview with The Believer last year?
Speaking on the phone from their office in L.A., they wound up somewhere in between.
Hey guys, what have you been up to today?
Tim Heidecker: Just prepping the week for some fun shoots coming up. We're shooting with Richard Marx tomorrow, and some amateur bagpipers later in the week, and looking at some rough cuts for some shows we're putting together.
The show has really evolved over the years. What direction are you guys taking this time around?
Eric Wareheim: I feel like this season is much more personal for Tim and I. Not that we haven't done anything we wanted to do in the past four seasons, but this one's ... a little scarier, a little bit more emotional, I would say. Everything just has a very dark, eerie, but also very funny vibe.
The show is known for its lo-fi aesthetic. Do you think it would still have the same appeal if you guys had a massive budget?
TH: Yes. We would just keep the money and spend it on things for ourselves, and not put it into the show.
EW: We'd probably invest it in a place in Cabo we've been designing for years. It's right on the beach.
TH: (Laughs) We've been designing it?
EW: Well, I've been sketching up designs of the condo where we would live, and we'd do most of the directing via webcam from down there.
TH: We've been working with Cisco, it's a big tech company that supplies networking solutions.
EW: They're going to do our networking, hardware, landlines, power and electric.
Is Cisco at all related to Cinco?
TH: No, Cinco is a pretend company that we made up for the show. Cisco is a real, amazing company that does a lot of amazing work making global business happen. Uh, letting people from across the globe contact each other and communicate and share ideas with businesses. Cinco is just like a funny joke company.
EW: Cisco does stuff, like, secure servers. For example, in an office, you know, you need to store stuff on a secure site, Cisco will supply something like that.
TH: Inter-office communications. Providing a firewall, for example. Cisco IOS software is the world's premiere network infrastructure software. It delivers seamless integration of technology innovation, business-critical services, and hardware support. So, that's the company we'd go with if we had to do something where we weren't around the office all the time.
You guys really know a lot about Cisco.
TH: It's a great company.
You mentioned Richard Marx. Will season five have any other guest stars?
EW: We've got a bunch of TV dads this year, TV dads from our youth. Um, Patrick Duffy and Michael Gross. Will Forte's coming back, Zach Galifianakis is back, a bunch of our friends are back. Some surprise guests that we wouldn't hasten to share with you. Tune in to see.
Is it true that you're making a movie?
EW: Absolutely. It called Tim and Eric's Billion Dollar Movie, produced by Gary Sanchez, who is Will Ferrell and Adam McKay. Huge.
Can you offer any details?
EW: The paperwork's not done. We're still working on the deal, but it's confirmed. It's as good as gold.
Speaking of Will Ferrell, I know you get a lot of respect from Saturday Night Live. Have they ever tried to recruit you?
TH: No. We've been snubbed by Lorne Michaels on numerous occasions. We've been in the position to be introduced and thanked and appreciated for the work we do, but it's never occurred.
TH: We never get that kind of acknowledgment from them.
What was the inspiration for Petite Feet?
TH: We were shooting in Richard Dunn's apartment for a bit, actually, and our editor and cameraman, Ben Berman, was coming up the stairs, and we thought it was a woman coming up. Because Richard Dunn's girlfriend was supposed to be on her way over. And when we saw it was Ben, we all kind of were laughing that his step has a feminine sound to it. We started singing the song, and it all came together.
How about Raz. Was that character based on a real person?
EW: There's a lot of Razzes that we've seen in our lives. Ever since high school.
TH: Yeah, I mean, Eric and I went to a liberal arts college, so like one in five people was a Raz.
EW: I mean the guy, the guy who played Raz, he's a nice fellow, but he's a real Raz.
EW: Yeah. Just relaxed, you know what I mean.
TH: White guy, really into reggae and nature, shells.
EW: Not really into Rastafarianism, but just, likes dreads. Shells in the hair. Shells on the neck.
TW: Likes to smoke a little gange ...
EW: Patchouli scented. Island feel.
TH: Yeah, I saw that. It's just an honor just to be associated with some of the other hilarious people on that list. You know, all we do, if I can speak on behalf of Eric here, is we create honesty with our social networking.
EW: It makes us approachable and real people. Lately I've been going into Tim's house and taking photos with my phone and Twittering them, unbeknownst to him.
TH: Well, beknownst to me, since I follow you on Twitter, so I see them right away.
EW: I just want to show our fans Tim's personal life. His garden, his wife, his dog.
Eric, you've made music videos for Maroon 5, MGMT, Major Lazer and Depeche Mode. Why did you want to get into directing music videos?
EW: I would make videos, growing up, just from my own bands. And bands really like our show, so they came and asked us to make them, so I kind of do them on weekends when I get a chance.
I just want to ask you a few questions about current events. What do you make of the whole Jon and Kate situation?
EW: Next question please.
Did Kanye West face too much criticism for his MTV VMA incident?
TH: No idea what you're talking about.
What do you make of the David Letterman scandal?
TH: The ... talk show host?
EW: What, that he had a kid?
TH: I know what he's talking about, the heart surgery. I think it's great. You know, it seems like he's doing much better, and, you know, God bless him, I think he's one of America's great talents.
Do you think Obama's going to make any headway with health care reform?
Are you saying "Bob Pirhana"?
Is he working on health care?
TH: He's in charge. Give him a shot, just give him a chance.
Calling all HuffPost superfans!
Sign up for membership to become a founding member and help shape HuffPost's next chapter