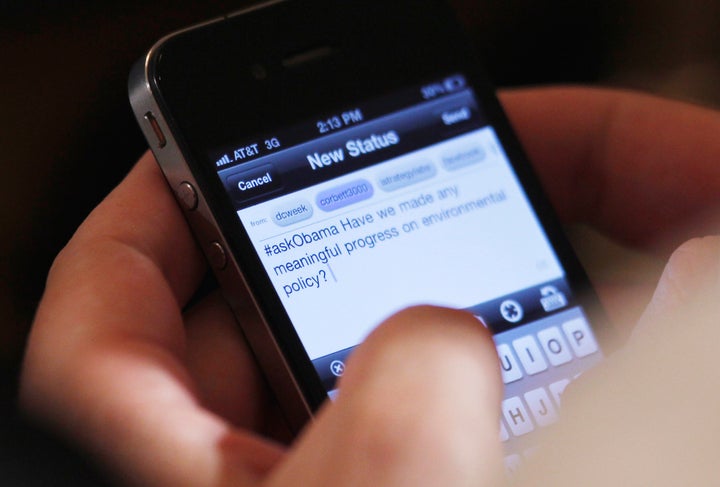 On Friday, President Obama urged citizens to tweet their congressmen and women using the hashtag "#compromise." In the 48 hours after the president's call to action, the hashtag was used more than 22 thousand times, and reached an estimated 36 million users. According to White House Communications Director Dan Pfeiffer (in a tweet response to New York Times' Brian Stelter), the public's online response did help push Congress towards an agreement.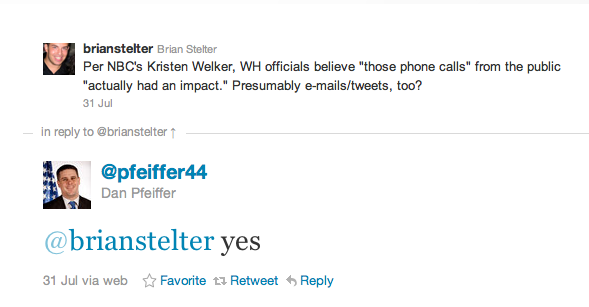 There is no question that Twitter has become the breeding ground for all vents, opinions and debt crisis woes. In the disheartening process, we've seen movements begin including Jeff Jarvis' very own #F-YouWashington. So, is congress even paying attention or is the social networking surge just noise in an already boisterous political battlefield?
Dan Pfeiffer recently answered some questions over email where he touched upon Obama's spammy tweets, why he thinks Twitter helped seal the debt ceiling deal and his top people to follow on Twitter for the latest on the debt crisis.
WT: How do you think that Twitter helped in finalizing the debt deal?
DP: Twitter is in some ways the perfect medium for a story like the debt ceiling, because it had so many twists and turns, you needed to be able follow it in real time at all hours of the day and night. And from a White House point of view, it was great medium for updating the public, correcting misinformation, and engaging with the media and the public.
Twitter opened up a new channel for people across the country to voice their concerns and interests to lawmakers -- especially as traditional phone lines were jammed -- as well as a way for people to talk with one another and share information about the issue.
Twitter also offered us a great way to engage with the public about the latest in the deal. We started up a program last week that we call "Office Hours" where we schedule senior policy officials to answer questions posted to #WHChat about the deficit debate. And the results are encouraging -- since last week, @WhiteHouse has gained 22,000 followers and seen an increase in mentions by 450%.
WT: Do members of the congress, legislators and even the president actually look at Twitter reactions? Can that actually influence decisions being made?
DP: We absolutely look at larger trends and reactions on Twitter here at the White House. The White House New Media team circulates multiple highlights each day of what people are looking for online -- Twitter trending topics, popular Google searches, etc -- and it gives us a sense of what's breaking through, what isn't, and a sanity check for what the larger online population cares about at any given time. And we certainly pay attention to what people tell us directly, through chats and otherwise.
While the president gets input from a broad variety of sources, including ten new letters from the public he reads every night, he doesn't have time to check in on twitter at the frequency you or I may. But sometimes, we will mention to him the reaction on Twitter and other social networking sites to certain events or statements he has made. He did recently hold a Twitter town hall at the White House, though, which brought in voices from across the country to discuss the economy in a new type of online dialogue.
WT: Why do you think Obama's #Compromise caused a decrease in followers on Friday? Do you think it was successful or as some felt -- too spammy?
The reports about the #compromise hashtag have mostly to do with the @BarackObama account, and it's important to note that is a campaign account, and we at the White House do not handle it. But in a broader sense, I tend to agree with what Rachel Sklar summed up pretty well on mediaite the other day -- sheer reach and engagement are more interesting metrics than simple follower counts. If a single hashtag can reach 36 million users in a day, that's pretty impressive.

WT: Who are the top 5 people to follow for the latest updates on the debt crisis?
DF: It depended on whether the action was in the House, Senate or White House at any given moment, but these folks were interesting to follow:
WT: What hashtag do you prefer -- #debtageddon or #debtzilla?
Originally posted on WhatsTrending.com. Catch What's Trending live every Tuesday 10am PT/ 1pm EST. Latest episode below with Trendhunter's Jeremy Gutsche, Dexter's Brea Grant, Zombieland and 30 Minutes or Less director Ruben Fleischer and a special performance by Auto-Tune the News' Gregory Brothers of their viral classic, "Double Rainbow Song":
Popular in the Community