Heather Marie is the CEO and Founder of 72Lux, Inc., a technology company creating a shoppable layer across digital content. Previously, she was member on the founding team at Affinity Labs, a digital media company based in San Francisco. While at Affinity Labs, she played a critical role in their sales efforts leading the company display advertising and lead generation sales, as well as business development from the ground up to profitability. In January 2008, Affinity Labs was acquired by Monster Worldwide (NYSE: MWW). Thereafter, Heather expanded her role within Monster first to lead ad sales for Affinity Labs and FastWeb, and then to run national lead generation sales strategy for all five U.S. divisions of Monster Worldwide. Her background also includes working in retail for six years in women's clothing, including the brands: Ralph Lauren (NYSE: RL), Abercrombie & Fitch and Express (Limited Inc.) (NYSE: LTD).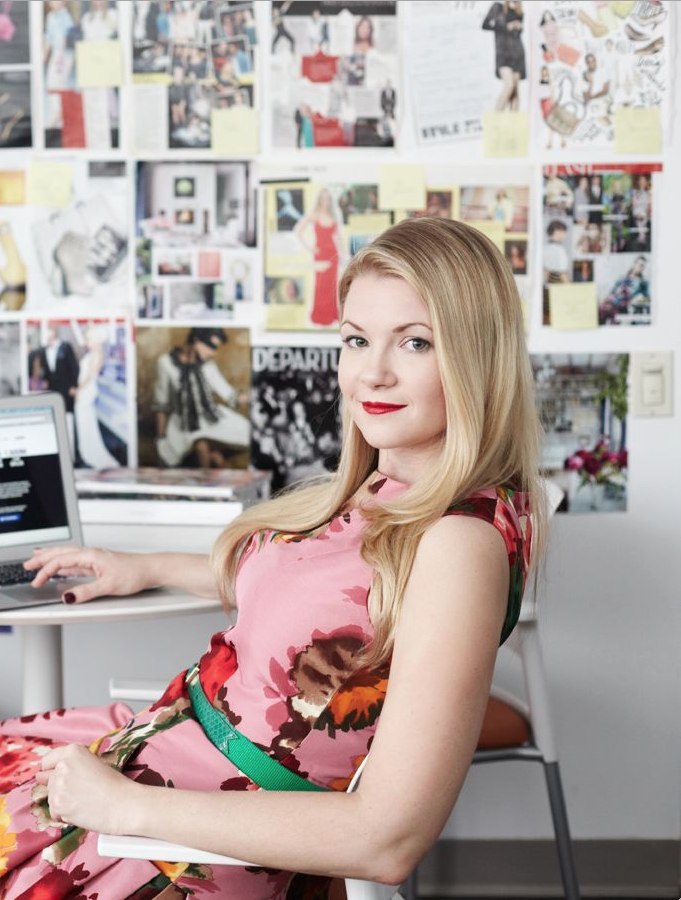 Photo by Winnie Wow
72Lux was named one of Entrepreneur Magazine's 100 Brilliant Companies in 2012. What makes your company brilliant? How did you come up with the idea?
I started 72Lux as a result of personal frustration shopping online, but the company took on a life of its own as it continued to grow. 72Lux became what it is today because of market demand. Since 72Lux was the first mover and first to create the technology in the space, it opened up several doors early on in the company's life. We worked in cooperation with our clients from inception to design and developed a product which digital publishers and bloggers had been trying to find for years.
Did you set out to become an entrepreneur? Please tell me about your journey from retail.
I wanted to start my own company since I was around 11 or 12. I was a tech geek at that age and spent a lot of time on the computer, setting up an arbitrage business on eBay back then. It was a really good learning experience for me and the idea of creating something out of nothing has always been motivating. In high school, I started taking business classes and often went to Barnes & Noble to buy the latest NY Times bestselling business book. I first started working retail as a teenage and moved up the ladder, but there were age and degree ceilings that prevented me from getting bigger jobs such as store manager. Working in retail was great experience -- especially working closely with customers. Then, learning about luxury brands and sales at Ralph Lauren helped prepare me for what I'm doing now. I graduated from the University of San Francisco and London School of Economics. Afterwards, I immediately joined a startup to get more entrepreneurial experience.

According to The Global Entrepreneurship Monitor, "For the first time in 13 years, women are creating businesses at a greater rate than men in three of the 59 surveyed economies, while they are also performing on an equal footing with their male counterparts in four additional nations." What were your experiences & challenges as a female entrepreneur? Do you have advice for other women who want to go down the same route?
I would be lying if I said there aren't any, but I try to stay focused on my business and our strategy -- we're working to get to the next stage and the stage after that. Although there are more women in tech today than when I started my business, I still see some of the same challenges. Ninety-five percent of venture capital still goes to male-led companies. This is obviously a problem.
My advice would be to not let anything hold you back. When you're a minority in any situation, it can be easy to use something related to that as an excuse and we should all just rid our thought processes of those "challenges" and power through knowing we can run a business as good as any man can. When there is a challenge, no matter how big, there is a way around it and an opportunity to create a new path.

Technology is another field that has been predominantly male, with exceptions like Glamour Magazine and the Council of Fashion Designers of America's fashion hackathon "Dressed to Code". How do we encourage more female talent in technology?
Events such as Glamour and the CFDA's Dressed to Code and L'Oreal's Women in Digital program are great examples of highlighting women in the tech community and giving them a platform that can be inspiring for other women -- including young girls who may not know what they want to do yet, or may be wondering what it's like to be a women in a male-dominated industry.
(On the other hand, the industry needs to stop giving a platform to people or companies that are demeaning to women. Even the ValleyWag article condemning these types of acts is actually doing them a favor by generating a lot of buzz for them which could encourage others to follow in their footsteps hoping to get press for themselves. The sexist attitude needs to go.)
The industry can also help to ensure they are reaching out to women entrepreneurs, leaders and VCs -- welcoming them to panels and speaking engagements at conferences and tech events. We need to make sure we're highlighting women throughout the industry and different technology-related career paths in a way that is inspirational for others and starts to show a more gender balanced picture.

I think the most important thing is that we continue to encourage women to do anything they want -- if that's tech, that's great and we should welcome more women into the industry.
What are your thoughts on Marissa Mayer's recent Vogue cover?
She had a really solid featured story in the September issue of Vogue. Technology and fashion were previously two very separate worlds, but they have increasingly come together with the rise in digital and more recently, wearable tech. Vogue is a magazine that women of all ages read and seek inspiration from, so I was excited to see Marissa, a CEO of one of the largest tech companies, profiled and recognized. As a reader, I think it's refreshing to see Vogue showcasing a business woman like Marissa. I would like to see that happen a little more, and there to be a little less focus on celebrities and socialites. It's important for inspiring women to choose business as a career path and being profiled in Vogue certainly adds a sexiness factor!
You are one of the winners of the 2013 L'Oréal Women in Digital Next Generation awards. Please tell me about that.
L'Oreal created the Women in Digital Next Generation awards to recognize female leaders and to inspire young women to enter the field of technology and become leaders. It was a real honor to be chosen by L'Oreal, a brand whose products I have been using since I was little. As a Women in Digital award winner, 72Lux will now be working with L'Oreal -- it is an incredible award for a fast growing startup like 72Lux.

What are your upcoming projects?
We just released an entirely new platform, Shoppable(r) for Merchants. This is a self-serve platform for merchants of all sizes. Prior to this, we were focusing on apparel and accessories and beauty categories, but with the new platform we are now scaling to all categories including home, electronics & gadgets, CPG, exercise and sports, and books.
Now that this launch is done, we are continuing to build out other tools that prepare the company for rapid scale and also some new features and strategies that will certainly surprise a few people!
Are you working with any companies, yet?
Many of our clients are not publicly announced, but a few of our clients are The Wall Street Journal, Teen Vogue (Conde Nast), and Essence Magazine (Time Inc.) and we have a partnership with GroupM. As we approach Q4 you'll start to see several more announcements.

REAL LIFE. REAL NEWS. REAL VOICES.
Help us tell more of the stories that matter from voices that too often remain unheard.