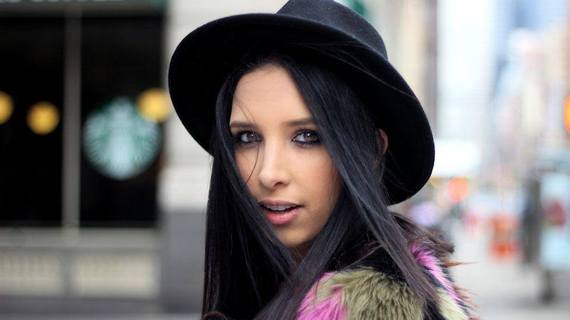 Born in Venezuela, Mariale Marrero is a makeup junkie turned beauty guru who started an all Spanish YouTube channel to cater to a neglected audience. Fast forward six years, her popularity is unreal. With over a million subscribers across three channels, Mariale branded her lifestyle to become one of YouTube's most sought after Hispanic influencers. Her positive, convivial demeanor and easy to follow tutorials make her relatable to her ever growing fan base.
At the peak of her YouTube success, Mariale gained attention from major beauty brands. She has starred in advertisements for Maybelline and Neutrogena and partnered with L'Oreal, MAC Cosmetics and Pantene. Now Mariale is sharing awesome gems like the beauty products she can't live without, how she approaches low self-esteem and how she really feels about her success.
I understand you went to college and majored in biology. Where did the idea to become a YouTube beauty guru come from?
I've always loved make up! For me, it was a way to express myself and do something fun.

I watched tons of YouTube videos in my free time from school and really fell in love with the community. However, I quickly realized that nobody was really speaking to me since I came from a third world country, I couldn't find most of the products that I saw in the videos and couldn't really relate to some of the things being talked about. That's when I thought, there have to be more girls like me out there! Why not make our own community? So I uploaded my first video in Spanish. I always thought a small group of girls might find it, but never figured it would turn into what it is now with viewers all ages from across the world!
How would you describe your professional/personal growth from your first video until now?

I think it has been a complete transformation! I really have evolved with my work, always trying to improve not only my content but also myself and it's really incredible that you get to see it all stored on my YouTube channels.
You've collaborated with some heavy hitters in the beauty industry, (MAC, Maybelline, L'Oreal, Pantene) How does it feel to be sought after by such big names?
I have collaborated with amazing brands and I'm so grateful that these opportunities have been given to me. Growing up in Venezuela, I really learned to take absolutely nothing for granted, you might have something today but not tomorrow so it really does feel great that brands appreciate my work, but to this day I still can't believe that is me! Sometimes I feel like it's a different person that does those things and I think she must be really cool, but me, I'm just a silly girl that spends a lot of time in front of a computer!
What are your future plans for the growth of your brand?

I'm always thinking about ways to improve my content. For me, making my community happy is the most important thing, I always want them to have a smile on their faces while they are watching my videos and I hope to continue to do it!
Who's the most exciting and inspirational person you have met through your job? What have you gained from meeting them?
This is very hard to answer! I think one of the best things about my job is the people I get to meet, they are all so amazing. I love meeting my audience, they always have incredible life stories and I learn so much from them, honestly I can't imagine my life without reading their sweet words everyday!
You always have happy, upbeat energy in your videos. How do you keep yourself so positive?

Thank you! I try to really appreciate what I have, even if it's the smallest things that sometimes we might take for granted, like those around you, a sunny day, a glass of water or a blanket to cover you at night. I believe that to be really happy you just need to appreciate everything and I really try to show that in my videos and hopefully make others happy too.
You have an amazing platform for reaching and encouraging women. What do you say to your fans who are struggling with self-esteem?
It's very hard, but I have been there and I know what it's like. I grew up being bullied by my own family for being fat and ugly so I can understand how things sometimes just seem like they will never get better. I think the most important thing is to focus on yourself and take all the negatives out of your life; those voices saying you are not enough, because you absolutely are!
What's a piece of beauty advice you wish you had known when you were younger?

Less is more, absolutely!! In my teen years I would rock a smokey eye day and night! Now, not so much!
What's one beauty/fashion trend you regret trying?
I don't really regret any! And trust me... I tried some bad ones! I just feel like they make a pretty good laugh now.
How do you beat a bad hair day?
My go to is always a high, sleek pony! Can't beat that!
What beauty products do you keep on hand? What makes them so great?

My #1 is sunscreen, I can't live without it! I especially love tinted sunscreen because not only will it protect your face from hyperpigmentation and signs of aging but also, it makes you look less like a zombie in the morning!
What is your favorite season for fashion/beauty? Why?

I recently moved to the US from Venezuela, there we have summer year round so I didn't really get to play with fashion much. Right now I have been enjoying every season, it's so much fun to switch up my look! Yes, even for winter!
Your skin always glows on camera. What routine do you follow for a flawless complexion?

Thank you so much! I'm crazy about keeping myself hydrated so I drink tons of water and also moisturize religiously. I wear a light moisturizer in the morning, followed by my beloved sunscreen. At night, I wear an oil, serum and moisturizer... Yes, I pile all that on!!!
For more tips from Mariale, subscribe to her YouTube channels!