A regular series at The Wang Post, where we sit down and speak with notable Asian entrepreneurs. This week, we speak with Kenny Leung, the CEO and co-founder of Premium Technology, a tech company providing Supply Chain Finance solutions to investment banks, and is based in New York City.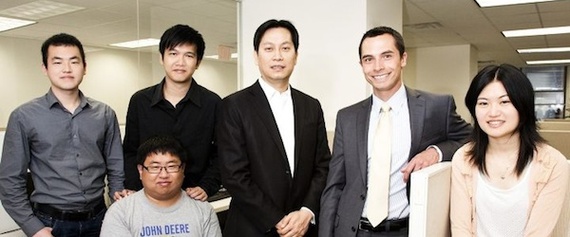 Jane Wang (JW): Let's start from the beginning: where were you born, and where did you grow up?
Kenny Leung (KL): I was born in Shenzhen before all the developments you see today. My parents were in Hong Kong working in the business field while I resided with my grandmother. My family and I moved to the United States later on due to a better education system. They sold their businesses in Hong Kong and worked in garment factories in New York for income.
JW: What was your first impression of the U.S.?
KL: While still residing in China, we had the impression that America was the perfect place to live. We had a different opinion after arriving to United States; there were challenges awaiting us. The Chinatown of New York City 30 years ago was very different from the Chinatown today, now known as a tourist attraction. New York was not that safe at the time and living in New York required a lot of survival skills. It was a difficult challenge but a good life experience; while attending school, I had to survive getting through the streets with another set of knowledge.
JW: What were some experiences that set you apart?
KL: The first couple of years after the arrival in United States, I have gained a lot of experiences that leads toward educational and survival. I learned to be determined and never give up; I also believe that execution is always the key. Don't just say something but put action into place.
JW: Where did you attend college and what was your first job?
KL: I studied Electrical Engineering (EE) with minor in Computer Science at Polytechnic Institute of New York University; graduated in 1992 during the recession. There were no jobs for Electrical Engineers at the time, few of my college friends accepted jobs in other fields but I was determined to keep trying. I took a chance on a part time position located on 125th area but I believed if I can handle the job in Harlem well, I'd be able to get through any other situations in the future. I was always a risk taker and I considered that opportunity as a stepping stone for my future.
From working in Harlem, I transferred to a big Advertising Agency in Park Avenue. Later on, I continued on to Wall Street as a System Analyst in an investment bank. The experiences I've earned from all the opportunities I was given, I started my first company, ACS, a computer training school. I sold my shares to partners and started Premium Technology focusing on supplying finance and generating our own unique product. Our goal is to go global.
JW: How did you start your company, Premium Technology?
KL: Within two years, I have worked from jobs located in Harlem, Midtown, and then Wall Street. From all the employment experiences I've gained, I felt I was ready for prime time and started my own business, Premium Technology. It all started from a traditional consulting company to productizing financial services and profit sharing with bank partners. I've managed to recruit some key members with strong management skills; everything is about teamwork and appreciation for each other. Our business model is that we truly believe we are heading in the right direction and always staying one step ahead of the game.
JW: What were your next steps?
KL: We started off as a Financial Consulting company but due to the uncertainty of consultancy, we decided to build our own financial software product and to heavily invest in our own Intellectual Properties (IP) to generate a competitive advantage. Was this venture in productization personally financed? Yes, with some calculated risks, it was personally financed.
JW: How did you grow the company over time?
KL: During the crisis in 2008, there were tremendous issues in supply chain financing. Banks needed a solution fast so they came to us with technical specification and a blank check. They asked if we could create and provide a new product for supply chain financing in less than two months for them, we were the only company who agreed to provide the solution.
We built a solution to optimized efficient account payables and receivables. Due to the recession, this solution was desperately needed by Car Distributors to secure capital for operation. Subsequently, our suite of products were internationally known; such as Europe, China, and the Middle East. Now we are also working with local partners to sell our solution to institutional clients and banks worldwide. Speaking selling globally, you've entered the Chinese market.
JW: What are some of the challenges in the Chinese market?
KL: I believe the localization strategy in each market is very different due to cultural factors. In China, instead of selling software to the customers; we created a platform due to concerns for intellectual property rights. We've used a subscription model in Mainland China and amongst the many uses; we've helped to finance buyers and sellers.
JW: What are your goals in the near future?
KL: My personal goals are to spend more family time.
As for my business goals, it's to find out how to expand the business. Selling in different markets require different strategies, partners, and sale channels. We're also looking to create new products.
JW: What advice do you have for other entrepreneurs?
KL: Number one is very simple: don't be afraid of challenges.
Second one is to take risks - calculated risks. It's best to not only consider the result but to plan each step. I took calculated risks and had many stepping stones, each one guiding me closer to my goal.
Last but not least, you have to learn to sell.
For my children, I encourage certain types of activities such as public speaking and debate. I think having good communication skills is important. Aside from that, I also encourage them to join sports team such as soccer and volleyball; because when you want to build something, it must be bigger than yourself. You'll need to build a team and cooperate well with others.
This article was originally published on The Wang Post.
REAL LIFE. REAL NEWS. REAL VOICES.
Help us tell more of the stories that matter from voices that too often remain unheard.