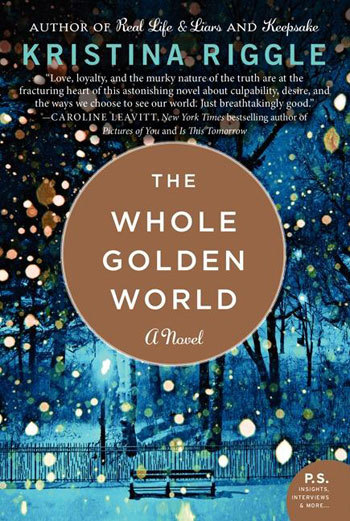 Fans of Jodi Picoult will find themselves immediately drawn into the lives Kristina Riggle has created in THE WHOLE GOLDEN WORLD (William Morrow). Inspired by a true story, this novel delves into the murky water of a teacher-student relationship while also putting marriage, motherhood, love, and deception center stage. Kristina Riggle opens up about her inspiration, writing advice, and the methods she uses to create compelling, emotional, and riveting stories that continue to impact readers.
Tell us the story behind the story. How did THE WHOLE GOLDEN WORLD come to be?
It was inspired by a newspaper article in my hometown paper with a headline reading "Former teacher admits having sex with 17-year-old girl." The most compelling part of the article was where the reporter noted that the young woman - seventeen years old at the time of the sexual relationship but eighteen at the time of the court proceedings - chose to sit behind the defendant. Not with her parents. I thought of how different the story of that affair would be if you asked the daughter versus the parents, or prosecutor, or community. Since I always write from multiple points of view, this seemed like a natural fit for me.
What was the most challenging aspect of writing THE WHOLE GOLDEN WORLD?
The character of the teacher's wife, Rain, was difficult. She is a stalwart supporter of her husband when the accusation comes to light, and I knew this would be a hard sell to readers, who would assume she should throw the bum out immediately. I don't expect readers to agree with her decisions, but I hope they at least understand her perspective.
What is the message you want readers to take away from your book?
I don't do messages. I don't give my books a job other than to be entertaining and interesting. However, if the book makes a reader think about how the same incident, and the same essential facts, can be viewed in such radically different ways by the people involved, so much the better.
Describe your writing schedule. Do you outline? Any habits?
I don't outline, but I do make sure I have a strong enough premise with enough inherent conflict and complication to carry a reader through 400-some pages before I sit down to the first draft. I give myself mini-deadlines and hold myself to them so that I'm able to get the books done on time. It would be too easy, working at home in my blue jeans, to fritter away precious time.
What books are on your nightstand? What are you currently reading?
I just finished WE ARE WATER by Wally Lamb. I met him at a conference for librarians this summer, and he was lovely and gracious in person. His book is a deep, sprawling, complex narrative of a family undone by buried secrets. That premise has been used a thousand times of course, but this book is uniquely a Wally Lamb treatment of it with rich, complicated characters and evocative settings.
Which authors inspire you?
Anne Tyler, Elizabeth Berg, Lee Smith, Rebecca Wells, Jennifer Close, J. Courtney Sullivan, and Ann Patchett.
What have you learned from this experience?
Publishing books, that is? So little of this business is outside my control, and I'm at my most sane when I remember that and focus on what I can do, which is write the best books I can.
What is your advice for aspiring writers?
First of all, see above. Otherwise my advice is to treat your writing as a job, even before it officially is one. Set aside regular time, set goals and hold yourself to them. Edit your work. Be professional. Take criticism well. These are all the same standards you'd have in an office job. Be your own tough boss.
What is the best piece of advice you have ever been given?
I once heard that Hemingway left off writing for the day in midsentence so he didn't waste the next day going, "Uhhh, what now?" I don't know if that's true or apocryphal, but I do that, and it works a treat.
What are you working on now?
Researching a new project. I never talks about works in progress, so sorry, that's all you'll get out of me.
I guess we will have to wait and see what's next for this talented author. If you would like to read more about Kristina Riggle, check out her website.
REAL LIFE. REAL NEWS. REAL VOICES.
Help us tell more of the stories that matter from voices that too often remain unheard.