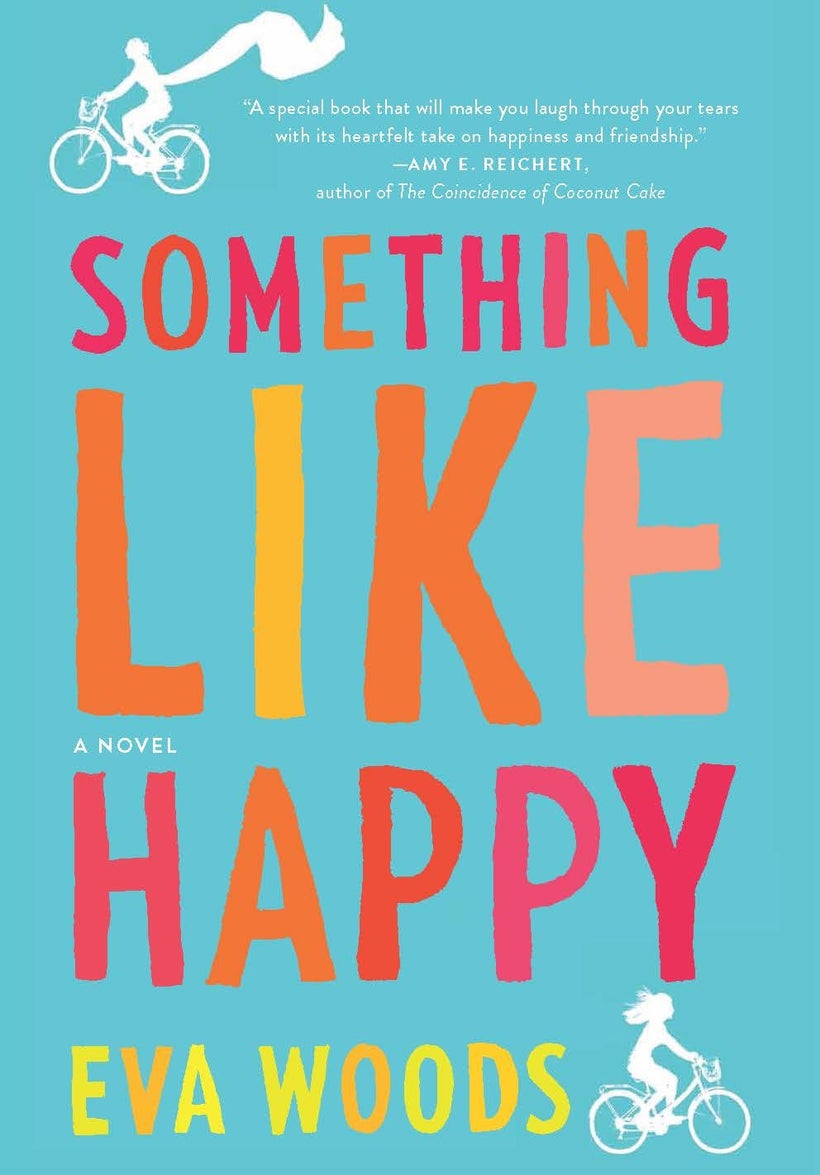 Something Like Happy by Eva Woods is the launch title of the highly anticipated new women's fiction imprint, Graydon House Books. If this title is any indication of what we have to look forward to from Graydon House, readers are in for a treat. Inspired by the wildly popular #100HappyDays social media challenge, Eva Woods has written a heartfelt, moving, and irresistible novel about living life to the fullest, even when facing the worst. It is about resiliency and the beauty that can be found in the messiest of moments, as long as you keep your eyes open. Woods lets readers in on what inspired Something Like Happy, how she writes, and what's next for this engaging voice in women's fiction.
What inspired you to write SOMETHING LIKE HAPPY? Tell us the story behind the story.
I'd been through a couple of tough years in my life and found that things like life lists and gratitude lists had been very helpful. I then saw some Facebook friends doing the #100HappyDays challenge and started to wonder: would that work if you'd genuinely experienced terrible tragedy? What if you only had 100 days left to live? From there, the story took shape quite quickly.
You have been documenting your own #100HappyDays on Instagram. How has that impacted your daily life?
I've been enjoying it – and I do make an effort to do something nice every day, so I have something to post about! Even if it's just a swim or going to a café to work, it really helps. It also helps me see how many fun things I do.
How did writing this book change your outlook on life?
I don't think anyone can be positive and upbeat all the time, and it's certainly not my natural state, but it has helped me to see that it's possible to change your mood, often with very small things like a walk or a slice of cake. I try to remember that now when I'm grumpy (which is often).
What is one thing that consistently brings you happiness?
Looking back on my own 100 days, there's a consistent theme of books, bookshops, writing, etc! Swimming outdoors, ideally in the sea but in a pool otherwise, also really makes me happy. Too bad I live in the UK and it's about to get really cold!
What was the hardest part of writing SOMETHING LIKE HAPPY?
It was hard to get the tone right – I wanted it to deal realistically with the serious issues it touches on, and not gloss over the terrible impact of loss and sickness, but at the same time I wanted it to be uplifting and funny in places. I also had to figure out a way to include 100 chapters (one per day) without it getting too long.
Describe your writing style. Do you outline or fly by the seat of your pants?
I wish I could outline, but I can't! So I just start writing and somehow it all comes together, with a bit of planning as I go along. I actually enjoy writing this way, when I don't know what's coming next.
Which authors inspire you?
One of my favorite current authors is Liane Moriarty – her books are so funny, wise, gripping, and honest. That's how I aim to write, too.
What books are on your nightstand?
I'm just now reading Attachments by Rainbow Rowell, which is nicely nostalgic and also useful, as I've just started writing something set slightly in the past. After that I'm going to read The Bone Clocks by David Mitchell, as I love high-concept ideas.
What is the best piece of advice you can give to aspiring writers?
Try not to see it as "writing a book," but instead break it down into smaller goals like "I'm going to write 500 words today" or "I'm going to name this character today." You'll be amazed how it adds up, with small amounts of every day. I write all my books this way, often with no idea where it's going or what the story is.
The follow up to Something Like Happy is done, and I'm just starting on the next one and, of course, I have no idea what's going on. I know it's about the choices we make and how they send our lives in different directions. It's lots of fun at the moment.
REAL LIFE. REAL NEWS. REAL VOICES.
Help us tell more of the stories that matter from voices that too often remain unheard.
This post was published on the now-closed HuffPost Contributor platform. Contributors control their own work and posted freely to our site. If you need to flag this entry as abusive,
send us an email
.