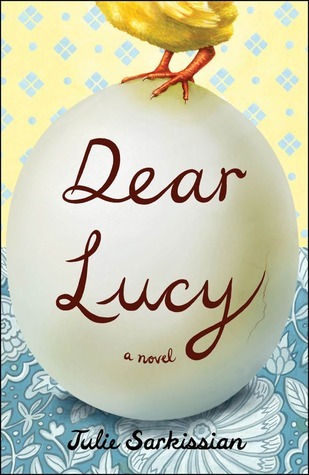 Julie Sarkissian burst on the literary scene with her debut novel, Dear Lucy. Joyce Carol Oates calls Dear Lucy "a boldly lyrical, suspenseful, and mysterious fictional world." Ann Hood says that "Dear Lucy is one of those rare delights that you cannot put down, and once you do, you can't forget." With praise like that, you can understand why Sarkissian is a writer we shouldn't ignore. In our interview, Julie talks about finding her voice, her love of writing groups, and authors that inspire her daily.
Tell us the story behind the story. How did DEAR LUCY come to be?
Dear Lucy began with a voice, Lucy's voice, as she gathered eggs on Mister and Missus' farm. Her voice came to me whole and complete and after struggling to find inspiration for my first year of graduate school, it felt like such a gift. I remember writing eight pages in her voice that felt as natural to me as breathing. It felt like Lucy always existed and had decided it was time to present herself to me. Over the next few weeks I wrote about 50 pages in Lucy's voice and it was so satisfying and exciting. Then I totally stalled.
I had a character and a voice I loved but I had no idea what story Lucy and the other characters wanted to tell. So drawing the story out from the voice was a long process. I really felt like the blind leading the blind. But it was a great learning experience in analyzing my own work; reading the words I had put on the page and asking my subconscious, what was your intention in choosing these words? What, other than the way they sound, was compelling to you? And from that, the story emerged.
What was the most challenging aspect of writing DEAR LUCY?
There were two aspects that were particularly challenging, one was imparting information to the reader through Lucy's perspective. Her perceptive isn't traditional; she picks up on things nobody else would and totally misses things most everyone else would notice. So dropping plot points in Lucy's chapters proved a tricky balance of maintaining the integrity of her character and voice and moving the plot along. The other challenging aspect was developing Missus into a character that was believable and also capable of the unthinkable, and then slowly but surely unpeeling the onion layers to reveal her darkness.
What is the message you want readers to take away from your book?
That love, appreciation of beauty, and loyalty are universal human qualities; they are as essential to a person with limited cognitive ability as anyone else. And that friendship comes in unexpected forms! Talk to chickens; they may just talk back.
Describe your writing schedule. Do you outline? Any habits?
I outline after I have a good deal of raw material. I outline to understand what I've already created and try to shape it, not as a road map of what's to come. I've tried outlining before writing raw material and I found it inhibiting. I have to admit; my habits are unremarkable! I like to write in the morning, I usually write from home, either my desk or if I'm feeling particularly indulgent and lenient I will write on the couch. But I have also found that paying for a writing space is a great way to jump start a project, re-invigorate discipline when it's lacking.
What books are on your nightstand? What are you currently reading?
My book club took a break from fiction and we are reading The Will Power Instinct and it's a really fascinating look at how will power functions and how to get it to work for you. There isn't anyone who couldn't learn something from it, and I think those among us who work alone, makes his or her own schedule and is accountable only to his or herself can relate to struggling with discipline. I just started the classic The Good Earth by Pearl Buck, which my husband has been trying to get me to read for years. I just finished Americanah by Adichie and I keep thinking back about her observations and commentary on race. Recently finished Heft by Liz Moore and really enjoyed her sparse prose.
Which authors inspire you?
I love American Modern Fiction. I credit Faulkner as my biggest influence and inspiration, and others include Nathaniel West, Flannery O Connor, Eudora Welty, and Nabokov. Jesus Son by Dennis Johnson contains some of my favorite prose, though it reads more like poetry. Mating by Norman Rush and Beloved by Toni Morrison are my favorite books published in the last 30 years. But I am also inspired by my author friends and authors I have had the opportunity to be on panels with and work with, like my boss, Julia Fierro, who started Sackett Street Writer's Workshop over ten years ago when she completed her MFA, whose first book, Cutting Teeth, just released. She wrote the book while running Sackett Street and being a mom of two small kids. Some days it's all I can do to open my computer and make a PB&J, I can't imagine running a demanding business, balancing family and writing a book.
What have you learned from this experience?
Gosh, there have been too many lessons to count. I've learned that discipline and hard work are the only qualities that get anything accomplished. I've learned that maintaining your integrity as an artist is the only thing that will can combat the negative feelings that arise over bad reviews, lack of reviews, and jealousy. I've learned how incredibly rewarding a good editorial relationship can be. I've learned the importance of community and how crucial it is to have people to talk to about the experience of writing and publishing because it can be a lonely and isolating profession, but it doesn't have to be.
What is your advice for aspiring writers?
Take a writing workshop; I teach as part of The Sackett Street Writing Workshop and I am blown away by my students talent and dedication. Get comfortable sharing your work; it is painful to make yourself vulnerable to people's opinions, but not only is it an inevitable part of being a writer, other peoples feedback can be very valuable. Join a writing space if you find it too hard to work from home. Make realistic weekly goals and track your progress, and don't get discouraged you find it hard to meet them. Let the work tell you what it wants to be; what form it wants to take or what genre it is. Remember everyone starts somewhere, each sentence starts with a single word, every journey starts with a single step, and no step is more important than any other. The forth day you work on a new book is as important as the day you turn your book into copy editor or the day it receives a rave review.
What is the best piece of advice you have ever been given?
I'm very inspired by authors who have had major disappointments and didn't let that stop them from moving forward. I'm risk adverse and highly highly sensitive to criticism (I'm not claiming to be alone there! I don't know many people who relish it) so the vulnerability inherent in being a writer is a struggle for me. But when I hear of successful writers who had to fight to get their work published; who looked for an agent for years, or whose first book didn't sell but wrote a second one, I am reminded that setbacks like that are not signs to quit, they are the opposite, they are signs from the universe that you are strong enough to fight for your work.
What are you working on now?
When book number two was in its nascent stages I happily rhapsodized about it every chance I got, and now that I'm closer to completing a viable draft that could conceivably be read, and judged, by other people, I break out in a cold sweat just thinking about it, forget talking about it! But in general terms I am thinking of it as a magic realism literary adventure love story, call it Marquez meets Robinson Crusoe meets Romeo and Juliet.
Joan Didion famously explained that she writes "entirely to find out what I'm thinking, what I'm looking at, what I see and what it means. What I want and what I fear." Why do you write?
I write to explore the beauty of a sentence, an image, a turn of phrase. I love lyrical writing and to me language is as integral to a work of literature as character or plot. Making a beautiful sentence feels like a secret that the universe whispered just to me, and by writing it down I get to be the messenger of something beautiful.
JULIE SARKISSIAN is a graduate of Princeton University, where she won the Francis Leon Paige Award for creative writing, and holds an MFA in Creative Writing from The New School.
She is an instructor at The Sackett Street Writer's Workshop and lives in Brooklyn, New York. For more information on Julie, visit her website.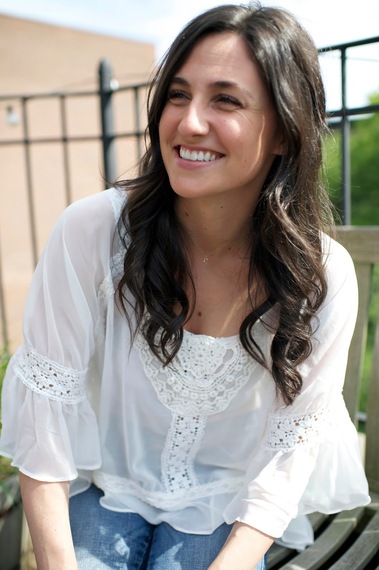 REAL LIFE. REAL NEWS. REAL VOICES.
Help us tell more of the stories that matter from voices that too often remain unheard.