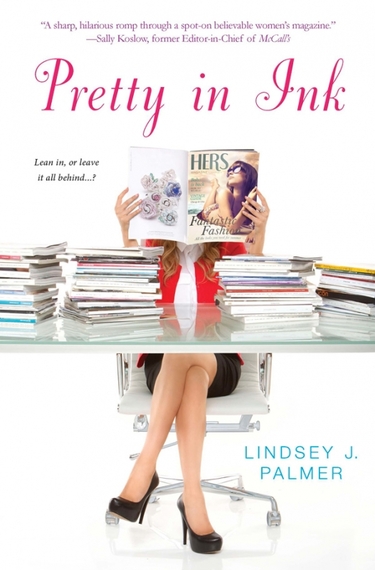 Lindsey Palmer's debut novel, Pretty in Ink, will appeal to anyone who has ever wondered what really goes on behind the doors of their favorite glossy magazines. Having spent nearly a decade working in the magazine industry, Palmer writes about a world she knows well. Pretty in Ink is also about so much more. It's about navigating the pitfalls of life while staying optimistic about the future. This is the perfect book to take to the beach and Palmer is definitely an author to watch. In our interview she explores the role of workplace in our lives, how channeling a character brought her clarity in life and on the page, and the intricacies of her writing process.
Tell us the story behind the story. How did Pretty in Ink come to be?
I worked for seven years at women's magazines (Glamour, Redbook, and Self), and I always suspected this world would make an interesting setting for a novel. Task a bunch of ambitious New York women with producing a product that's supposed to be fun but not frothy, edgy but not offensive, unique but not niche, opinionated but not political, inclusive but not bland -- oh, and that will sell -- and the resulting atmosphere can be fresh and vibrant at the best of times, or frantic and volatile at the worst. It's a setting custom-made for conflict. What a perfect backdrop for a page-turner, I thought.
A backdrop is one thing, but a novel needs a gripping story, too. When 2008's economic meltdown hit the magazine industry like a wrecking ball, I felt I'd found that story -- one that was quite different from The Devil Wears Prada and other novels set in publishing's glory days. In my Pretty in Ink, the editor-in-chief gets fired on Page 1, setting in motion the kind of upheaval that'll be familiar to anyone who's collected a paycheck (or tried to) in the past 5 years.
Pretty in Ink's plot is a version of what I -- and nearly everyone working in the industry -- have lived through: With hopes of reviving a slumping brand, a new boss is brought in to revamp the magazine, and usually the staff, too. My strategy for surviving such scary chaos was often to pretend I was a character in a novel: What a curious conflict, I'd think, pretending I was taking vicarious pleasure in a protagonist's troubles instead of living my own life, I wonder what will happen next! Eventually, I started taking notes -- and those notes grew to become this novel.
What was the most challenging aspect of writing PRETTY IN INK?
I always wanted Pretty in Ink's narration to be a joint venture -- I figured the best way to get at multiple perspectives and the story's shades of gray was to hear from a variety of voices. That said, my first draft assigned a new narrator to each new chapter, which made for a very large and unwieldy cast of characters. My agent, Joelle Delbourgo, wisely advised that I pare down the cast and limit the number of narrators. This ultimately made for a sharper, richer story, but the revisions were quite a challenge: I had to figure out who were the most essential characters, and which pieces of the story made the most sense for each narrator to take on.
What is the message you want readers to take away from your book?
There's not necessarily a moral to the story, but what I do hope readers take away from the book is a closer consideration of the role of work and the workplace in our lives. Workplaces are worlds unto themselves, with their own rules (both official and unofficial), social codes, vibes, and hierarchies. And the people who populate these worlds have such a range of relationships to them -- some see their jobs as merely a means to pay the bills, and others hinge their whole identities on them.
There's no correct attitude to have towards your workplace and your coworkers, of course, but for most of us, these are the places where, and the people with whom, we'll be spending the majority of our waking hours for most of our adult lives. For that reason alone, it seems worth it to me to think about what that place and those people mean to us, and how we do or don't survive or thrive in these settings. Offices are frequently depicted on-screen (i.e. in Parks and Recreation, Veep, and The Office), but more rarely on the page. Even if my readers have never picked up a women's magazine let alone worked as an editor creating one, I hope they'll be able to relate to some of the work scenarios depicted in the book and, as a result, put some renewed thought into the role that workplaces and coworkers play in our lives.
Describe your writing schedule. Do you outline? Any habits?
On the delicious and rare day that I can devote to writing, I'll walk to this wonderful spot in my neighborhood called Kos Kaffe, where the coffee is strong and the music is pleasant but not intrusive. I'll spend about half of my time actually writing, plus a chunk of time idling through a thesaurus, another chunk of time eavesdropping on others' conversations, and way too much time scrolling through cooking blogs and the non-newsy parts of nytimes.com. In other words, I don't stay super-focused, but still I generally get down five to ten pages of not-terrible writing in a sitting. Then I'll get antsy or my laptop power will die, whichever comes first. I'll follow this pattern for a few days, and then I'll backtrack on those pages and begin tinkering.
I tend to write about topics that have been plaguing me in one way or another, so without quite meaning to, before I sit down to write I end up working through ideas and developing characters and scenes in a haphazard, daydream-y kind of way. So while I have some sense of where I'm headed with a story, I don't create anything as formal as an outline. However, my editing process is much more structured and intentional. I write a draft, editing as I go along, and then I rewrite the whole thing again and again, probably three or four times. Writing for me is about one-fifth writing and four-fifths editing and revision.
What books are on your nightstand? What are you currently reading?
I'm on the verge of finishing a school year -- I recently made a career change and now teach high school English -- so my recent reading has mainly been A.P. Literature essays and short stories by my Creative Writing students. Oh, and also Meg Wolitzer's The Interestings, which I devoured. My to-read pile is currently not on my nightstand but rather tucked away in my suitcase, and will soon join me on vacation to Greece (!). I'm psyched to bring along Emma Straub's The Vacationers -- I adored her previous novel, Laura Lamont's Life in Pictures; I've also packed Maggie Shipstead's Astonish Me -- I read her Seating Arrangements in one sitting--and Emily Gould's Friendship -- I find it's a unique (and perhaps narcissistic) kind of pleasure to read novels whose protagonists are my exact age.
Which authors inspire you?
I mentioned Emma Straub above, who's a new-ish favorite. She writes with grace and insight and makes me laugh out loud -- plus, her book events feature warm chocolate-chip cookies, and I can't argue with that.
Mona Simpson is another all-star on my team of favorite authors. Reading her debut, Anywhere But Here, was like discovering an entirely new way that language could be used, and her other books are just as gorgeous and moving. I always read her work at half speed because every word is so elegantly chosen, and every clause is gold.
I could name a hundred other contemporary authors I love, but instead I'll suggest that you friend me Goodreads and then you can see if our tastes align. In terms of old-school pros, my favorites are Jane Austen and Edith Wharton. I'm a sucker for wit and social satire.
What have you learned from this experience?
A million things. But the most surprising one might be my huge admiration for publicists (shout-out to Kensington's Vida Engstrand!). Writing is one thing, but getting people to 1. find out about what you've written, and 2. care enough to check it out, is an entirely different thing, and quite difficult and daunting. People who have mastered this art have my utmost respect and awe.
What is your advice for aspiring writers?
Read. Read more. Read even more. I've found that the best way to become a better writer is to expose myself to models of beautiful, fantastic, mind-blowing writing. If you don't read much (as some aspiring writers have admitted to me that they don't), then you should watch less TV, or join a book club, or move to New York so you can commute by subway, or make some other change that allows you to read more. It's like filling your toolbox with the right tools. Besides, it's a wonderful thing to support other writers.
What is the best piece of advice you have ever been given?
Just sit your butt down and write. Inspiration is fantastic but unreliable, whereas a commitment to the daily grind is completely within your control. In other words, treat writing like a job. Just like any other job, some days are great and other days are a struggle, but the point is showing up and maintaining the rhythm of a regular practice. I've heard this advice from many, but it's never rung more true than during this past year when I began teaching: With 5 classes a day to plan and teach and 150 students' papers to grade, I didn't have a lot of free time for my own writing. So I couldn't be precious about it; instead, I had to grab the hour or two here or there and just sit down and do it.
What are you working on now?
I'm putting the finishing touches on my next novel, If We Lived Here, which will be published next April. It's the story of a 30-something New York couple planning to move in together for the first time. They're in love and optimistic, but then a lot goes very wrong very fast, which forces them to examine what it really means to commit--to each other, to a home, and to a life that feels right for them.
Joan Didion famously explained that she writes "entirely to find out what I'm thinking, what I'm looking at, what I see and what it means. What I want and what I fear." Why do you write?
That sounds about right to me -- I mean, who am I to question to the great Joan Didion? But to add my own two cents, I suppose I write to explore, to work things through, and to better understand this strange, funny, nonsensical world we all live in. When I find myself oddly obsessed by a particular issue, or group of people, or scenario, unable to shake it from my thoughts, then I know it's something I better start writing about. That instinct feels as fundamental to me as sleeping when I'm tired and eating when I'm hungry.
Lindsey J. Palmer worked as a professional writer and editor in the magazine industry for seven years, most recently as Features Editor at Self, and previously at Redbook and Glamour. A graduate of the University of Pennsylvania, she earned a Master of Arts in English Education from Teachers College, Columbia University, and currently teaches 12th grade English, A.P. Literature, and Creative Writing at NEST+m in Manhattan. Lindsey lives in Brooklyn. For more information on Lindsey, visit her website.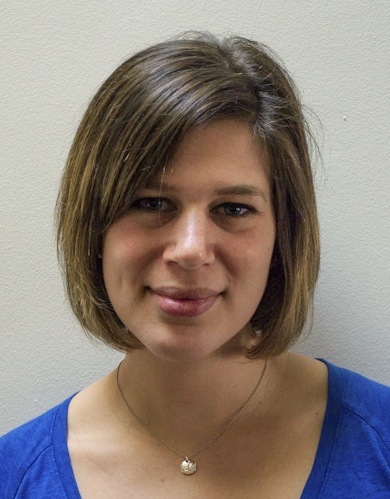 REAL LIFE. REAL NEWS. REAL VOICES.
Help us tell more of the stories that matter from voices that too often remain unheard.