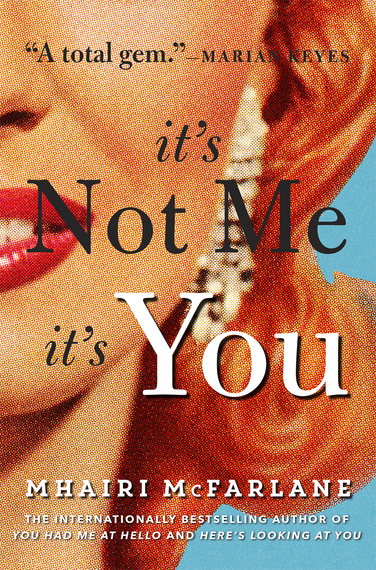 Mhairi McFarlane is an internationally bestselling author who burst onto the scene with her debut novel, You Had Me at Hello. She immediately followed up her debut hit with Here's Looking at You. She is now back with her latest release, It's Not You, It's Me about 33-year-old Delia, a government press officer whose life is stable and predictable... and a little dull. When she proposes to her boyfriend Paul, and receives a text meant for The Other Woman instead, things fall spectacularly apart. It's a nasty plot twist in Delia's life -- but is it also a chance for her to seize control and become author of her own fate again? I'm thrilled to bring you an interview with this breakout novelist!
1. Tell us the story behind the story. How did IT'S NOT ME, IT'S YOU come to be?
It's always a composite with me, it doesn't tend to be a single lightning bolt: I'd had redhead, vintage-clad Delia as a heroine in my head for a while, I wanted to write about someone coming to terms with infidelity, I fancied writing a proper caper of an adventure, that would mirror Delia's secret superhero comic. HarperCollins were brilliant about running with my slightly wacky idea of the graphic novel inserts of a woman in a cape, with her crime fighting sidekick fox! I love Newcastle, Delia's northern home city.
2. What was the most challenging aspect of writing IT'S NOT ME, IT'S YOU?
Hah, good question! I think plotting is always the hardest thing. You can have great characters, funny dialogue, wonderful set pieces in your head. That's all inspiration. But plot is sweat. No-one day dreams every spit and cough of an entire A to Z storyline. (Do they?! I hate them if so.) That ballet where all the elements come together by the end, in an exciting, unpredictable yet plausible way: NOT EASY. It's so much harder than you might think, from when you're on the audience's side as a passive consumer of plots. (Which we all are, of course.) And you know, romances are fairly linear, with a binary 'do they or don't they' outcome! Whether that makes it easier or not, I don't know. Audiences are very sophisticated and expect the unexpected. But they will also howl if they don't believe the twists. Do I sound like I'm moaning? I'm not, promise. But yeah, plot. Hard as nails.
3. What is the message you want readers to take away from your book?
Ooh message is quite heavy! I'd hope first and foremost they'd just enjoy it. If there's a message, it's in Delia's asking herself, in her life as well as her art: 'What happens next?' We box ourselves in and tell ourselves we can't do things and it's almost always fear talking. Delia's story is about taking control of her life, and ultimately, learning how to take risks. Learning *why* to take risks. This has all gone very Oprah hasn't it? *jumps on couch*
4. Describe your writing schedule. Do you outline? Any habits?
I do outline. I'm not one of those Stephen King 'fly by seat of pants' anti plotters. You don't need to know every last thing that occurs, which can strangle your story - it's the greatest thing when something you didn't plan, happens to one of your characters while you're typing, and equally sometimes you'll get to the fork in the road and realise your plans don't work - but an overall sense of the direction makes the journey feel much more sure footed. Also, on a practical level, makes it less likely you'll be canning 20,000 words of sub plot that led to a dead end! I'm a social media addict so a day of my writing is often me spending an hour with the manuscript, then having to check four different platforms to type "LOL" at a friend on Facebook.
5. What books are on your nightstand? What are you currently reading?
Do you know, everyone lies in these questions don't they? (Don't they?) I'm going to go look RIGHT THE NOW and give you an honest answer. (Unless 'My Billionaire Dinosaur Lover Craves Gay Ass' is there. Oh wait, that's on my Kindle) *returns slightly out of breath* Rainbow Rowell 'Eleanor & Park', Jessica Alcott 'Even When You Lie To Me' (an American friend and a new YA author who is going to be huge, FYI) and the new Judy Blume. OH MY GOD: three American female writers! Now you're going to think I'm lying! And I bloody checked and everything. Bloody hell. Who'd be me.
6. Which authors inspire you?
David Nicholls, who wrote One Day and Us, is both a huge talent and a delightful human being. That seems plenty of inspiration in one person. Marian Keyes is the same. I admire any author with a real love of the stories they're telling. One of the great things at the HarperCollins parties is I get to meet people like Joe Abercrombie, whose fantasy novels were a huge hit in my household before I met him. Unfortunately he's a right prannock. (I joke) (NB: prannock is British for jerk)
7. What have you learned from this experience?
Writing? I've learned, and it's a wonderful thing to learn, that if you tell a story with sincerity and enthusiasm and emotion, it communicates to readers. There are some universal languages.
8. What is your advice for aspiring writers?
Well there's two types of advice you can offer, the more whimsical stuff about finding your voice, and the bare practical 'how to get an agent / get published' sort. I'm never sure which is more useful. One stone cold piece of sense is to write the story that keeps you awake at night. See 7) and enthusiasm. You're the first reader. Write something you love and can't put down. Become addicted to it. Work hard at taking your ego and your subjectivity out of the equation and think: what would I want from this as a reader? Some people hear tips along those lines and think it's code for: be coldly commercial. It isn't. If you try to write your story in its leanest, smartest possible form, your original intention will come across all the more clearly for it.
9. What is the best piece of advice you have ever been given?
Ooh, in life or writing? Assuming the latter, my boyfriend said to me, talking of the late, great Iain M. Banks, there was such a huge pleasure in an intelligent writer, writing genre unapologetically and with real conviction and joy. I took that to heart. I'd struggled with my manuscripts initially because I thought that writing a novel was a Serious Business and therefore I should be quite sombre and preachy in my prose. His advice gave me the confidence to write You Had Me At Hello, and confidence in my voice.
10. What are you working on now?
My fourth book, which is called Who's That Girl. Whisper it, it's my favorite so far! Will I always feel that way? I hope so.
11. Joan Didion famously explained that she writes "entirely to find out what I'm thinking, what I'm looking at, what I see and what it means. What I want and what I fear." Why do you write?
I think most writers write as an outlet for all the questions and experiences and feelings that you can't or won't share elsewhere, it's a way of communicating. Perhaps books are the secret questions that authors want to ask themselves. This has all got very deep and therapy-speak hasn't it? I also write because getting to make up stories with jokes about bums and willies in them all day and get paid for it is the absolute bloody dream.
If this interview didn't make you fall in love with Mhairi, I don't know what else will. She is a breath of fresh air in the women's fiction market and a novelist whose books you will devour. Grab a copy and head to the beach! For more information on Mhairi, visit her website.
Popular in the Community