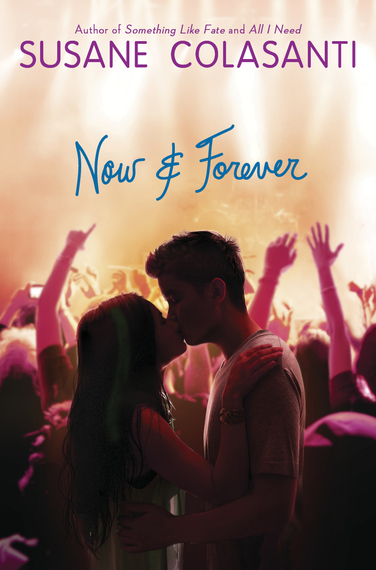 Susane Colasanti's bestselling books strike a chord with teenage girls, often finding a fan base with adults as well, because they shine a light on the angst, worries, dreams, and passion of youth while always giving an optimistic spin to every story. Her latest release, Now & Forever, shines just as brightly and shows why she is such a standout in her field. In our interview she talks about her writing process, her hopes for her readers, and why she writes.
How did Now & Forever come to be? What was the inspiration behind this story?
One of my biggest teen fantasies was to be the girlfriend of the world's biggest rock star. Joey McIntyre from New Kids on the Block was beyond adorable and his voice made me swoony and I wondered what it would be like to be immersed in his world. Not only traveling to exotic locations and attending fabulous events, but what would it be like to be the girlfriend of the boy millions of other girls want? Is the life of a rock star more surface glitz than actual glamour? Would it be awesome or weird to watch a sold-out show at Madison Square Garden from backstage, hearing my boyfriend perform a song that he wrote for me to thousands of girls? Writing Now & Forever was my way of brining that fantasy to life while exploring the harsh reality of what it takes to be a worldwide icon. And how that harsh reality impacts an otherwise stable relationship.
What was the most challenging aspect of writing Now and Forever?
Now & Forever is my eighth book. The most challenging aspect of writing it was making sure that I was keeping the details fresh. This is something I never thought would happen, but I'm actually starting to forget every quirky detail I've mentioned in previous books. Sometimes I even forget names of minor characters! One of these days I really have to make a master list of character names...
What is the message you want readers to take away from this book?
My main goal in writing each of my books is to reach out to readers and help them feel less alone. Whether that means they relate to the characters or just use the story as a way to escape for a while, I want my books to bring my readers happiness. I want my readers to feel inspired, motivated, and optimistic by the time they finish that last sentence. All of my books contain positive messages that hopefully encourage readers to dream big, then take steps every day to turn those dreams into reality.
Of all of your characters (in all of your books) which one most closely resembles you?
Sara from When It Happens. That book was inspired by my own experiences during senior year of high school. So much about Sara reflected my real life at the time: her scrapbook, her pink bubble wishes, her hatred of gym, even her teddy bear Chez were all autobiographical aspects I felt compelled to include. Noelle from Keep Holding On is another character inspired by my teen self. Like Noelle, I was bullied throughout junior high and high school. I wanted to turn the negative experience of being a teen outsider into a positive opportunity to reach out to teens in need.
Describe your writing schedule. Do you outline? Any habits?
Writing a first draft is the hardest part of the process for me! The blank page can be every intimidating. So I like writing an outline before I begin writing a new book. The outline evolves as I write the first draft, but I like having that sense of where the story is going and which plot points I'll be focusing on in each chapter. My outlines tend to be about 40 pages. I also have a notebook dedicated to each book I write. The notebooks are filled with information about the characters and settings.
I'm a night person. Always have been, always will be. When I was a high school science teacher, I was getting up as early as 4:45. No one should be awake at 4:45. But there I was, half-asleep in the darkness but loving my job so much that it didn't really bother me. I've been a full-time author since 2007. One sweet thing about my job is that I can set my own schedule. Having a writing routine is super important. I like to write in the afternoons. When I'm working on a new book, I write five pages a day, five days a week. But when I'm revising or on deadline, my work days easily extend to between ten and sixteen hours.
What books are on your nightstand? What are you currently reading?
Dude. I just finished Eleanor and Park by Rainbow Rowell. Totally blown away. I love her writing so much that I immediately added Landline and Fangirl to my nightstand. Currently I'm reading Where We Belong by Emily Giffin. Adult novels featuring teen main characters always interest me. Next up is an ARC of Jodi Picoult's Leaving Time. Jodi is freaking amazing.
Which authors inspire you?
Some of my fave YA authors include Laurie Halse Anderson, Blake Nelson, Jennifer E. Smith, E. Lockhart, and Madeleine George. My early inspiration (and the book that inspired me to first start thinking about writing a teen novel) was The Outsiders by S.E. Hinton.
What is your advice for aspiring writers?
Read. Read as much as you can. The more you read, the better your writing will become. Take a book with you everywhere. Read in line, on the bus, waiting for a friend. Find books you love that make you want to write. Write about what makes you feel alive. When you are passionate about your writing, you will find your voice.
What is the best piece of advice you have ever been given?
David Life of Jivamukti Yoga said, "Clean your house. Clean your thoughts of everyone in your life." Everything is connected. Our thoughts inspire our words, our words inspire our actions, and our actions define us. The people we choose to surround ourselves with will determine if we are surrounded by negative or positive energy. Radiating positive energy is easier if you surround yourself with positive people. By sending positive energy out into the Universe, you are creating a future filled with love and light. It's all about the karma.
What are you working on now?
This is the time of year when I start writing a first draft. I'm about to start writing the second book of my City Love trilogy. The first book will be out in April 2015. City Love is told from the perspectives of three girls living in Manhattan the summer before college. They start out as strangers sharing an apartment, but end up as so much more. And of course City Love focuses on their boy adventures. Although this is my first trilogy, I'm still writing love stories about soul mates. That's my jam.
Joan Didion famously explained that she writes "entirely to find out what I'm thinking, what I'm looking at, what I see and what it means. What I want and what I fear." Why do you write?
My readers are why I write. I write with the hope that my books will help teens the way books helped me when I was a teen. Books were my best friends. They saved me. They gave me a reason to be happy when I felt sad. They gave me hope when I felt lost. And they reassured me that I was not alone. If my books can help teens deal with their lives in any small way, they will have served their purpose.
Susane Colasanti is the bestselling author of When It Happens, Take Me There, Waiting for You, Something Like Fate, So Much Closer, Keep Holding On, All I Need, and Now & Forever. Susane has a bachelor's degree from the University of Pennsylvania in Astrophysics/Earth and Space Science with a minor in psychology. She has a master's degree from New York University in Science Education 7-12, Teachers of Physics. Before becoming a full-time author in 2007, Susane was a high school science teacher for ten years.
As a teenage Jersey girl, Susane felt like her true home was across the water in New York City. The Knowing began when she saw Late Night with David Letterman for the first time in junior high. The show always started by zooming in on the Twin Towers, friends she carries in her heart. She lives in downtown Manhattan. You can connect with Susane at her website.