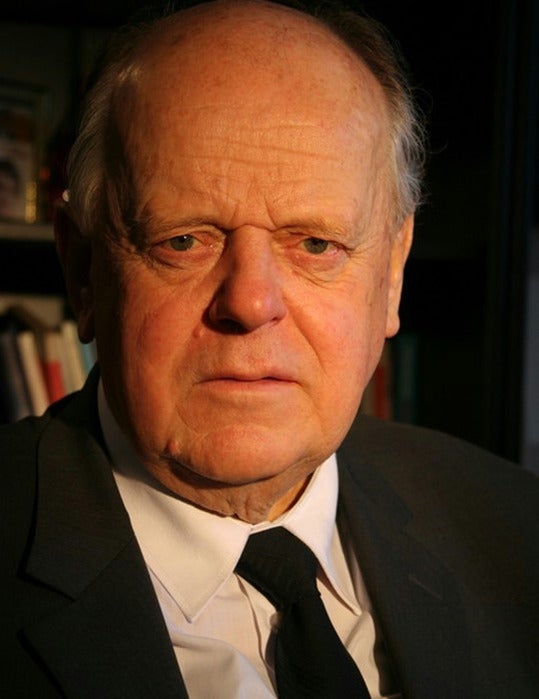 Over the past several months, Belarus has returned to the international spotlight, due to the outbreak of mass protests over a controversial unemployment tax and Lukashenka's emphatic criticism of Russian foreign policy. While rising unrest in Belarus is unlikely to result in the near-term displacement of Lukashenka's hold on power or a marked pro-Western shift in Minsk's foreign policy, it is clear that Belarusians are critically evaluating their political system and international alignments to a greater degree that at any other time in recent history.
To understand the historical underpinnings of Belarus's shifting domestic politics and international identity, I interviewed Belarus's first president, Stanislav Shushkevich, during his visit to the University of Oxford on March 28. During our interview, Shushkevich reflected on Belarus's transition towards consolidated authoritarianism, Minsk's increasingly tentative embrace of Eurasian integration, and his visions for Belarus's post-Lukashenka political future.
One striking takeaway from my discussion with Shushkevich was his belief in the immutability of the Belarusian political identity. Shushkevich had previously highlighted his thoughts on Belarus's authoritarian trajectory in his 2002 book entitled Neo-communism in Belarus: Ideology, Practices and Perspectives. In our interview, he lamented the lack of political change in the fifteen years that followed this seminal work on Belarusian politics.
Shushkevich attributed Belarus's predilection towards authoritarianism to cultural characteristics formulated during the Soviet era. He argued that Belarus developed more effective governance structures than most other Soviet republics due to the hard-working nature of the Belarusian people. This emphasis on achievement at any cost had pernicious long-term consequences, as it caused Belarusians to ignore the importance of political processes. This neglect hindered Belarus's ability to transition towards democracy, like Ukraine and the Baltic states.
The pervasiveness of Soviet culture in contemporary Belarus has also contributed to authoritarian persistence. During our interview, Shushkevich recalled an old Soviet joke that "Belarusians were more Soviet than Russians." Belarus's commitment to the Soviet state was highlighted by its willingness to proportionally sacrifice more troops during the 1980-88 Soviet War in Afghanistan than any other Soviet nationality.
The Belarusian political establishment's retention of ex-communist nomenklatura members ensured that this ideological fervor endured after the USSR's demise in 1991. As Belarusian communist elites maintained close links with Moscow, the Belarusian people had comparatively few political grievances, and were willing to maintain the status quo with little backlash.
This tacit acceptance of authoritarianism prevented high-level Belarusian policymakers from implementing radical reforms. Shushkevich noted that his prestigious job within the political establishment deterred him from joining reform movements and made him almost unaware of their existence.
But eventually, Shushkevich recognized that reformists were contributing many positive ideas that would advance Belarus's prospects of national resurrection. The reform of higher education was an area that was of particular interest to the Belarusian People's Front, though disagreements on the best way to revitalize Belarus's economy and institutions continued to prevail in the years that followed.
This lack of consensus ensured that reformist groups were ineffective in converting their ideas into the implementation of actual reforms. Political apathy also undercut democratic consolidation in Belarus. Shushkevich joked that when he first entered presidential politics, he told his colleagues that he would withdraw his nomination, but he never did and was elected.
When Shushkevich took office, his experience in the Soviet system left him more prepared to deal with Belarus's political challenges than the Belarusian People's Front, who in his view had "failed to realize that state-building was a prerequisite for national revival." Shushkevich realized that ex-nomenklatura members should not be chastised for being communist, as embracing communism was often not their ideological choice but an unfortunate consequence of a political environment that did not tolerate dissent.
Shushkevich's attempts to explain this political reality to more radical reformist groups fell on deaf ears. By the time the next elections began in Belarus, 30 candidates had entered the field with Shushkevich staying above the political fray as an independent. Belarusian reformists' refusal to listen to Shushkevich's advice on how to be elected proved costly. Their resounding defeat ensured that Belarus would embrace Alexander Lukashenka, a populist authoritarian leader who swiftly dismantled Belarus's fragile democratic institutions.
The Belarusian People's Front's ability to resist Belarus's slide towards authoritarianism after Lukashenka's victory was limited, as its leadership had lost the confidence of the people. This lack of confidence in democratic institutions persists to this day. In our interview, Shushkevich described Belarus as a country with "many protesters but few people who understand politics, and too many people who think they can rule the country."
In Shushkevich's view, the multiplicity of inept politicians entrenched the "stable but bad political situation" Belarus faces today. The ineffectiveness of opposition leaders has been compounded by the tendency of European leaders to accommodate and financially support, rather than aggressively isolate Lukashenka's regime.
Authoritarianism in Belarus been further strengthened by the effects of Belarusian and Russian propaganda. Even though this propaganda largely detached from empirical realities, Shushkevich believes that it has deterred Belarusians from embracing Western values, and caused Belarusians to pay more attention to negative political examples in Europe, like the Poland's right-wing government.
While radical political change in Belarus is unlikely in the near future, Shushkevich expressed optimism that the younger generation's Internet use and educational opportunities in liberal democracies like England and the Czech Republic could result in Belarus adopting a European identity. Shushkevich contended that by developing a European consciousness, Belarus would be able to improve its "people's economic wellbeing and facilitate the process of political liberalization."
Recent unrest in Belarus suggests that opposition forces are dynamic enough to bring about political change in the long-term. Shushkevich's belief that political change in Belarus is probable in the long run is strengthened further by his experience overseeing the dissolution of the Soviet Union after the Belovezh Accords. But the road to political transformation is likely to be an arduous one, as Belarusian liberals will need to overcome the pernicious legacies of decades of indoctrination in communist ideology for their dreams to come to fruition.
Samuel Ramani is a DPhil candidate in International Relations at St. Antony's College, University of Oxford, specializing in post-1991 Russian foreign policy. He is also a journalist who writes regularly for the Diplomat magazine and Washington Post. He can be followed on Twitter at samramani2 and on Facebook at Samuel Ramani.
Calling all HuffPost superfans!
Sign up for membership to become a founding member and help shape HuffPost's next chapter