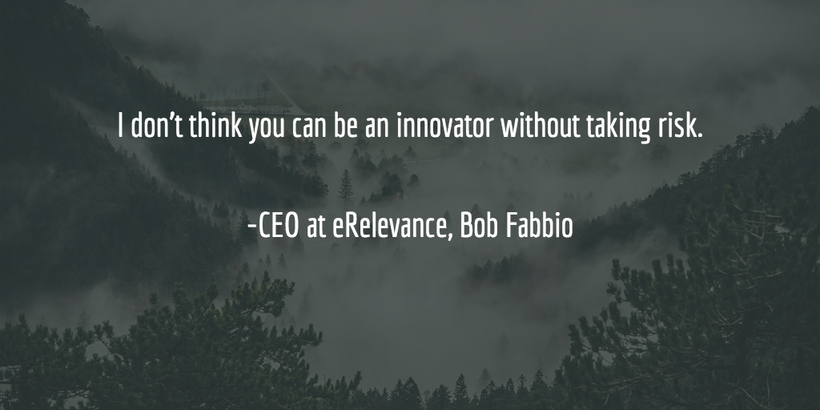 How do you feel about risk? If you are like most people, you are risk adverse. It's not your fault, according to Nigel Nicholson (professor of organizational behavior at London Business School), "On average, people avoid risk except when threatened." Nicholson continues, "The world of hunter-gatherers was complex and constantly presented new predicaments for humans. Which berries can be eaten without risk of death?"
Unfortunately, if you have dreams of becoming an innovator, then you will need to figure out how to get over your genetic predisposition of risk aversion. Bob Fabbio explains, "I don't think you can be an innovator without taking risk." 
Leaders don't just take risks; they take calculated risks. They set the grand vision and move forward deliberately to make the vision a reality. Let's read about how Fabbio's leadership took him from selling tires to selling Tivoli Systems to IBM.
So, Bob, what's your story?
I was raised by working-class Italian American parents in a small town in upstate New York. My parents, who have been married for 61 years, were both college-educated—rare at that time, especially for people of Italian American descent.
Through their example, I learned important values that have stayed with me: work hard, be honest, do the right thing, always find a way to succeed, and more. As a CEO and entrepreneur, these values still guide me, and I try to instill them into the cultures of the companies I lead.
Even as a kid, I was curious and resourceful. 
I always found a way to get what I wanted. At four years old, I sold used car and truck tires door to door for two cents each. I cut lawns and shoveled driveways at 10 to earn money for hockey skates, and I worked two jobs as a teenager to buy clothes, sports equipment and a car.
I've spent my career conceiving big ideas, rejecting the status quo and developing better business solutions with category-creating companies like Tivoli Systems (acquired by IBM), DAZEL Corporation (acquired by Hewlett-Packard) and WhiteGlove Health. 
My hard-working parents and grandparents were role models, and combined with my natural drive, my childhood prepared and inspired me to become the entrepreneur I am today.
Why should leaders lead, and when they do lead, what is their first responsibility?
Good leaders surround themselves with smart people who they know will make the right decisions 80 percent of the time. The 20 percent of the time they don't, it's not likely going to be so off that it will kill the company. There is nothing worse than not making decisions, except for making them and not acting on them. A leader's job is to quickly course-correct when necessary.
How do you make sure that when you are assessing talent, you are not only identifying the ability to do the job but the talent's capacity to scale and do more?
I learned long ago that identifying the best people for a team is not a matter of checking skills off a list. A culture and values fit is what matters most. But that doesn't mean just hiring people you know. Instead, find and hire the absolute best out there. This requires asking the hard behavioral questions during and after the interview. Check references. Make sure they will fit and thrive in your culture.
In the competitive market of product creation how do you manage your "No's?"
Don't spend energy looking over your shoulder. Play offense. Be mindful of your competition, but do not let it dictate how you run your business. Focus on your business and what you need to do to succeed. Let others worry and react to you.
So you have two options — 1. Take the risk or 2. Don't take the risk. 
By opting for the latter, I can guarantee that you will never be the innovator you have envisioned. Seneca wrote, "You are living as if destined to live forever; your own frailty never occurs to you; you don't notice how much time has already passed, but squander it as though you had a full and overflowing supply."
It's been my experience that those who are risk adverse spend an enormous amount of time waiting for the perfect moment to act on a decision. Unfortunately, by waiting you let critical moments slip by; if you allow too many of those moments disappear what you're left with is a pile of unrealized goals.
I am a reader who writes. My focus is on how the effectiveness of leadership can help teams be epically effective. If you enjoyed this post, please subscribe to my email newsletter at ramonbnuezjr.com.
REAL LIFE. REAL NEWS. REAL VOICES.
Help us tell more of the stories that matter from voices that too often remain unheard.
This post was published on the now-closed HuffPost Contributor platform. Contributors control their own work and posted freely to our site. If you need to flag this entry as abusive,
send us an email
.