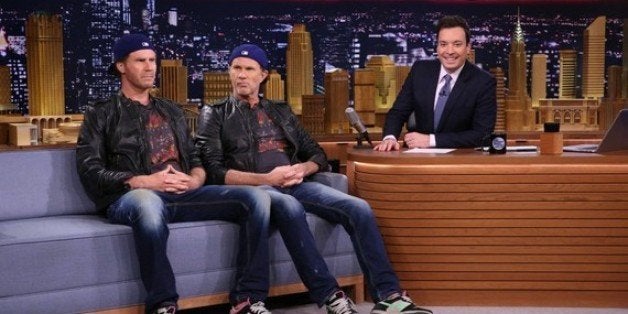 These were moments that will go down in pop culture history: On the tonight show with Jimmy Fallon, doppelgängers Will Ferrell and Chad Smith finally met in person. As if it was a flashback to the school talent show: They met for a drum off. Will Ferrell "won" and was awarded the "golden cowbell award" for his efforts. I got to connect with Chad Smith, drummer for the Red Hot Chili Peppers, after the show to get his take on this hilarious event and what it all ends up meaning to him and hopefully for kids around the country who need arts education brought back to their schools.
Kristie Christie: How often are you stopped and asked if you're Will Farrell?
Chad Smith: You know, it's mostly I would say at airports and sporting events. Those seem to be the places that people think I'm Will and not Chad.
I'm very prepared for it and I am happy to take pictures with people, it's easier than explaining that I'm actually in a rock band. I told Will, "I'm really nice to your fans and I hope you appreciate that."
Will said, "Yeah well, when your fans come to me I charge $20 if they want a pic with me as Chad Smith."
The show was funny last night because (when we were interviewed before the drum off) right before we walked out on stage, he said "why don't you be me and I'll be you when Jimmy asks the questions" so all of that was improv and off the cuff. He just makes it up as he goes. It's hilarious.
Kristie: Yeah, I don't know how you kept a (mostly) straight face. Are you a fan of his? Does he make you laugh?
Chad: Yeah I think he's a very, very funny man. I enjoy his sense of humor and I am hoping that this will really help this whole look-a-like thing. Now we were seen together, so now we can settle that once and for all who is who. Or -- it may fuel the fire and this will go on forever.
I might have people coming up to me for the rest of time saying: "You're really funny. You're great in Stepbrothers," or whatever.
It was a good time and Jimmy is very up for all of that and even letting the band goof around with us. He loves competition, so this is right up his alley. I really enjoyed it and I want to thank him for putting this on. It was a great.
Kristie: Any plans for a Funny or Die episode?
Chad: I don't know... this might take on a whole new life of its own. We'll see! It was so funny and a little creepy when he came out wearing my same clothes. Will said there is a guy that works for him that also looks like us, so he suggested we start a look-a-like band... pretty funny.
Kristie: What did you and Will talk about backstage?
Chad: Not too much. He got there kind of late, so we didn't really have a lot of time to talk. He was very friendly and I enjoyed having the time to hang out with him. We'd never met. Fred Armisen and some others came downstairs, I guess they work in that building too, and so there was a lot of people kinda looking at us, standing around waiting for us to do something and it was just kinda weird.
Kristie: I didn't realize that you'd never met each other before!?
Chad: We've spoken on the phone, but we've actually never met. We were both like, from the eyes up we look a lot alike, but I've got a big round potato nose and he has a straight nordic-like nose. We're kind of the same size and funny looking so I get why people think we're each other, for sure.
Kristie: What did you think of Will's drumming ability?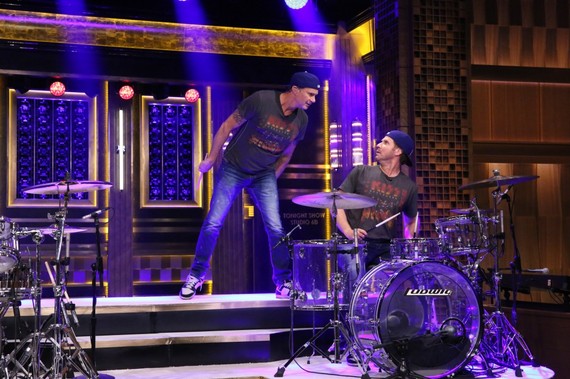 Chad: Ummm not good. I must say. I think we all can say he pulled it off way better on the show than in rehearsal. You gotta hit the drums, you know? In rehearsal it was awful... but he did better once the cameras were rolling. I like the creative way that they shot it. It's his banter in between that always wins. I think I thought he played a little better than he did. I was disappointed. He had to use the cow bell to win. It was fixed. I was robbed, but it's OK. I'm not going to have sour grapes about it.
Kristie: Ha! Yeah, it was really fun to watch. You guys are both good sports. I wanted to ask you about your charity, Little Kids Rock:
Chad: Yeah, great: Little Kids Rock gives musical instruments and gets teachers into schools. I think every kid in America, has the RIGHT to have music and arts in their school. That's the first thing that's cut when budgets are slashed, and it's just wrong. I mean, that's where I got my start. I learned how to be a drummer all the way through in the public schools. I played in all the band classes. I think it's really, really important. I want to shine a light on what's going on in our country when we remove arts from schools, it's just terrible.
Last week we were in Washington and got to meet President Barack Obama, and introduce my 9-year-old son, Cole to him.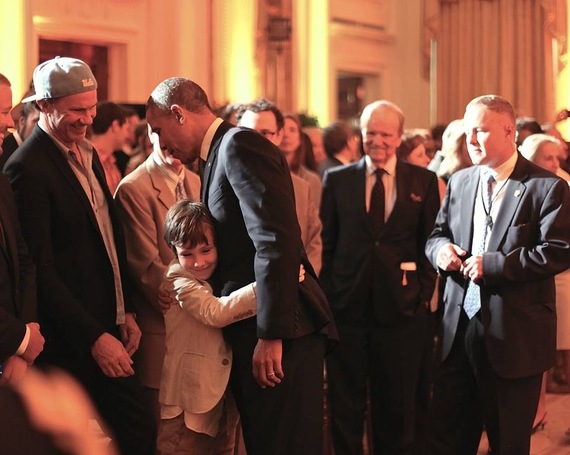 I'm on the President's Committee for the Arts and Humanities (PCAH) and I have adopted an underperforming school outside of Monterey, Calif., called Greenfield School. This is all a part of the Turnaround Arts Program. I'm going to go in and drum and get them excited. I am hoping to go in and give them some hope.
I'm happy to do it, and the Turnaround Program has been happening for years and all 8 schools have been very successful. It helps schools: Attendance is better, graduation rates go up, parents get involved, there's all these great things that happen. Lawmakers see this and allocate money to arts programs, something I believe in so much. It's about re-instilling school confidence and self-esteem for the children of these schools.
Kristie: Was there someone influential in your life as you were growing up, inspiring you to use your gift?
Chad: Oh yes, in Jr. High it was Mr. Wayne Tilton. He was quite the task master and was hard on me in a way I needed that in that point in my life. I was a bit of a rebel and he was good at keeping me on the path of hard work. That's the thing, there's no short cut. You have to put the work in. I don't know where he is now, but he was a mentor for me at Bloomfield Hills Junior High School, just outside of Detroit where I grew up.
And so our drum-off was fun, but if it can raise money and awareness for schools that need to bring back the arts, then that's what its about for me.
All photos used with artist permission.
REAL LIFE. REAL NEWS. REAL VOICES.
Help us tell more of the stories that matter from voices that too often remain unheard.