In 2010, Dallas resident Dawn Strauss founded Team Shayna to participate in the Red Balloon Event, a run and bike ride fundraiser for Children's Medical Center in Dallas. Team Shayna is named in honor of Strauss's seven-year-old Shayna, who was diagnosed with congenital heart defects when she was 15 months old. Shayna underwent open heart surgery at Children's. 100% of the money Team Shayna raises each year is donated to the Heart Center at Children's in Shayna's honor. In the three years of participation in the Red Balloon Event, Team Shayna has raised $35,000. I spoke with Dawn Strauss about her daughter and about Team Shayna's genesis, growth, and impact on the Dallas community.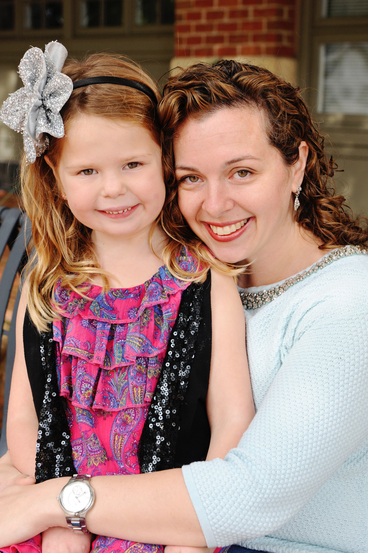 Team Shayna is a fundraising team that participates in the Red Balloon Event in Plano, TX. The event raises money for Children's Medical Center. Team Shayna is a very grateful family's way of saying "thank you" to the people at the Heart Center for everything they do and have done for Shayna and for our family since she first walked through their doors in November, 2007. The Heart Center keeps stickers and games in the ER; in the waiting room, clowns perform and magicians do tricks; and hospital-bound kids have access to playrooms. Children's is an amazing place.

How has Team Shayna helped to build community?
When I started Team Shayna, I decided to aim high and set a fundraising goal of $1,000. Within 24 hours of the first mass email I sent out to friends and family, Team Shayna was $1,000 richer. Donations snowballed from there. Those close to us were thrilled to have a vehicle to support Children's, but Shayna's story has touched so many people over the years--friends and strangers alike. Our community has rallied behind us, cheering us on. Alone, I could never write a check for $35,000 to the Heart Center, but when everyone gives a little bit, $1,000 becomes $5,000 becomes $35,000. To make giving easy and fun, we hold fundraising events at local restaurants and lemonade stands in front of our home. We have a number of friends whose children have even hosted their own lemonade stands for Team Shayna.

What has Team Shayna accomplished since it was started?
With the funds from Team Shayna after the 2011 fundraising year, the Heart Center was able to purchase two "Safe at Home" systems, allowing Heart Center patients to live at home while the hospital continues to monitor them. After our 2012 campaign, the cardiothoracic lab purchased a new microscope, granting researchers access to heart cells that had been previously invisible to them. Because I speak to high schools, to The One Society (Children's Hospital's professional fundraising group), and to Children's staff about Shayna's story and our fundraising efforts, Team Shayna spreads awareness about congenital heart defects and about the amazing work that Children's does--they provide life-saving treatments in a child-friendly environment.

Why is Team Shayna so important to you?
In addition to letting us say "thank you," Team Shayna builds awareness. From infancy, Shayna was fussy and her breathing was labored. Our pediatrician blamed asthma and allergies. We switched pediatricians when Shayna was 15 months old. After our first meeting, the new doctor sent us to a cardiologist. By the time that cardiologist finally diagnosed her, Shayna was in congestive heart failure. Her original pediatrician should have caught it earlier, but he didn't--evidence that we all need to become more educated on the signs of heart problems (e.g. labored breathing and weight loss) in children. I hope to spread awareness so that we can have the knowledge to help advocate for our children's well being.
Calling all HuffPost superfans!
Sign up for membership to become a founding member and help shape HuffPost's next chapter