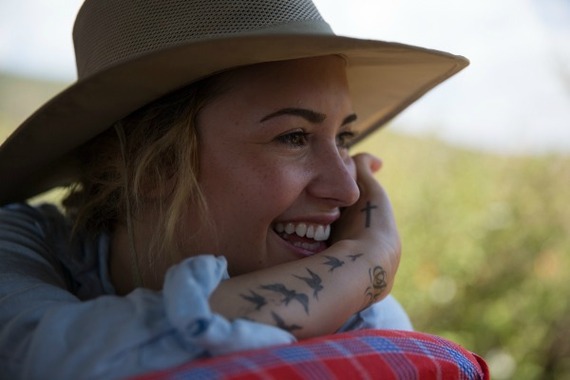 Many popular young stars resist or rebel against the role model label. Not platinum-selling recording artist Demi Lovato, who has not only embraced it, but has taken it to a whole new level. In addition to candidly sharing her own personal story of overcoming obstacles when she does interviews and during her performances, she has also created her own pioneering campaigns that shine an impactful spotlight on causes that are dear to her heart, which she has incorporated into her current Demi World Tour.
Her latest campaign was sparked on her 21st birthday. When Lovato turned 21, she decided to do something transformative for herself and others by going on a volunteer trip to East Africa with Me to We, "an innovative social enterprise that transforms people into world-changers, one action and experience at a time." On the trip, Lovato helped build an X-ray clinic and hauled water for the women living in the drought-stricken rural community. She also joined in a traditional beading circle with Me to We Artisans Maasai Mamas. Meeting the Maasai Mamas moved Lovato to create the Limited Edition Demi Lovato Rafiki Friend Chain. This special edition piece will be sold at all of her tour stops for $15 with 100 percent of the proceeds going toward Lovato's goal to fund the building of a Women's Empowerment Center in Kenya. The center will offer skill training workshops aligned to local culture and traditions, provide access to computer labs and offer a space to accommodate local artisans who are participating in the Me to We Artisans program, giving women the autonomy and capacity to create strong economic futures for themselves and their families.
As an additional feature to empower audiences on her world tour, Lovato has added renowned Me to We motivational speaker Spencer West, who lost both his legs at a young age and garnered international media attention in 2012 when he reached the summit of Mt. Kilimanjaro. West, whom Lovato had befriended on her Africa trip, shares his courageous story and inspires Lovato's fans to overcome obstacles and redefine what's possible.
Lovato has also been stepping up as an outspoken advocate for mental health issues, specifically bipolar disorder, with which she was diagnosed and has talked openly about. She recently announced her involvement with The Mental Health Listening & Engagement Tour at which she will connect with some of the nation's leading experts and advocates over a series of discussions to speak about her own life experiences, encouraging and inspiring others with her own journey. Lovato had released a PSA video when she announced the tour, in which she explains, "Bipolar depression really got my life off track, but today I'm proud to say I am living proof that someone can live, love, and be well with bipolar disorder when they get the education, support and treatment they need."
Lovato also uses her writing as a tool to inspire others. Her #1 New York Times-bestselling book book, Staying Strong: 365 Days A Year was a compilation of advice, quotes and affirmations that helped guide her personally along her journey. Her follow-up to this book, which comes out today, is Staying Strong: A Journal, a writing journal for readers to capture and reflect on how they are feeling, which features new quotes chosen by Demi throughout to help inspire and motivate expression: "happiness, sadness and everything in between." Says Lovato, "To stay strong every day it's important to express yourself."
I talked with the multi-talented Lovato about all her various projects and why she feels so passionately called to use her platform to help and inspire others.
Tell us about your trip to Kenya with Me to We for your 21st birthday. Why did you decide to spend that milestone birthday that way and how did that trip impact you?
My 21st birthday was a big milestone for me, but not in the way that our society has conformed to. For my birthday, I wanted to spend my time doing something meaningful and empowering by giving back. It was such an incredible and exciting experience that I will never forget.

What was the original inspiration behind your decision to help fund the building of the Women's Empowerment Center? What are you hoping to achieve, and what is the vision for the Center?
I have always found it really important to educate and empower other women. The goal with the Women's Empowerment Center is to provide new opportunities to women I've found to be so inspiring where they will be able to get training and resources they need to create a better future for themselves and their families.
Tell us about the Maasai Mamas. What was your experience like getting to know and working with those women?
The Maasai Mamas are amazing! They are incredibly hard-working women who are truly inspirational. The whole experience of meeting them and getting to know them was truly rewarding because they pursue their dreams while still supporting their families and taking care of their households. It was an honor to work alongside them in their beading circle and learn about their lives.
What lessons do you think can be derived by traveling the world getting to know people of different cultures?
Traveling and getting to know others can really help you learn about different cultures and also establishes amazing connections between people who would have never met under other circumstances. For me, getting to work so closely with the people in this culture helped me grow as a person and was one of the most rewarding experiences of my life.
Tell us about the Rafiki Friend Chains and the other ways people can support the Women's Empowerment Center and generally get involved?
I got to work with the Maasai Mamas in their beading circle, where they hand-make "friend chains." The chains are strings of glass beads that you can wear as bracelets, necklaces, or however you want. All of the proceeds for the Rafiki Friend Chains will go to building the Women's Empowerment Center. You can buy them at any of my shows on my World Tour, or online.
My daughters are huge fans of yours--they just saw your show in Albany and said it was fantastic. What are you most excited about with this tour? And how do you see your evolution as an artist and performer?
Whenever I'm on tour, I'm always excited about connecting with my fans! I want to make each show a fun, personal and inspirational experience! Over the years, I've grown so much personally and professionally. That transition has definitely been reflected in my music and as an artist.
You include Spencer West as a speaker on this tour. What resonated with you about his story and why did you decide to have him join you? What do you hope your audience comes away with from hearing him speak?

Spencer's story is really moving. When I saw him speak at We Day, I saw how he was so inspiring to the audience. I hope that my audience will take away how he overcame his challenges to achieve his dreams.
I also saw your recent announcement and PSA about your Mental Health Listening and Engagement Tour. What can you tell us about that initiative and how that developed?
The initiative is working to help people find their strength and get the help they need. You can learn to live well with mental illness by finding the right treatment plan, and I want people to know that it's okay to seek help.
I love your book "Staying Strong". Do you have a favorite quote or philosophy that you live by?
I think that's it - stay strong! There are so many inspirational quotes that I live by, but what also helps me get by every day is writing down my thoughts, experiences and feelings - which is why I have a follow up Journal (Staying Strong: A Journal) to coincide with my book, Staying Strong: 365 Days A Year.
Oftentimes people think that helping others is something that has no personal rewards for oneself. What do you get out of giving back?
I am grateful that I've been given the platform to help others by sharing my story and love to meet my Lovatics and hear their encouraging stories as well. For me, nothing is more rewarding than helping others.
Calling all HuffPost superfans!
Sign up for membership to become a founding member and help shape HuffPost's next chapter