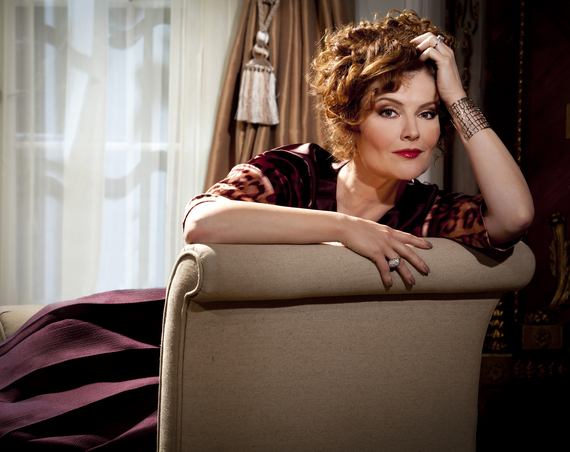 When it comes to playing devious, nobody does it better than Rebecca Wisocky in her portrayal of Evelyn Powell on Devious Maids. The show, now in its second season, is delivering some interesting plot twists for several of its characters, and Evelyn is no exception. I recently chatted with Rebecca about the new developments that are occurring on Lifetime's Sunday night smash, and here's what she had to say.
There have been lots of surprises on this season of Devious Maids so far, but a really big one has been the new love interest for Evelyn. Tell me about that.
The tables turn a little bit, right? I think it's amazing that after fifteen years of bemoaning that her husband doesn't want to be with her, the second it seems that Evelyn gets everything she wants, she finds a way to panic and muck it all up. I think that's something that's sadly relatable.
She can't tolerate weakness in her husband, so she literally falls right into the arms of hunky bodyguard Tony. In her defense, Tony, as played by the oft-shirtless Dominic Adams, pushes all the right buttons. But there's no amount of security that can protect her from herself. I think that's what makes it so enjoyable to watch her fall down this rabbit hole with him...
It wouldn't be a Marc Cherry show without assuming that Tony has some other agenda that we'll find out about; hopefully before Evelyn is in great peril, but we'll see.
Evelyn Powell is a fascinating and complex character. She has the ability to be, dare I say, slightly elitist, but she has these moments of vulnerability. She also has some hysterical one-liners! How much fun is it to play with the material that is written for her and bring all the shades of Evelyn to life?
I am having the time of my life! It is a treasure trove of great material and lines and situations. I love this whole cast. And, playing scenes with Tom Irwin is heaven -- I find that couple and their chemistry and the psychology of what keeps them together (and apart) utterly fascinating. No one and nothing are what they first seem on Devious Maids.
The entire Devious Maids cast really does a great job with interacting with the fans on Twitter. It makes the viewing experience on Sunday nights that much more fun. Do you get together with your fellow cast members for viewing and tweeting parties?
Yes, we do! I had a barbecue last week and a bunch of us got together. Ana Ortiz and I tweet together a lot. I've dragged Tom kicking and screaming into this every once in a while, so he watched and tweeted with me during the last episode.
It [Twitter] is the new way that people are enjoying and consuming entertainment. I knew nothing about social media until the show started. Dania Ramirez talked me onto Twitter. It's been really fun. People feel invested and involved in their relationship with the show and the progression of the storylines. And they are! It is a new phenomenon, and it's a lot of fun to participate.
When I interviewed you toward the end of the last season, I asked what was next for your character. You commented that you wanted Valentina to design for Evelyn, and now Valentina has become the live-in maid for the Powells.
Hah! I'm one step closer! I'm sure everyone was collectively clenching and hoping that Adrian wasn't going to hit on Valentina last week. You see a moment of the sparkle in his eye when he tries to address her with a little bit of the old school creep, but she immediately bats him down. He's completely exhausted and unhinged with the way that we gaslight him. Poor thing. He goes on to deliver a heartfelt confessional of how he really feels about his wife. I love that scene so much because if only Evelyn could hear that truth, things might be different. Valentina's presence in the Powells' home seems to be taking on a daughterly kind of vibe. You'll have to wait and see how Evelyn reacts to that.
So will Valentina be creating some gowns for Evelyn in the future?
Evelyn needs to force Valentina to design her some gowns. I'm sorry but that just needs to happen. As I said, as long as I eventually get to meet Tim Gunn I'll be happy. Valentina would be an ideal Project Runway contestant, that's all I'm saying.
Can you give us any other hints about what's in store for Evelyn Powell for the rest of the season?
As you saw in the teaser at the end of the last week's episode, there might be a little bit of a power struggle with Tony once Evelyn gives him access to her bed. I think that the affair thrills and empowers Evelyn. She is feeling out of control and rapturous, and that's a very unusual place for her to be. Of course, that will also have ramifications.
It gets pretty crazy, and I don't use the word lightly.
Devious Maids airs Sunday nights at 10 p.m. on Lifetime.
REAL LIFE. REAL NEWS. REAL VOICES.
Help us tell more of the stories that matter from voices that too often remain unheard.