In advance of his upcoming solo exhibition at Owen James Gallery in Greenpoint, Brooklyn, Sara Zielinski visited Filipino artist Dex Fernandez in his temporary New York studio. Originally from Manila, Fernandez has been in the United States since May on back-to-back residencies with the Asian Cultural Council, first at Fine Arts Work Center in Provincetown, MA and now in New York City.
Your work plays with highs and lows, of art, of culture, of personal experience -- happy times and sad, joy and danger. Sometimes you blend them so thoroughly that there's no tension left between them. Tell me about your interest in these dualities and mixing them.
They are different contrasts between good and bad, it's about contradicting elements. I like mixing the two different elements because it creates new stories out of it. That's my idea -- mixing together everything in one piece of canvas. That's always my idea. To combine and make something new.
You work in a wide range of media, including collage, murals, printmaking, animation, painting, photography, what materials do you want to explore next?
I want to incorporate my art in fashion. Sometimes I make merchandise, but that's a multiple edition. In fashion I want to make a walking canvas.
Only one. That's my idea, in the future maybe I will make some moving art. Or maybe I can project video, because nowadays, video mapping is everywhere. So maybe I can use video mapping on a model while walking with video projection on her body.
Did you start with street art? What is street art for you?
No, I started with galleries and then street art and now galleries. I'm trying to relate and incorporate them. Street art is engaging the public viewers, those people who are intimidated to go in the gallery or museum, they are now free to experience the art right in front of them. That's the simple idea of street art for me.
But, my personal story of garapata, the tick -- it came from my childhood memory. When I was young, me and my brother used to collect ticks from our dogs. It was the routine every day. Then there was a time that the ticks became massive and spread out over every corner in the house. We would find them in the curtains, in the table. It was like Mars Attacks! So we got rid of the three dogs we had at that time. Then I became an artist and I was involved in street art. And I thought, maybe I can use the tick, spreading the tick in the city. First they spread out in my house, now's the time they spread out in the city. That's the idea.
And now they're all over the world.
Yeah, even people have ticks, because I give out stickers and then they're infested. And I use social media, a Facebook page and an Instagram account, so every day I keep posting random tick posts, like an infestation in the social media. People get annoyed, people get happy, so it's mixed emotions.
So my tick, you can see him in the bus, train. New York, Manila, Japan, every country I've been to. I make sure that I always have stickers in my pocket.
Does your background in advertising play a role in your artmaking? How?
Yes, especially the graphics, illustrations. And also the photography. In advertising photography is one of the basic materials.
How do you like New York compared to Provincetown?
Oh, this is more me. Provincetown in limited, right? And has lots of conservative people. Here everyone is open. But Provincetown is not only conservative, it's open in different ways.
That's the thing. I think the city is more dynamic and that's what I'm trying to look for because my work is very busy, very intricate. So it's like the city. Lots of things going on, lots of energy. That's the simple reason.
How do you like New York compared to Manila?
I like it more here. Manila is also an open city but since we are a Catholic country, we are not pure when it comes to open-mindedness, there's still more discrimination when it comes to sensitive issues. But here it's most open. The more evil, the more you're in, something like that.
Tell me about the title for your show at Owen James Gallery: 310E44R822.
The title is my address here in New York: 310 East 44 Street, Room 822. The basic idea of the whole show is about my experience, learning new things here, so at the end of the day I always go back here in my place.
And it's where you made all of the work for the show.
Yeah. And this is where I think about everything.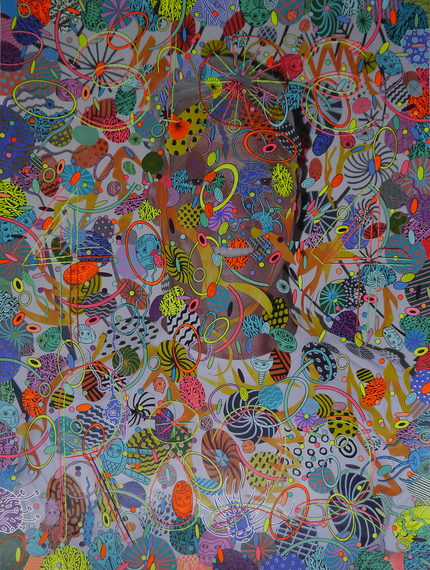 310E44R822, Mixed media on photopaper (Acrylic, thread, ink, gold leaf and acetate), 2015
All images courtesy of the artist, unless otherwise noted.
Related
Popular in the Community