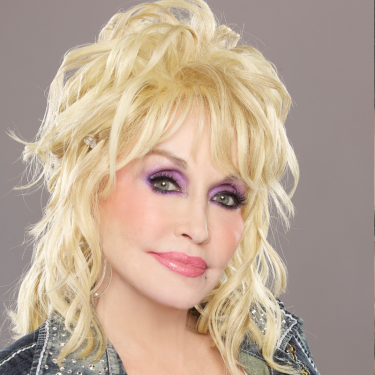 Dolly Parton is a global icon and is one of the most honored female country performers of all time. Achieving 25 gold, platinum and multi-platinum awards, she has had 25 songs reach #1 on the Billboard Country charts—a record for a female artist—and is one of only five female artists to win the Country Music Association's Entertainer of the Year Award. In addition to receiving multiple Grammy, Country Music Association, ACMA and AMA awards, Parton was inducted into the Country Music Hall of Fame, has received the Grammy Lifetime Achievement Award, and just this month was the recipient of the Willie Nelson Lifetime Achievement Award during the 50th annual CMA Awards.
Although Parton is best known as a country music singer-songwriter, she also wears a multitude of other hats: she is an actress, runs a successful multimedia corporation (Dolly Parton Enterprises) and the popular Dollywood Theme Park, and composed the score for the Broadway musical 9 to 5, based on the acclaimed film of the same name, which she also starred in. This year, Dolly released her 43rd solo studio album, "Pure & Simple," a stripped down set of original Parton compositions and embarked on her most extensive tour in 25 years—her "Pure & Simple" tour—which traveled to 60 cities in North America.
Despite her impressive career and iconic status, Dolly has never forgotten her humble beginnings. Dolly grew up as one of 12 children, extremely poor on a rundown farm in the rural town of Locust Ridge, Tennessee. While she describes her early childhood as one of hardship and poverty, she also speaks of the strong bond of love her family had. When she moved to Nashville and scored her first hit song, "Joshua," in 1971, she literally went from rags to riches, yet she's never forgotten her roots and the obstacles she had to overcome.
She has immortalized one story from her childhood in particular in several projects, beginning with her hit song "The Coat of Many Colors" released in 1971, which she says is one her favorite songs she's ever written. The song tells the true story of how Parton's mother stitched together a coat for her daughter out of rags given to the family. As she sewed, her mother told Dolly the biblical story of Joseph and his Coat of Many Colors. Feeling proud and excited to show off her coat made with so much care and love, Dolly rushed to school, "with patches on my britches and holes in both my shoes… just to find the others laughing and making fun of me." The song concludes with Parton singing the moral of her story:
But they didn't understand it, and I tried to make them see One is only poor, only if they choose to be Now I know we had no money, but I was rich as I could be In my coat of many colors my momma made for me
The story means so much to Dolly that in addition to the song, she developed the successful 2015 television film Dolly Parton's Coat of Many Colors, a sequel film airing tomorrow night, as well as a children's picture book, which was published in October of this year.
On Wednesday November 30th at 9 p.m. ET/PT NBC will air the poignant sequel film, Dolly Parton's Christmas of Many Colors: Circle of Love (which will also be available on DVD on December 20th). In the all-new holiday sequel—based on true stories gleaned from Dolly's remarkable life—the Partons, a family of humble means living in the mountains of Tennessee, face a devastating event that challenges their will. But when they experience an unexpected Christmas miracle, the Partons are drawn closer together than ever—with deepened faith and love for one another. The film stars Jennifer Nettles, Ricky Schroder, and Gerald McCraney with Dolly making a special guest appearance.
Parton's recently-released Coat of Many Colors picture book came about because she felt that there were many important lessons for children embedded in her story, including the importance of respect and gratitude, anti-bullying messages, accepting people and their differences, and that "it's okay to be who you are." Using lyrics from Parton's classic song, the children's book tells the story of a young girl in need of a warm winter coat. When her mother sews her a coat made of rags, the girl is mocked by classmates for being poor. But Parton's trademark positivity carries through to the end as the girl realizes that her coat was made with love "in every stitch."
The children's book is the latest project in Dolly Parton's longtime mission to support childhood literacy. In 1988, she began the Dollywood Foundation to inspire children in her home community to "dream more, learn more, care more, and be more." Dolly envisioned creating a lifelong love of reading in children, preparing them for school and inspiring them to dream. The Foundation's signature program is the Dolly Parton Imagination Library, which works with local sponsors to give every preschool child a book each month from the time he or she is born until the child reaches kindergarten. The Imagination Library has gifted over 85 million books in the United States, Canada, United Kingdom and Australia. Founded in 1995, Imagination Library began as a small community outreach in Parton's native Sevier County, Tennessee, and has evolved to become the largest literacy program in the world, which has recently marked another impressive milestone: one million books gifted to children around the world each month.
In the following interview, the big-hearted and charismatic Parton discusses the lessons contained in her Coat of Many Colors story, her advice on overcoming obstacles, what she thinks the world needs more of, how she keeps her positive attitude and more. As she says, "I still believe that's what we need more than anything now is love—a little bit more acceptance, understanding, forgiveness, listening instead of just talking. I mean, we're not hard of hearing, we're just hard of listening. So I think we need to try a little harder to get inside the hearts and minds of other people and not just dwell on our own worked-up sense of things."
Marianne Schnall: Your personal story of a Coat of Many Colors has special meaning to you and has inspired you—not only with your country song by the same name, but now a series of movies beginning with the film, Coat of Many Colors, and now the upcoming sequel, Christmas of Many Colors. Why has it been so important to you to share that story and what are you hoping viewers take away from it?
Dolly Parton: Well, it was important to me to share my story of Coat of Many Colors, which is a true story from my childhood. It has touched the lives of so many people through the years, even in a song. Since it became a hit I've had so many people say that it has healing qualities for them, because almost everybody been through something—somebody's made fun of them, made them feel less than they should be about something or another. It may not have been something you wore, but a lot of people related to it, a lot of poor people. It's kind of a rags-to-riches kind of story, and people always love that.
And I love that, too. I love that I'm a mountain Cinderella, so to speak. And so I really thought that it would make a good movie—in fact, I knew it would. Different people have asked me through the years why didn't I make it into a movie. It just hadn't been time, but now it was time and it just did so well.
I want people to talk away from the movie what the story is. It's about love. It's about acceptance. It's about deliverance. It's about hope. It's about anti-bullying. That's a really big subject these days. I think it's really good for kids and, in fact, they even teach from the little Coat of Many Colors illustrated book that I have out in schools about just accepting people and their differences and that it's okay to be who you are. We're not all supposed to be the same.
So I want people to take that feeling of faith, family, fun and just acceptance and just love it.
MS: You mentioned your recently-released children's book based on the Coat of Many Colors story. Why did you decide to turn it into a children's book and what messages are you hoping that children can glean from this story?
DP: Well, children love the story of Coat of Many Colors because it is an anti-bullying story, it is about family and it is about someone overcoming. And I think a lot of kids relate to it for different reasons. They might have been the bullies, they might have been the little kid who's been made fun of. There's a little song I wrote called "Making Fun ain't Funny."
Anyway, it talks about just accepting people and not making fun. How would you feel if it was you? We decided to do a little book because it gives the kids a chance to follow along with the story and give some thought about all those elements. And so it's really a special little book, and I think it'll be good for children to learn to accept people and their differences and to not bully and make light and make fun. So hopefully it'll be something good for the kids, and I think it will be.
MS: In the song there's a line: "We had no money, but I was rich as I could be." How would you define what it means to be rich in life?
DP: Well, that little line of, "although we had no money, I was rich as I could be in my Coat of Many Colors that Momma made for me" was because Momma sewed love in every stitch. She took the time to tell me that story about Joseph and the Coat of Many Colors in order to instill some pride in me about that.
But I really think that the true measure of success is in how you deal with it. I mean, there's a saying and a song that says, "A man can make money, but money cannot make a man." And there's so much truth in that. You can make all the money in the world, but if you're not happy, you're not a success. So to me, I feel like I'm a success because I enjoy my successes. I enjoy the fact that I've accomplished all these things. I remember to remember all the things that mattered to me then—they matter to me now. I've made it a point not to ever forget who I was, who I am.
You should never be ashamed of yourself, your family, your religion, no matter what. That's your family. That's who you are. And so I really measure success in how you deal with the money you make, how you give back with the fame you have. Just like my little Imagination Library: one of the biggest and most important charities of my whole life is something I believe in based on the fact that my own daddy couldn't read and write, but he was a smart, smart man. I started the little program years ago where we give books to children from the time they're born until they start school, and now we're giving books to a million children a month and we're heading up to almost like hundred million books that we've given away worldwide.
So I feel successful in thinking that I'm doing something good. I'm giving back, I'm not just taking, and I'm loving it. I'm happy doing it, and I just think that's when you're really successful is when you've made a difference and you're happy.
MS: What advice do you have on finding strength hope and purpose in the face of adversity?
DP: Well, I really lean on God for everything. There's a line I heard when I was little in the church: "Through God all things are possible." And even though in my church, which was a very high-spirited church, they preached a lot of hellfire and damnation, a lot of fear tactics and all that, but I remember that one particular line and I made it my own. I believed that through God all things are possible.
And I have proved that because I pray every day that God will lead me, guide me and take all the wrong things and all the wrong people out of my life and put all the right and good ones in and that I'll know what to do. So I really think that the key to my success as far as holding myself together is that I believe in something greater than myself. I believe in God and I believe that strength comes from that, and I will always believe it and I'll always be hanging onto that.
MS: You established the Imagination Library for your Dollywood Foundation dedicated to improving children's literacy and encouraging children to read. Tell me more about why did you decided to do that and why this cause is so important to you.
DP: Well, I really think it's important to get books into the hands of as many children as we can. And I started the Imagination Library because of my own family. A lot of my own relatives didn't get a chance to go to school. My own dad couldn't read and write because he was from a big family back there in the mountains and they had to just go to work to help feed the rest of the family. They couldn't get to school, it was too far away, or they couldn't spare them.
And so I started the program because of that in my home county, and it did so well that the governor at that time, Phil Bredesen, he loved the program and he took and put it all over Tennessee. Then we went all over the United States, into Canada. Now we're all over the world and we're heading toward giving away a hundred million books.
And so we actually give books to a million kids a month. And so that's a good feeling to be able to do that and it started from a sincere place. I think when you're working your charity work—I think as a celebrity when you get in a position to help you should, but you should also actually invest in things that are personal to you that you can be passionate about. I look forward to everything to do with the Imagination Library. In fact, I'm heading out to do some concerts in my hometown to make up money for that, which I do that every year or every two years or so.
So, anyway, it's a community-based program. United Way has been very, very helpful with helping us with all that, but it's a worthwhile program and you can't get enough books to enough children.
MS: You, Lily Tomlin and Jane Fonda made the film 9 to 5 in 1980, taking on sexism and sexual harassment in the workplace. The film and your song by the same name were huge commercial successes and resonated deeply with many women. Thirty-six years later, how do feel about the progress that woman have made on these issues today and where we are now?
DP: Well, first of all I was so proud to be part of 9 to 5. Jane Fonda had the foresight and the insight to do a show like that. It was really based on a company called 9 to 5. It's about women in the workplace, you know, equal pay for equal work and all that. And it was a controversial idea at the time, but a necessary one, and I was just proud to be part of that.
And the fact is that we've come a long way. We've still got a long way to go, but I really think we broke some really great grounds as women, and I'd really like to think that that little movie, 9 to 5, really has done a lot to further that cause.
MS: You've been creating great music and touring with your albums for decades. What is the continued source of all of your energy and inspiration?
DP: I love what I do. That gives me energy. I love my fans. I love the love they give me back. That creates energy. Nothing to me is more special than when I'm out on stage and look out there and I see all those fans that really, really seem to be touched by what I'm doing. They're laughing with me, they're talking with me, they're listening. They seem to be really interested in it. And I ask God all the time to let me say and do and be something to uplift people and to really let Him shine through what I do.
So I really love it, and I think it's a very energizing thing. I've never gotten tired of it and I won't ever retire. If I get sick or my husband gets sick, well, that's another thing, but if left up to me, as long as I can do it, I plan to continue to perform and to sing and to write—to tour when I can and just to do whatever I can to make the fans happy and myself happy.
MS: There's so many issues impacting our country and the world today. What encourages you that gives you hope?
DP: Well, God gives me hope. People give me hope. I love life. I know that we are a great people. I know that we are a great country. I know that we go through our things. I know that we'll rise above it, and I pray all the time that God will bring us together and let us try a little harder. And we may have to get to heaven before we actually ever see peace in this world, but we could do a whole lot better by just kind of changing a lot of things within our own circle, in the space that we work and live in. If we tried a little harder, if we had enough circles going on, it would be a circle of love and we could kind of put it all together and make it one big thing.
But I just wish life was a little better. I just wish people tried a little harder and I figure - I pray all the time, so I figure whatever is going to happen is going to be God's will, whether it's to fulfill prophecy or whether it's just the way things are, but I do know that we personally could do a lot to change the future if we wanted to.
MS: What do you think the world needs right now?
DP: Well, I wish I had of written that song, "What the World Needs Now Is Love." I didn't, but that's a great song. I still believe that's what we need more than anything now is love—a little bit more acceptance, understanding, forgiveness, listening instead of just talking. I mean, we're not hard of hearing, we're just hard of listening. So I think we need to try a little harder to get inside the hearts and minds of other people and not just dwell on our own worked-up sense of things.
MS: You're considered to be a fun-loving, positive person. What keeps you feeling so positive and what advice do you have for others on keeping a positive outlook?
DP: Well, you got to try to be happy, just like some people work at being miserable. I mean, I was born with a happy heart. I want things to be good because it just kills me when things are not good. And if I wake up in the mornings and find there's something going wrong, I try my best to see what I can do to make it better by the end of the day and I pray hard about it. I work at it. And I just try to keep a good positive attitude. You can't change everything, but you can change some things, and by changing some things it might change it enough to where it's bearable or you might do something to lift somebody else's burden. Even when yours are too hard to carry, if you try to help somebody with theirs, yours don't seem as bad, I think. So I think we just need to try to do a little better.
MS: What's the most valuable lesson that you've learned in your life?
DP: Well, I think there's a saying that says, "To thine own self be true." I really think there's so much more to that than meets the ear or meets the eye. I really think if you know who you are and you can come to terms with that, accept that and love that, and if you can understand your talents, what your gifts may be and how to maybe develop them or at least how to pray about trying to get some strength and some encouragement and some insight on how to deal with it I just think you really have to know who you are. I heard that in my early life, just like "through God all things are possible" and "to thine ownself be true," those are two things that I have kept and I worked inside, and believe and create and strengthen my faith through both things.
So I think if you're comfortable with yourself and know yourself, you're going to shine and radiate and other people are going to be drawn to you. And by doing that I think you can do a lot for people because you'll have a lot of help because people want to be around you.
Support HuffPost
The Stakes Have Never Been Higher
Related
Before You Go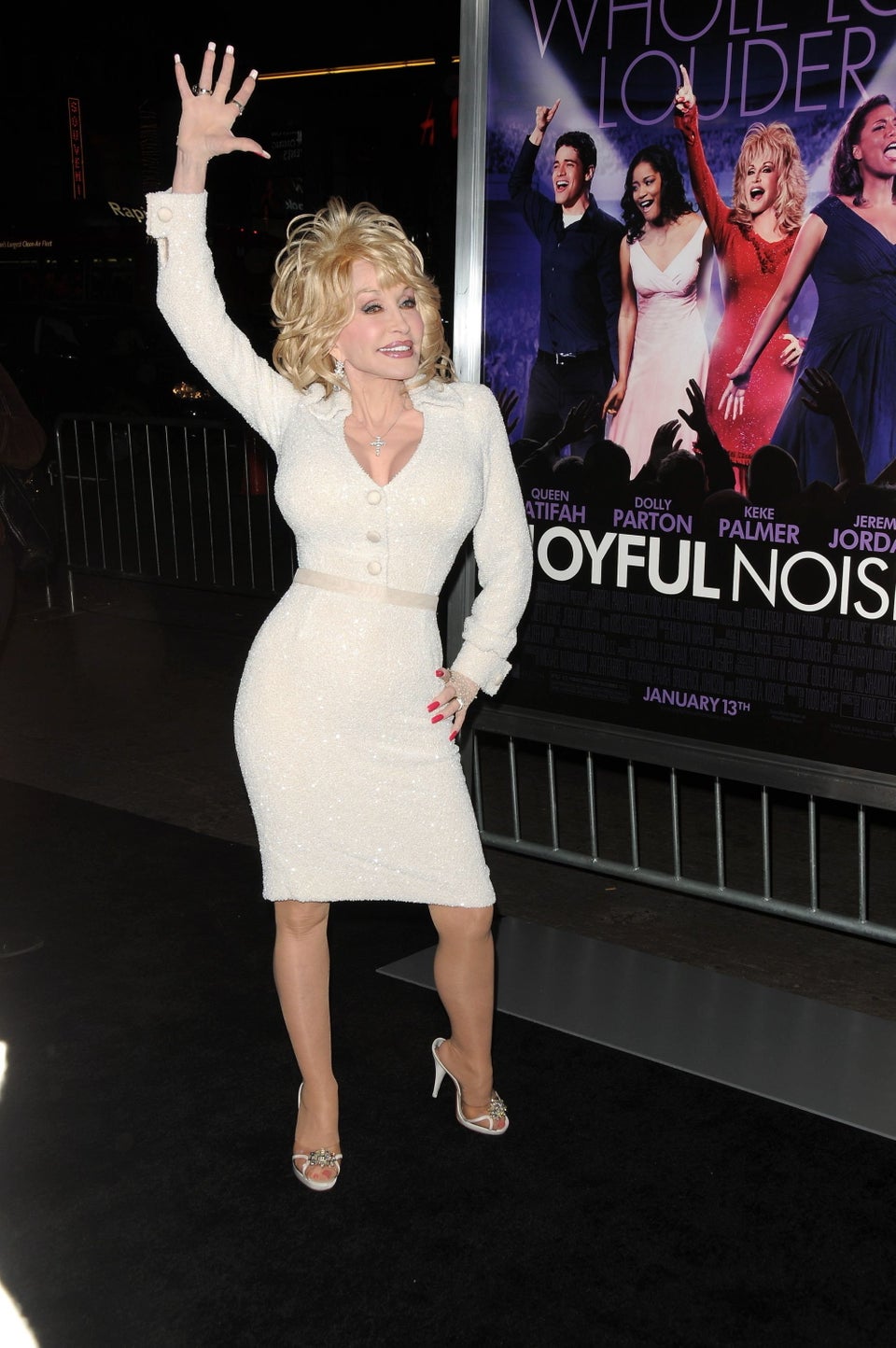 Dolly Parton's 8 Best Quotes
Popular in the Community