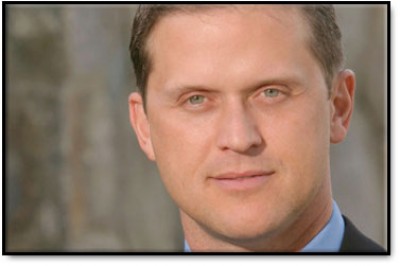 Donald Trump's The Apprentice has been one of the hottest shows on television. Now one of his apprentices is writing a book "Take Command, 10 Leadership Principles I Learned in the Military and Put to Work for Donald Trump."
Kelly took some time out from his latest project as CEO of Rotohog, one of the leaders in building fantasy and traditional game platforms for brands ranging from Turner Sports, Disney/ABC, NASCAR and now Bloomberg, to take a look back at what can help a young person starting out in business and what his tips are for a successful start-up brand, courtesy of Under30CEO, the resource for young entrepreneurs
What is the best advice you got when starting out in the business world?
You have to be passionate about what you're doing. Day in, day out your attitude is contagious. Employees, investors, customers, partners and even your friends and family can tell if you're excited about something. If you are excited, you are much more likely to be successful.
How did your military background provide you with help as you launched your career?
1. Leadership. Formalized leadership training and the practical application of those principles provided great experience as I entered the business world.
2. Discipline. Execution is the key to most business success stories and the military teaches you to stay focused on details, operate efficiently, and instill that attitude in those around you.
3. Integrity.
You have been involved with a number of digital start-ups, are they easier to start and grow than a brick and mortar business?
There are many, many very successful brick and mortar businesses, but digital businesses have many advantages over most brick and mortar:
1. Speed to market.
2. Flexibility in changing based on market forces.
3. No inventory.
4. Less capital requirements (sometimes!).
5. SCALE. Build one time and sell to millions.
What are three key elements needed to launch a business?
In my book, Take Command: 10 Leadership Principles I Learned in the Military and Put to Work for Donald Trump, I highlight the principles I feel are the keys to success. For entrepreneurs, the three are Passion, Planning and Perseverance. It is very difficult to succeed without any one of these.
Who are your mentors and how did they help you in business?
Luis Villalobos. Luis was the founder of the Tech Coast Angels (the largest Angel group in the country) and unfortunately he passed away late last year. Luis and I were co-Board members, friends, and business partners. He was tenacious, intellectually curious, and always willing to help entrepreneurs. I try and emulate his thought process and passion for entrepreneurs.
Steve Wynne. Steve was the CEO of Adidas in the late 90s and resurrected that brand. We were fortunate to bring him on as the CEO of eteamz prior to selling it to Active.com. Steve is a consummate professional and has the highest integrity. He has helped me with many business decisions over the years and his rationale thinking and grasp of the big picture have always proved valuable. Every entrepreneur should have some mentors who are worried about them as individuals vs. just being business focused.
What do you think is the biggest business growth field for young people in the next five years?
Based on Technology: Mobile.
Population Growth (Boomers): Health Care
Politics and public interest: Green Businesses/Technologies
What was your biggest misstep in business?
After taking investment money from friends and family for my first business, I stayed in the business far too long and put myself at serious personal financial risk. In hindsight, I should have made the decision to cut losses much sooner and started a new business in which I could get back the money for my friends and family. I wish I'd had my mentors for advice during that first business.
How do you think RotoHog will grow and where in the next three years?
Over the next three years, RotoHog will grow to become the leading provider of client/customer/fan engagement tools for Sports, Entertainment, Consumer, and Gaming brands. We've launched over 30 games in the last six months on our new "games as a service" platform. Our open platform allows us to deliver these solutions for our clients like NBA.com, NASCAR.com, Sports Illustrated, Bloomberg Sports, AVP, Us Weekly, and many more via web, social media, mobile and even broadcast.
This article originally appeared at Under30CEO.com and was written by Jerry Milani.
REAL LIFE. REAL NEWS. REAL VOICES.
Help us tell more of the stories that matter from voices that too often remain unheard.