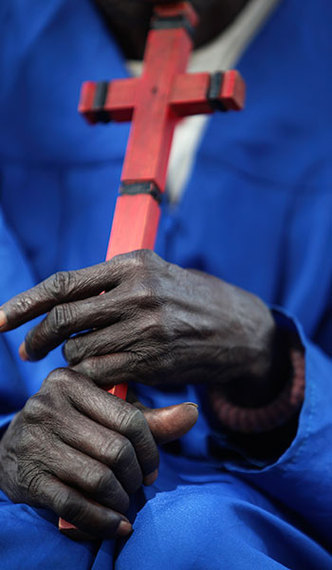 Lots of people invest their money one way or another. It's in one's self-interest to build their own financial security. Some people do very well at it.
What if you could do investing, gain a financial return, and at the same time help the poor? Wouldn't that be the best way? That is what "impact investing" is all about. Impact Investing was the topic of a conference in Rome sponsored by Catholic Relief Services, Notre Dame University School of Business and the Pontifical Council for Justice and Peace.
I spoke to Dr. Carolyn Woo, the president of Catholic Relief Services (CRS), as she was attending the conference last week. CRS is on the front lines of the world's most impoverished communities. They see tremendous hunger and suffering, such as in South Sudan right now. Dr. Woo says it's hard to gain attention to the plight of others when they are so many thousands of miles away. This is the struggle CRS and other relief agencies have.
CRS needs donations to support their work. Dr. Woo explained that there are 3 sources for CRS to gain funds. Grants from the government is one way and donations from citizens is another. The third source is where impact investors come in.
Dr. Woo talked about how someone investing their money to build a retirement fund, for example, could help support CRS. They could take some of that money and invest in a fund which supports projects to build schools or roads in a developing country. The investors provide the capital to launch the project and get their financial return when its completed. That is one way how impact investing could work.
Someone could invest their money in a project to support small farmers or a company providing fuel efficient stoves. All these projects help build food security and protect the environment. Another program could be sponsoring insurance for small farmers in developing countries. When tough times hits the insurance could help farmers who lose their crops or livestock to drought or other disasters.
For an impact investor it's not just "show me the money," it's also about helping society. This is the way you can build a bridge between those trying to make money for themselves and those who are generously donating. It means more resources for funding and aid agencies are in desperate need of more help.
When I spoke to Dr. Woo she had just met Pope Francis. The Pope spoke to conference members and said impact investors:
"are conscious of the existence of serious unjust situations, instances of profound social inequality and unacceptable conditions of poverty affecting communities and entire peoples. These investors turn to financial institutes which will use their resources to promote the economic and social development of these groups through investment funds aimed at satisfying basic needs associated with agriculture, access to water, adequate housing and reasonable prices, as well as with primary health care and educational services."

Dr. Woo explained that there is a web site which lists current impact investing opportunities. One of the impact investing profiles is the Rockefeller Foundation (investor) which is working with The Disability Opportunity Fund (investee). This is a community development loan fund that helps obtain independent housing for the disabled. The more investors in the project, the more loans it can make to those in need.
The key is to get more people aware of impact investing. Once that happens you can expand the amount of projects that benefit.
Impact investing is a way to bring more resources and energy to help the poor. It's about getting more people involved in fighting hunger and poverty. It's about social good being an integral part of the business world. Impact investing can be an investment in a future of peace and prosperity not just for a few, but for all.
Related
Popular in the Community