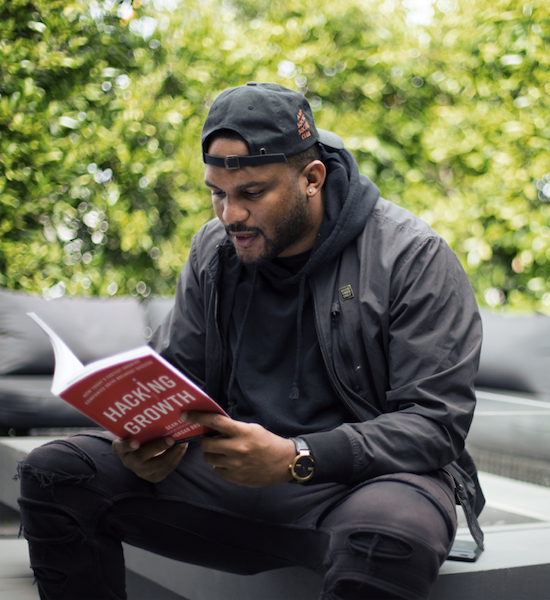 Everette Taylor is a serial entrepreneur and marketing executive who is currently the VP of Marketing at Skurt, a mobile app that allows customers to rent a car and have it delivered to them anywhere, on-demand. He started his first company at 19 which was sold by the time he turned 21.
Everette is also the founder of:
GrowthPup- Online service for brands to build an audience on Instagram
He's also the co-founder of GrowthHackers, software company + online community of 2 million global users.
Kofi: Everette you've done an incredible job leveraging social media to build your personal brand and garner an audience. There are some obvious benefits to being an influencer especially in the startup/tech industry. What advice would you have for young entrepreneurs looking to build their personal brands?
Everette: Before even thinking about building your personal brand, focus on doing something worthy of a personal brand. Too often young entrepreneurs want the spoils before they want to put in the work, I think that's a lot of people in general.
I didn't really start focusing on my personal brand until the past couple years, and building my companies is always and will always be first priority over personal brand but if leveraged correctly - it can have a large impact on your business. The key is to be strategic.
My advice is that if you focus on building a successful company, the personal brand will come. Zuck ain't out there trying to be a social media influencer, his work speaks for itself.
Kofi: Every time I check out your social media it seems as though you are speaking at a conference or an event every month. How do you decide what events or conferences you'll entertain speaking gigs for and how have these speaking arrangements played a role in building your brand?
Everette: There's 3 different reasons that I will take a speaking engagement. #1 I'm going to keep it 100 with you, if they are willing to pay and it's not a negative look for my brand/company - I'm probably going to take it (laughs).
Now that we have that out of the way, there's 2 other reasons. One is the opportunity to give back or do something positive. For instance, I'm speaking to kids at Lynwood High next which is between Compton and Watts. Those type of opportunities truly inspire me and fulfill me more than any speaker fee can.
The final and most important reason is if it's a strategic move for my company. For example, a couple months ago I spoke at Startup Grind in SF that has thousands and thousands of attendees. It's no secret that Skurt will launch in SF eventually and it was a great way to introduce the city to the brand.
Kofi: Growth Pup is one of your more recent ventures. How did you realize there was a need for your company?
Everette: So at my marketing firm MilliSense we would get a ton of requests from brands/individuals wanting to grow their brand on social media, especially Instagram. I knew that if we could find an effective and affordable way to help people grow their brands on Instagram, it would be gold. Especially with the growing number of MAUs on the platform and how transformational success on Instagram can be for a brand or individual.
And let's be honest, most people want more followers and engagement.
Kofi: Recently a large competitor of Growth Pup (Instagress) got shut down by Instagram. It must have been a hectic time for you. What startup lessons did you learn from acquiring a lot of their users and what tactics did you use to convince their users to use your company instead?
Everette: To be honest, all credit goes to my team over at GrowthPup. I'm 100% committed to Skurt and my responsibilities there. It's awesome to have a company in which you have people you can trust to execute. Delegation and building strong teams and leadership is essential for serial entrepreneurs or for businesses in general.
It was definitely hectic, I was told the company's customer base grew over 20 percent in the first 12 hours. It was insane. The key to marketing is figuring out where your target audience resides online and engaging with them. I believe the team did just that. Whether it was engaging with people talking about Instagram shutting down on the different social media platforms or jumping into different threads and messages boards all over the web - the team went all in trying to reach as many people as possible.
Kofi: What's been the most exciting customer testimonial you've ever gotten for Growth Pup?
Everette: Man there's so many. Getting this email was amazing - especially coming from a black business owner. They were able to get there books in "several libraries across the nation, new bookstores, school classrooms" and were able to get featured on TV, radio, and HuffPost itself. Meant a lot reading that.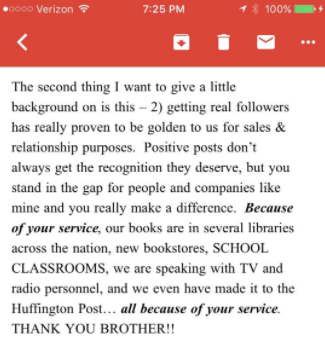 There's also been so many countless testimonies I've received. Recently a blog that was able to make 70k+ in revenue, another entrepreneur whose customer acquisition cost is down 2 cents and helping her get investors, an e-commerce clothing brand that has seen close to a 30 percent increase in monthly revenue, etc.
And not just brands but individuals. Everyone from models, creatives, writers, etc. that have been able to grow their personal brands and change their lives.
Kofi: What's next for Growth Pup?
Everette: Really excited about a consumer analytics product that we're releasing soon and other products coming down the pipeline. I leave the keys in the hands of my CTO who's really driving product/engineering. Looking forward to continuing this massive growth.
Kofi: You're also the VP of Marketing at Skurt. What is your day to day like and what challenges do you deal with? In what ways has growing your personal brand online assisted you in your position with Skurt?
Everette: No day is the same for me, that's what's exciting about startups. I always tell people that I have a few goals in mind every time I walk into the office. First to empower my team members and put them in the best position to be successful in what they do. A marketing executive is the point guard, Chris Paul if you will. Showing strong leadership and making those around them better but also knowing when to step in and take over.
Secondly to put scalable and repeatable growth processes in place. To find ways to grow a company organically and in an healthy way while keeping customer acquisition costs down. Always trying to be scrappy.
Kofi: We've seen major brands such as Pepsi and United Airlines endure a lot of social media hatred in recent days. How would you deal with the negativity these brands are seeing online if you were managing their social media pages?
Everette: First you have to apologize immediately. I know big orgs can move slow but no excuse. You have to own your mistakes. Twitter is brutal, the more you try to deflect - the worse it is. You have to show real empathy and remorse, not tone deaf apologies.
Also once done apologizing, you must show actionable change and highlight that through social media. Use social media as a tool for the "comeback" story. But ultimately this comes down to building diverse teams where people have a voice because a lot of these issues, especially the Pepsi one could've been avoided.
Kofi: With a large following on Instagram, Twitter and Snapchat I'm sure you interact with a wide spectrum of people. What's the funniest or even most surprising DM you've ever gotten?
Everette: That distinction definitely goes to Richard (Ricardo) Reis, a bright young entrepreneur that hit me up randomly on Snapchat and told me that Jamie Foxx wanted to meet me. I thought he was some weirdo playing games but he was actually telling the truth.
I ended up coming to Jamie Foxx's house and meeting him. So random.
Kofi: I know you live in Los Angeles now. Has living in LA been beneficial to growing your personal brand?
Everette: Eh maybe.. It definitely has given me more access to different types of people that I normally wouldn't come across. Also being here has opened up my brand to more industries than just tech.
The internet has made anything possible, don't let where you live determine whether you're successful or not. I'm a ghetto kid from southside Richmond, VA - anything is possible.