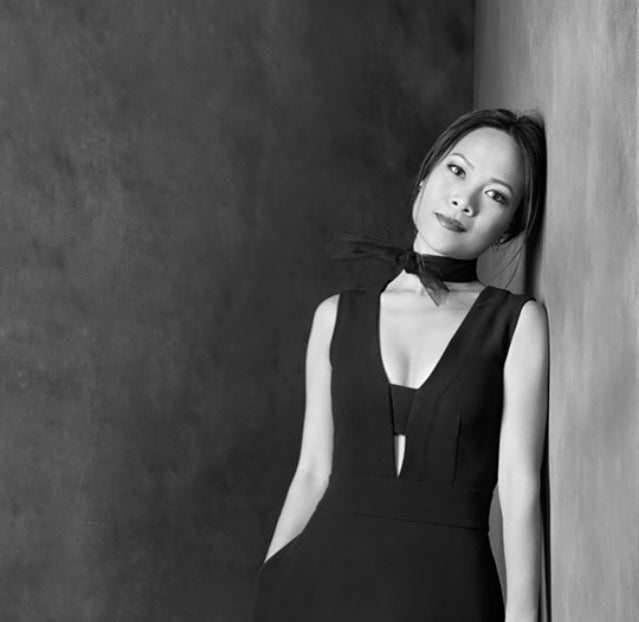 Courtney Leigh: For anyone new to the amazingness that is Nha Khanh, how would you describe who you are and what you do?
Khanh Nguyen: First and foremost, I'm a mother to my four-year-old daughter and a wife to my (best friend) husband. I'm also a founder and the creative director of Nha Khanh, a luxury womenswear clothing line based in Dallas, Texas.
CL: How did you get your start as a designer? And how did you know that's what you wanted to do?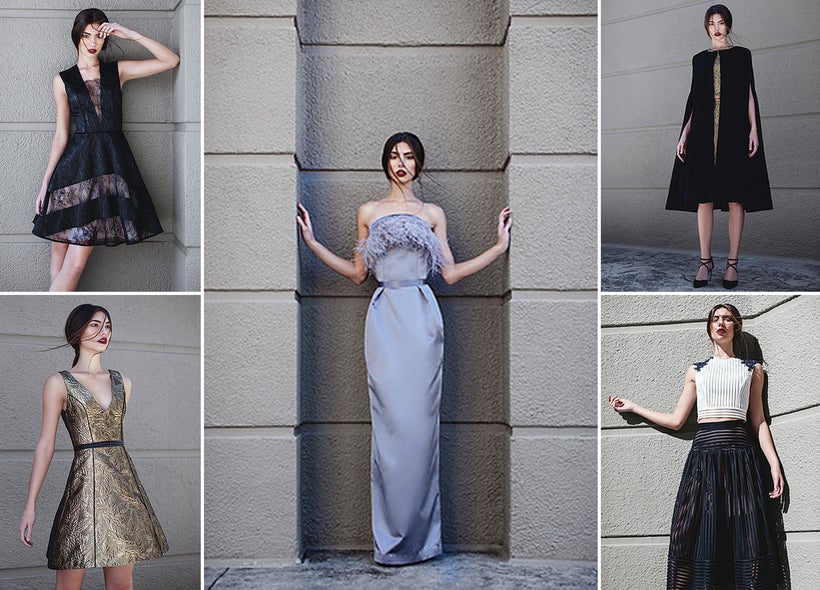 KN: During my last semester at college (at the end of eight years), I knew I had no time to waste. I entered as many design competitions as I could. One of them was the all-expenses-paid scholarship to further my fashion design study in Paris, France. I went to Paris during the summer of 2008. I lived and breathed ultimate fashion. Getting to study and work briefly under fashion experts from Chanel, Dior, Elie Saab, Jean Paul Gaultier, and more was a life-changing experience.
After I finished, my husband (then boyfriend) joined me in Paris. We explored the city and traveled to Italy. During our stop in Venice, he proposed to me at sunset on a gondola, where immediately after he almost had a heart attack because I nearly dropped the ring into the water!
Being so overwhelmingly happy and inspired by the beauty and style of Paris, I couldn't wait to come home to design my own wedding dresses. Yes, dresses…not one…but several for my wedding day. I designed and made three dresses for myself—a main gown, a Vietnamese traditional dress, and a first-dance/cake-cutting dress. But I wanted another one. So I made a short, fun, and flirty party dress with lots of lace that I knew would turn heads. That mini lace dress became what Nha Khanh is known for today and has been our all-time bestseller until now. I named her the Milace dress (short for "mini lace dress").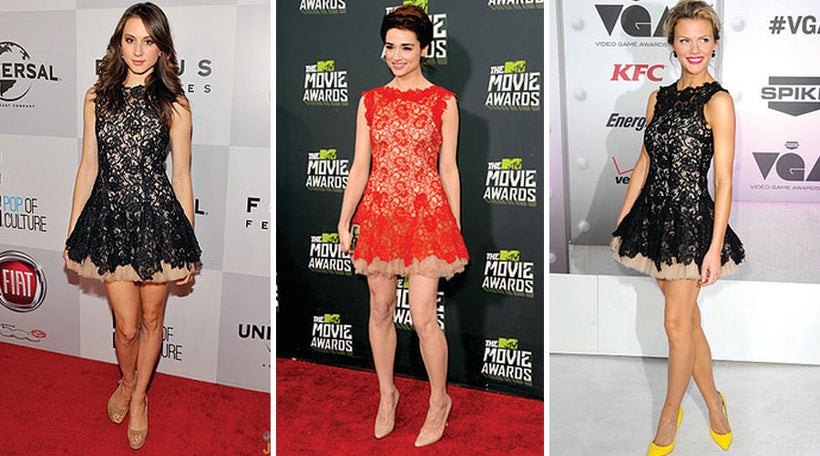 CL: It's adorable! So from inspiration to fully functional pieces of clothing, what does your design process look like?
KN: For my Ready-to-Wear collection, I always start with an inspiration to keep my focus. This also makes the collection more cohesive and well-rounded. I'm a very visual person. I'm constantly looking for beauty in nature and everything around me. After selecting fabrics, colors, and notions, I begin to design and sketch the collection…from fancy tops to skirts to casual dresses all the way to extravagant gowns…all while keeping in mind the allowed budget for each design and level of technical difficulty.
Then I meet with my merchandising team from NYC to plan and merchandise the collection. Afterward, I meet with my technical teams of patternmakers and seamstresses (this is the longest phase). Our patternmakers will make patterns for each design mostly from scratch and build the patterns into muslin garments for me to examine and approve the fit and cut details. After each muslin garment is approved, actual fabrics will be used to cut and sew into the first collection sample.
Our last step is shooting the look book for the collection. Every single garment is built into a whole look from hair and makeup to the dress and shoes. It gets photographed and edited artistically. Then, off to New York City the collection goes to its new home for display for about two months, being pulled and borrowed left and right by press and celebrities. Orders will then be placed by stores while fabrics and notions will be ordered by us. Production is in full swing at this point. The entire process from inspirations to the sales floor takes about nine to ten months.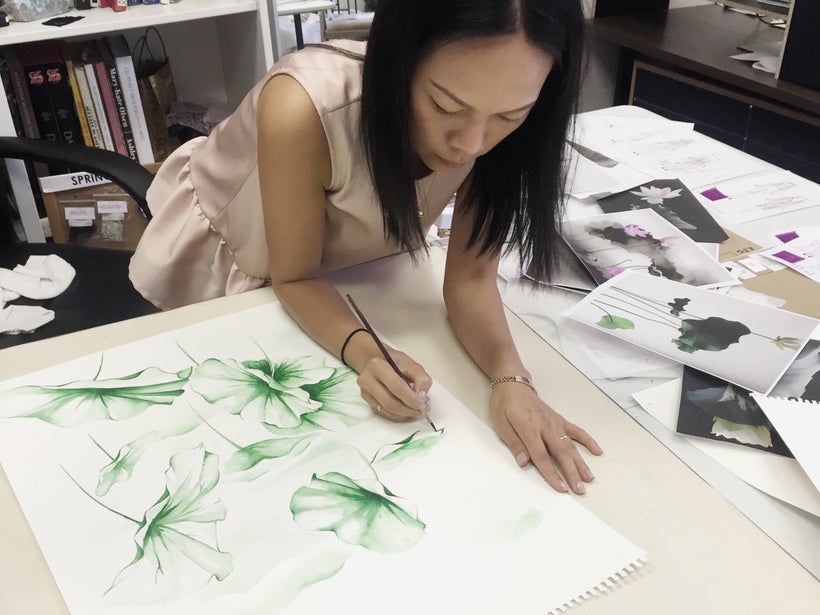 CL: I can't believe you fit all of that into such a short amount of time! Not to mention, there's bound to be overlap from one collection to the next. I'm in awe.
So, you are the Creative Director of Nhã Khanh. How much of the business side of things are you involved in?
KN: My husband, who's the CEO, handles the business side, and I handle the creative side. I think I'm smart enough to not handle both sides of the company, haha! I've learned that it's almost impossible to handle both while trying to balance life outside of work.
CL: Speaking of balance, how does being a mom influence your work and how does your work influence being a mom?
KN: Ah, it's amazing! I've never been happier in my life. My daughter came into my life when I was about to give up my dream of building a fashion business. There were doubts, hardships, and failures. Through it all, the thought of being a mother to my unborn child gave me the strength to push through. I started to feel different, more stable, and stronger. I focused on what really mattered to me and only allowed positive thoughts to live in my head and heart. My daughter came into my life and taught me that we can really achieve anything we set our minds to.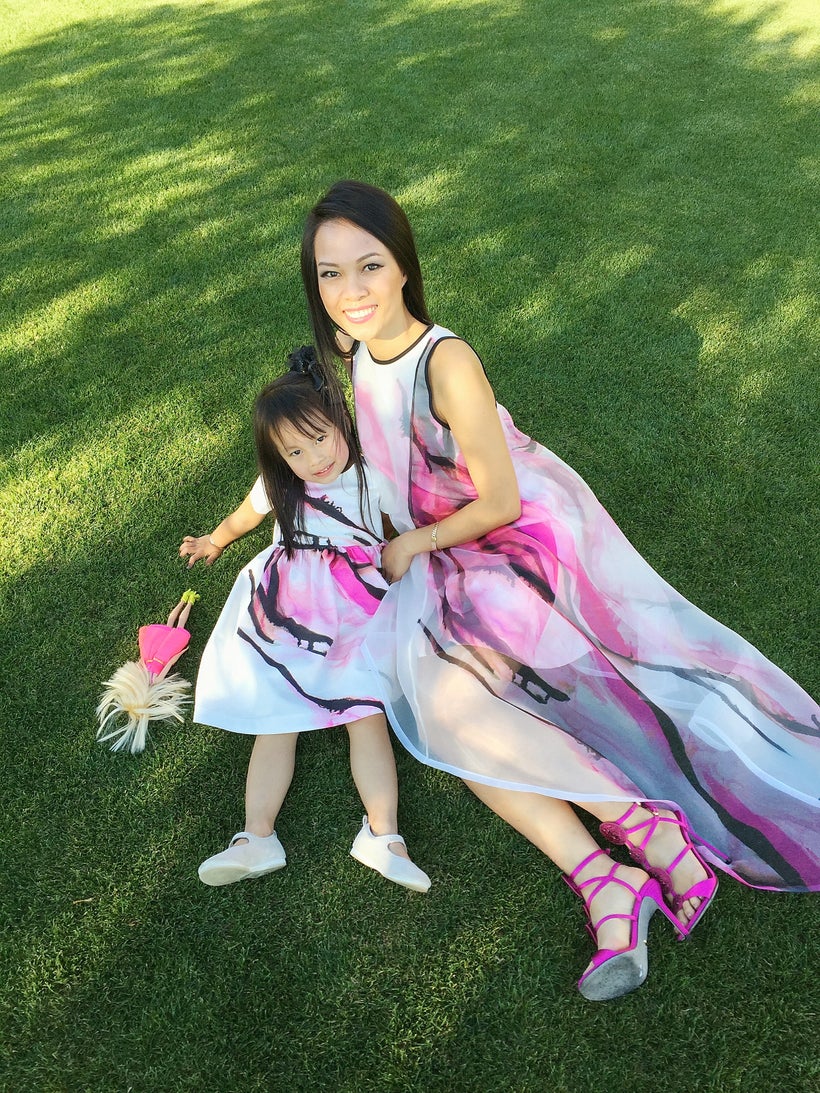 CL: Absolutely beautiful. I'd like to close things out by mentioning a line from your "About" page. "The mission of Nhã Khanh is to empower women with inner-strength through their clothing while focusing on feminine elegance with a modern edge." How do you see this mission coming to life in the women who wear your designs?
KN: My favorite and most rewarding comments I usually get from women wearing our designs are, "Your design makes me feel beautiful and confident." "I've never received so many compliments in my life." "Your dress was the special part of the special day of my life."
These lines never gets old. I'm grateful to do what I love and make a small difference in a woman's life, one dress at a time.
You can find the full version of this interview on Model Behaviors here, which includes an introduction by model and entrepreneur Toni Muñoz-Hunt.
Calling all HuffPost superfans!
Sign up for membership to become a founding member and help shape HuffPost's next chapter
This post was published on the now-closed HuffPost Contributor platform. Contributors control their own work and posted freely to our site. If you need to flag this entry as abusive,
send us an email
.