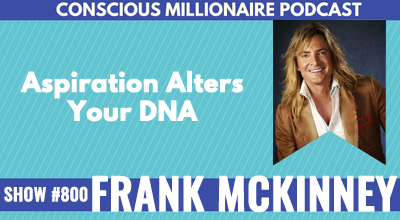 Frank McKinney is a Real Estate Artist, 5-time International Bestselling Author (in 4 genres), superhero meets Robin Hood, Philanthro-Capitalist, Ultramarathoner, Actor, and Visionary who sees opportunities and creates markets where none existed before.
You probably know him as the person who creates the most expensive spec-homes. His new focus in high priced spec-homes, often 20,000 square feet or more, for the wealthy is what he has branded as Micro-Mansions.
Instead of the typical large sized mansions, his micro-mansions are typically 4,000 square feet, yet with the same hefty 20 Million dollar or more price-tag. Think of them as jewel boxes.
FRANK' NUGGETS FOR SUCCESS
1. Be selective about who you emulate. Consciously choose people whose values, behaviors, and results you admire.
2. Live your life and build your business with a focus on creating a legacy. Get clear about why you are on the planet then make that your guiding light as you move forward.
3. Always seek to expand your current vision by making a lofty goal that both inspires you and challenges you.
WHAT MADE FRANK SUCCESSFUL?
A key belief that Frank feels made him more successful is: exercise your risk tolerance like a muscle and it will become stronger, withstanding more pressure.
As a legacy, Frank wants to be appointed ambassador in Haiti. Click here to listen to more of JV Crum III interviewing Frank on the Conscious Millionaire Show.
Named by Inc Magazine as one of the Top 13 Business Shows to listen to in 2017, host J V Crum III is known for his LIVE On-Camera Trainings where he creates a Breakthrough for six-figure business coaches and consultants by helping them find $50,000 or more in hidden revenues then develop steps to put it in their bank account. He works with business coaches and consultants who want to reach their First Million by helping them scale quickly while making a positive impact and enjoying a high-quality life. JV is both the host of the syndicated radio show and podcast, "Conscious Millionaire Show", and the best-selling author of "Conscious Millionaire: Grow Your Business by Making a Difference." JV holds multiple certifications in NLP and has graduate degrees in three areas: law, business and psychology (JD, MBA, MS).
Calling all HuffPost superfans!
Sign up for membership to become a founding member and help shape HuffPost's next chapter
This post was published on the now-closed HuffPost Contributor platform. Contributors control their own work and posted freely to our site. If you need to flag this entry as abusive,
send us an email
.