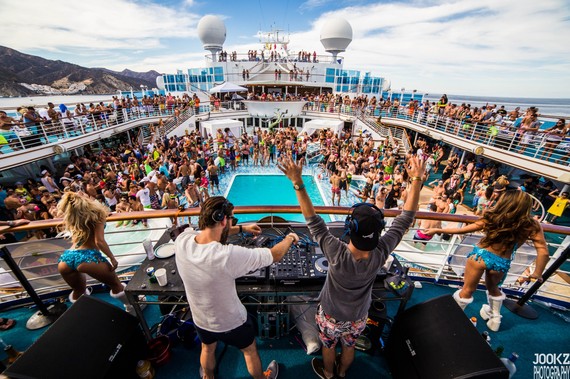 The sold-out, floating music festival, Groove Cruise has become a hugely successful and EDM fan favorite. Combining the luxury and travel of a cruise ship with the pulsating, all-night party of an electronic music festival, it is no wonder that this event sold out so quickly. Setting sail from Long Beach on October 23rd and returning on October 26th, the cruise will make stops at Catalina Island and Mexico, offering a spring break party in the heart of autumn. Check out my interview with Groove Cruise Director of Marketing, Rafi Leibowitz:
Morena: How and when did Groove Cruise begin? Has it always been a cruise festival?
Rafi: We've all been on that family-style vacation, where you find yourself twiddling your thumbs at night wishing you were traveling with your buddies to some exotic destination, right? This was basically the origin of the Groove Cruise! Jason was on a cruise with his fam, hanging out on the pool deck as one would normally do, and while overlooking the morbid scenery he found himself so frustrated with the nightlife options for his age group that a sudden idea came to him.
What if you could take over a cruise ship, fill it with all of your friends, some amazing music, and sail around the Caribbean on an adventure like no other? The following year, in 2004, Jason followed up on this idea by taking 125 friends on a cruise vacation like no other. Little did he know at the time, but this would then erupt into what is now the world's largest floating dance music festival.
Morena: What kind of amenities are offered at this event? Is it comparable to a standard electronic music festival?
Rafi: The Groove Cruise's take place on massive, amenity filled 5-star luxury cruise liners. Everything from gym, spa, Vegas-style casinos, and even teppanyaki/sushi restaurants can be found onboard. Never being more than a 3 minute stumble from your private stateroom with panoramic views from the middle of the ocean is what truly makes GC unique. Stumbling into your favorite DJ in line at the breakfast buffet is quite a common occurrence!
Morena: How did you become involved with this event and who is the core team that runs it?
Rafi: I personally became involved in 2011 right as the Groove Cruise was transitioning from a large-group to full-ship takeover. It coincided perfectly with me graduating Arizona State University, so it was my first gig out of college! Not bad, eh? Jason Beukema is founder and CEO, and Antolin Del Collado is COO. Kathy Murray and Alisa Rodriguez also serve as key team members.
Morena: What other endeavors do you work on when you are not working on Groove Cruise? Or is your entire focus on Groove Cruise?
Rafi: Groove Cruise is my life. 24/7... 365. As a company we manage and execute several other cruise festival brands under our parent company, Whet Travel. It's a full time gig.
Morena: What are some of your favorite memories, moments and musical acts of past Groove Cruise events?
Rafi: Wow, this is expansive. The sunrise parties on the last nights of our festivals, pulling into port at 6 a.m. and seeing 3000 people still dancing and having the time of their lives is a very special feeling and always a highlight. Not to mention, on the last night of our cruises we have our team parties and all let loose a little, so needless to say these are great times for our entire team!
As for musical highlights, I'd have to say Markus Schulz, Erick Morillo, Sander Van Doorn and Chus and Ceballos have always stood out as some of my GC all-time faves.
Popular in the Community