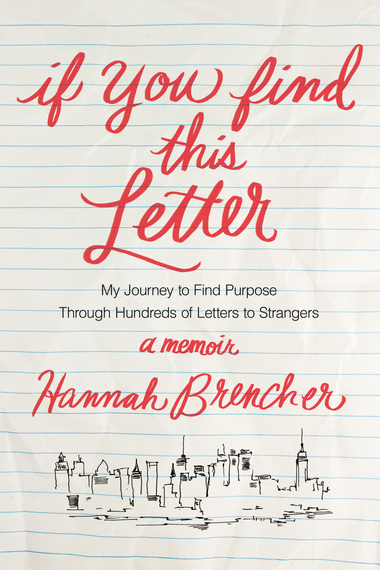 Hannah Brencher's story started with a love letter, a love letter to the people of New York City. Feeling lost, alone and disillusioned, Brencher started writing out her thoughts in journals. Then one day she decided that instead of writing to herself, she would write to help others. She wrote her first love letter and left it to be found. The More Love Letters movement was officially started. If You Find This Letter is the story behind the letters, how they came to be, what inspired them and what's next for this letter-writing rockstar.
Tell us the story behind the story. How did If You Find This Letter come to be?
I never expected that my story would ever be one to fit into a book, to be honest. The whole thing began when I moved to New York City after graduating from college. Very quickly, I found myself really questioning everything: Who am I? What am I do? How can I honestly make a difference in this world? It was during the train rides from the Bronx (where I was living) to Manhattan where I would have the hardest time just sitting with myself. So I started to write to strangers on the train, and that spiraled into writing to people I would point out from a crowd around Manhattan, and then that led to me ripping the letters out of my notebook and leaving them behind in the city.
When I blogged about leaving letters, I found my life flipping upside down as my inbox began filling with crazy and heartbreaking letter requests. After ten months of writing hundreds of letters to strangers, More Love Letters was born. It was born because so many people came alongside me saying, "Don't go this journey alone."
Two years after MLL was born, the book started to take shape. I love that the story would not be what it is if I had not gotten other people involved. My story might be cool but the stories of others are way cooler. After giving a TED Talk, I was approached by several literary agents. So began the quest to find the agent who could understand my heart in all of this. My agent helped me structure my memoir and really figure out what I wanted to say and that led me into finding an editor who also understood my heart and reason for sharing this story: not for my own glory but to highlight the human experience and what happens when we think outside of ourselves and onto others and God.
What was the most challenging aspect of writing If You Find This Letter?
I think the most challenging thing for me was having to go back to look at what I thought to be ordinary parts of my own journey and having to dig deeper to figure out what the real takeaway moments from my own story were. It was really challenging to look at the moments when I probably should have been a nobler character and still write honestly anyway.
What is the message you want readers to take away from your book?
I want people to know that the idea that we are "alone" is a complete myth. It feels like we are alone in the world we live in today, especially with social media, but we are quite surrounded. We can still gather community close. We still need the help of others. We were never meant to go through life just trying to stand out. Our stories are so much more impactful when we invite others in and we turn our stories into something bigger than ourselves.
Describe your writing schedule. Do you outline? Any habits?
You know, it's funny because I wrote this whole first book in notebooks first. All of it was longhand. I would write it out and then type it and then re-edit it on paper. But now, I have found all my first drafts for my next project to be on the computer first. It's strange and surprising to me.
I don't normally outline. I just start writing and see where the scenes and the conversations take me. I fill in the details along the way. I am a big "feeler" and so I tend to really spend time trying to flesh out the emotional stuff. That's what I am drawn to.
As for schedule, I normally write in the morning and edit later in the day. I write so much better knowing that the words I am writing are the first thing getting dumped out of my brain before anything else, or any kind of interaction, can touch my day. The morning hours are when I am my clearest. During the book writing, I would be up at 5am and write until about 11 or noon. Then I would break, go to the gym and edit in the late afternoon and early evenings.
What books are on your nightstand? What are you currently reading?

I am currently reading Lara Casey's Make it Happen, Don Miller's Scary Close and Sara Hagerty's Every Bitter Thing is Sweet.
Which authors inspire you?
I am really inspired by Joan Didion, Cheryl Strayed, Anne Lamott and Sue Monk Kidd. Those are definitely my favorites.
What have you learned from this experience?
Oh my goodness, so much. I don't think I could have ever anticipated what i would learn about myself from the book writing process. It was all so hard but so worth it. I think the biggest thing I learned was how to let go. How to let go of material you fall in love with. How to let go of pieces of your own story. How to let go of the need to be perfect or always "right" and just opt for raw honesty instead. My editors taught me how to not hold things too tightly and how to let go of words when it is time. Letting go was definitely a common theme throughout this book. I am thankful for that.
What is your advice for aspiring writers?
I would probably tell aspiring writers to just write. No matter what you feel. Writer's block is a myth. And like Stephen King says, you have to do the work for the "muse" to show up. There would be writing days where I would write about 4,000 words and then only be able to salvage 28 of those words but that dozen words or so were some of the most powerful stuff of the whole process. You have to be willing to just write, no matter what mood you are in, and see what comes out of you. It's like, no excuses.
What are you working on now?
Well I am just starting to brew up the outline and the bones of my next book. I am really excited for what it is going to evolve into, especially as I am living out a lot of the material currently. So right now I am working on living some pretty epic stories.
Joan Didion famously explained that she writes "entirely to find out what I'm thinking, what I'm looking at, what I see and what it means. What I want and what I fear." Why do you write?
I wrote this during the book writing process and it still resounds for me: "Writing is just the right eulogy for all the memories we haven't let go of yet. Enough to coax them out of our hands and onto a page."
I write because life is messy and beautiful and it's just too tragic and hopeful for me not to try to put some of it down on a page. I write to remember the goodness of people, just as they are to me in a moment. I write because it's my gift to my friends and family and I always want to be giving something for as long as I am here.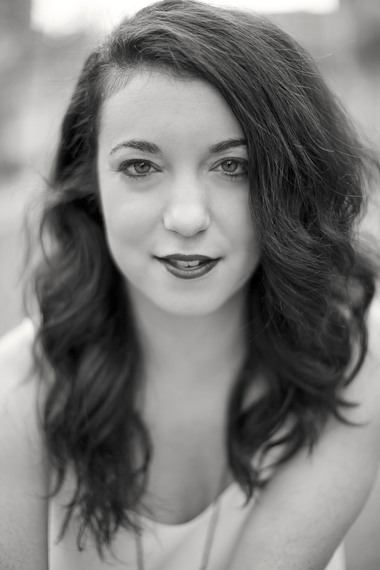 Popular in the Community