Throughout eternity, three questions have plagued mankind:
1. Why are we here?
2. What is the meaning of life?
3. Is it possible to get to know one of the Golden Globes-voting members of the Hollywood Foreign Press Association?
While the first two questions are beyond the scope of this presentation, question three can be answered to your satisfaction here and now. Patricia Danaher is from Ireland and her observations bring insightful and fresh perspectives on America, American men, movies, movie stars, creativity, writing, politics, living in foreign countries, and her experience as a Golden Globes-voting member of the Hollywood Foreign Press Association.
Patricia Danaher is a journalist and producer, originally from Ireland. She writes about entertainment and culture for a wide variety of international publications, including The Sunday Times, The Guardian and The Daily Mail. She also is on the jury for the Golden Globes. A former television bureau chief, Patricia covered the Northern Ireland Peace Process, breaking several key stories, and was awarded a Nieman Fellowship in 2004. Patricia is the director of Harvardwood Publishing and a member of the board of Harvardwood. She is currently producing a feature documentary on the silent movie director Rex Ingram and is also developing a travel/anthropology series on sacred places in the U.S. and internationally. Patricia also serves on the board of the American Ireland Fund.
Where did you grow up in Ireland? What was the place like and what was your childhood like?

I grew up in the west of Ireland in a small village called Glin in West Limerick. The River Shannon which flowed into the Shannon Estuary was at the bottom of the village and was a place where we played and swam and near where I would walk our dogs after school and daydream. My best friend Irene, lived two doors from us and her house was a place where many local children would gather to play after school. It was a generally happy childhood. I am the second youngest of six children.
What did your parents do?
My mother ran a bed and breakfast with which I helped and my Dad did multiple jobs including driving a school bus. A man very at home in nature, he also took great pleasure in gardening, and in cutting and harvesting peat for the family fires.

What things do you miss most about Ireland? Would you ever return to live there?
I've lived away from Ireland a number of times in my life, including in South East Asia and South America. With the internet, Skype and Facebook, I don't experience homesickness much as I feel pretty much in touch with family and friends and up to speed with their lives. I miss Irish humor and irreverence. Irish people are pretty spontaneous and don't like to be as scheduled in their social lives, as people on LA tend to be.
The weather is atrocious and very unpredictable, so the only way I could imagine returning there for any extended periods of time would be between April and September which can be lovely. At least the rain is a little warmer!
What set you on the path to becoming a writer?
Ever since I can remember, I have loved reading and the company of books, so it seemed natural and inevitable that I would also want to write my own stories. My father was an avid reader of newspapers and he inculcated that love in me also. Ireland is largely a nation of storytellers and people love stories and literature. Artists are regarded as special and space tends to be made somewhat for their oddness.
When you became a reporter in Dublin, was that the realization of your career goal at the time? How did you land your first reporting job(s)? And how did you find the life of a reporter?
My first job in journalism was on The Evening Press in Dublin, which I landed within about a year of graduating from DIT. Like many young reporters, I was sent to report on often boring city council meetings and district courts. It was valuable practical experience, but I wanted to do more arts and feature writing, which I did. I enjoyed writing and also always wanted to work in broadcasting, which I did break into after a few years of freelancing on radio with the national broadcaster, RTE. I contributed reviews of concerts and theatre until my foot was wedged in the door and I was hired as a reporter, first on radio and then on television.
You broke several stories about the Northern Ireland peace process. What insights can you share about that experience?
The Northern Ireland Peace process was a long and complex one that took many twists and turns. Practically everyone wanted it to succeed and for an independent assembly to be established, giving the people of Northern Ireland autonomy in governing their own affairs. It was often a brittle and fractious process among the parties, some of whom had hated each other's communities for decades. Senator George Mitchell's patience in shepherding the often intransigent back to the table played a huge role in this long, slow process, which was shockingly easily derailed. It took a lot of cajoling of the various parties to engage in the process and in an earnest wish on behalf of the media, most of whom were Irish citizens, we sometimes turned a blind eye to ongoing criminality on the part of some members of paramilitary organizations associated with political parties involved in the process. This was a mistake, which was taken as carte blanche by some of these criminals.
The unwillingness of some of the parties finally elected to office to establish a peace and reconciliation commission to allow everyone to tell their story of what happened them during the so-called Troubles was also a great mistake. It keeps the process on a fragile footing, as in this small community, people with dark pasts often encounter those they have victimized and vice versa.
You were awarded a Nieman Fellowship at Harvard University? What is that, how did it come about, and what was your experience of it?

The Nieman Fellowship is one of the most prestigious in journalism, as well as offering tremendous respite to courageous journalists who have often come from reporting on war and conflict. It was established in 1938 by Agnes Nieman, the widow of newspaper publisher Lucius Newsman, the founder of The Milwaukee Journal.
I was awarded a fellowship based on my work as a correspondent reporting on Northern Ireland. It is a tremendous year, where the cornucopia of life at Harvard is made available to Nieman Fellows. I loved sampling classes at the Kennedy School, the Divinity School and the Law School. There was so much on offer that I was often stressed in thinking I must be missing out on something even more exciting someplace else on campus!
I eventually allowed myself to spend time in the beautiful Widener Library where I wrote and researched a script on the wonderful hell raiser Mother Jones. The Nieman Fellowship is a wonderful banquet and experience and also a place where I made friends for life.
Did you experience any culture shock moving to the U.S. from Ireland? What do you like most and least about the U.S.?
Many of my mother's family emigrated to the US in the 1950s, so we always felt a connection to the US and were used to cousins periodically showing up in Glin looking for their roots! There was a lot of cultural familiarity but of course there were also shocks. Food portions and waste were part of this, as was what seemed like overemployment in the service industry.
American exceptionalism is still very hard to take. The US is a great county in many ways, but it is not the greatest country on earth, as even your most liberal friends will sometimes insist on telling you. The attitudes about health and education as somehow luxuries for those who 'deserve' them combined with the industrialized and very broken prison system are deeply disturbing as is the widespread gun ownership. The presidential electoral process is such an appalling waste of money and time and seems bloated and unnecessarily long.
On the positive side, many Americans are friendly, generous and welcoming and will often go to great lengths to make you welcome. I love Thanksgiving and have been made welcome many times in American homes. American men are often much more chivalrous than Irish men in slightly old fashion ways which can be very charming.
I love the nature in Los Angeles - the mountains, the desert, the ocean and the city all cheek by jowl. It's very special.
What was the process involved in becoming a member of the Hollywood Foreign Press Association in 2008? How has your experience been?
I was sent to Los Angeles for a year in 2006 by the Irish Sunday Tribune. I researched the various media organizations once I arrived and quickly joined the Los Angeles Press Club. I was aware of the Golden Globes but not of the Hollywood Foreign Press Association and when I heard about it I inquired if there was an Irish member. Tragically, just a few months earlier, the previous Irish member Nick Douglas had died during a visit home to Belfast.
I made further inquiries about the process of joining and began to get to know some members who advised that I would have to be living in Southern California for two years and working from here as a journalist before I would be eligible to apply. Two years later, I applied and was elected.
Covering entertainment in Los Angeles is not the glamorous assignment people sometimes believe it to be. The gatekeepers of celebrity are often hostile to media, so it's very helpful to be part of an association such as the HFPA, thanks to the popularity of the Golden Globes. I have met and interviewed many of the galaxy of stars of film and television and I have had some wonderful opportunities to travel and visit set and attend film festivals internationally.
You have been a voting juror on the Golden Globes since 2009. How has that experience been for you? What do you like best and least about it?

It's a great privilege to vote in the Golden Globes which is such a hugely popular awards show. It's also pretty fantastic to get to see so many films and TV shows. It is at times overwhelming given how much work is being made every year, particularly with the rise of streaming outlets like Amazon, Hulu and the like. I particularly like getting to see as many foreign films as I do. It can feel quite stressful and a big responsibility, particularly when the deluge of screeners comes flooding into the house from November until the first vote in early December.
How many movies do you see in a typical week? Do you ever get tired of seeing or writing about them?

I see on average about three movies a week and multiple TV shows. I still enjoy the work, but there are growing journalistic challenges with the way the traditional industry is changing and it is not as rewarding as it used to be.
What is your favorite movie and why?
It's impossible to narrow it down to one. This year, I liked many movies, including one gem of an independent movie, Infinitely Polar Bear, a moving and funny story of a bipolar father and his family. I also thought Mustang was great and an important story about the consequences of the sexualization of young women. The Great Beauty last year was fabulous.
I go back to Billy Wilder's work at least once a year, also Fellini and Coppola and some Woody Allen.
What has your experience in general been interviewing celebrities about their movies? Who has been your favorite and why?
Having covered politics and hard news for most of my career, it is shocking the amount of control the personal publicists wield in ensuring that very few tough questions get asked of their clients. The fragility of some of these very large egos is laughable in many cases. The prickliness and power tripping of their publicists is very tiresome. World leaders and politicians are used to tough questions and expect it. Some actors are too precious and believe their own PR too much. The older guys like Clint Eastwood, Dustin Hoffman and George Clooney are usually delightful and understand how it works and that you have to come back with some kind of fresh story. They are flirty and fun and less packaged that some of the younger generation, who could benefit by reading more and taking themselves less seriously.
You co-founded the Harvardwood Fiction Writers Club. What's the significance of the name, the purpose of the club, and the nature of your involvement?
I have been a member of Harvardwood, the arts and entertainment alumni network, for many years and have found it to be a tremendous resource. Most members work in film and entertainment and I wanted to create a resource for fiction writers. Our fiction group meets every few weeks to workshop material. It's been very valuable and helped me complete my first novel, Beyond Belief.
What other projects are currently occupying your time and energy?
I am the director of Harvardwood Publishing, a digital imprint which is launching a couple of exciting new titles this year. We will be publishing fiction and nonfiction from Nieman Fellows and a couple of anthologies.
I am also working hard to establish a literary prize, the Harvardwood Literary Award and have been actively seeking sponsors.
How did your experiences in Japan and Argentina come about?
I have always wanted to travel and was especially attracted to Asia, thanks to the fact that I started TM as a young girl in Glin. I went to Thailand for a year in my 20s and made friends with many people I'm still close to. A few of us decided to check out Japan after a very chill year in Thailand, so off we went to sample the Japanese bubble economy. It was a lot of fun.
At the end of two years there, I was in a relationship with a Welsh historian and neither of us felt like returning to Europe just yet. I was interested in studying Spanish in Latin America and he was working on a thesis on the Welsh colony in Patagonia, so off we went. It was quite an odyssey in many ways!
Can you share with us something about your project called Sacred Places?
I have always been interested in belief, faith and ritual, even in my agnostic phases and a few years ago at Burning Man, I met the author and anthropologist Brad Olsen who has written some of the best books on the subject of the sacred in societies around the world.
I purchased the rights to his books and we have been collaborating in developing a TV series on the subject.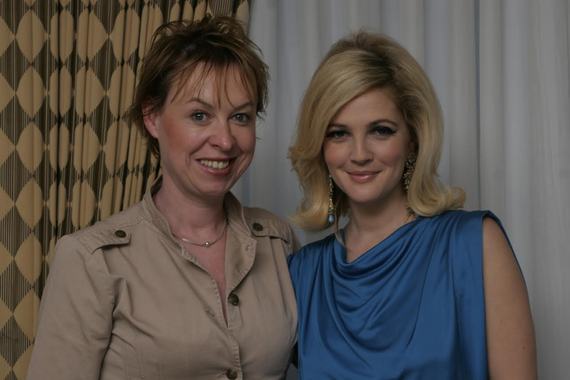 Patricia Danaher with Drew Barrymore
Photo courtesy of Patricia Danaher
What was your experience like helping to launch the first Irish Film Festival in Los Angeles? How did it turn out?
It was a lot of work by a number of very enthusiastic Irish people based in LA who love film. We could get no support from the Irish Film Board and my husband raised the bulk of the money to put on the three day festival which was a huge success. They say that success has many parents, so the following year the Irish film people got behind it, but did not leave room for those like myself and Bill who did so much to get it off the ground and to promote it. It has run on and off since then but we have not been involved. These things happen a lot in film festivals, I've since learned.
Describe your experience blogging about the Phil Spector trial for an Irish newspaper.
As a reporter in LA, I think it's incumbent on you to cover at least one celebrity trial and Phil Spector was my first. It was quite a circus initially, but interestingly and for whatever reason, the media in Europe did not keep up their interest in it beyond the opening days and the sentencing. But it was quite a thrill to see the lawyers in action and to be so close to Phil and his elaborate hair every day in the LA Superior Court.
What are your hobbies and interests?
I've always loved travel and no less so now than in my 20s, so I usually get away to some interesting destinations every year. I love train travel and last year took a four day journey by train on The Ghan through the Australian Outback which was thrilling. I also enjoy train travel in the US, where possible although that's not always a joined up experience!
I love wine and interesting food. I read all the time and I love many kinds of music. I go to theatre and live performance as often as possible. I cook and love entertaining friends.
What would you do differently if you lived your life over?
It's difficult to say. I wish I had known about mindfulness when I was younger.
What's your favorite restaurant in Los Angeles, and why?
There are many wonderful restaurants in this city and it's difficult to choose one. Two of my regulars are in the same little strip mall on Orlando and Beverly: Vegan Glory is a fantastic Thai vegan place which is always delicious, friendly and totally unpretentious. Its neighbor Hirozen is a tiny Japanese restaurant close by where they are artists in the kitchen and everything tastes a million times better than any other Japanese restaurant you've ever been in. Friendly, low key and always superb.
Have you noted any general differences between Irish men and American men?

Irish men are much easier to flirt with than American men. On the other hand, American men are much more direct than Irish men, so you know where you stand with them much more quickly. But sometimes, it's nice to just flirt and leave open the possibilities!
Calling all HuffPost superfans!
Sign up for membership to become a founding member and help shape HuffPost's next chapter