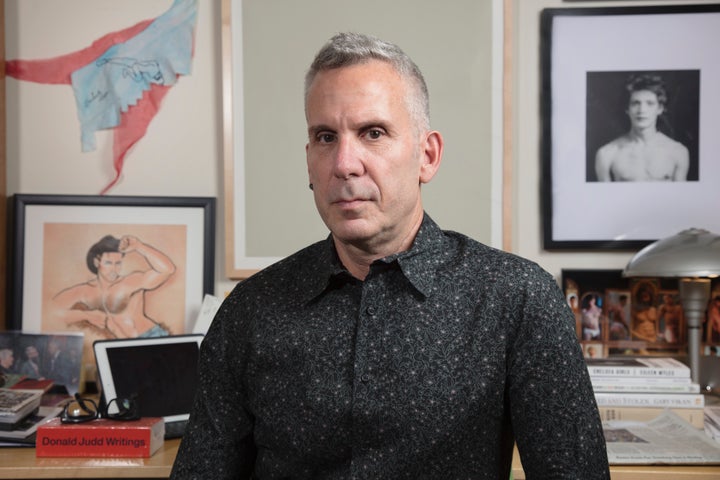 The College Art Association (CAA) hired a new executive director last year. He is Hunter O'Hanian. The few times I met him since, I have been intrigued by his warm personality and auratic presence (full disclosure: I serve on the board of CAA). He sports impressive arm tattoos and beard, brims with ideas, and makes deep thinking seem effortless; and many who have met him seem convinced that he is the sort of person the CAA needs at this time of shifting tectonics, within the association, the arts and, as it turns out, in this post-election period of great, even terrifying, uncertainty. In any case, I thought I might chat him up, to get to know a bit more about him, to sound him out. And I hope readers who are invested, or at the very least interested, in the affairs of the CAA and art in the age of Trump, might learn a little bit about this guy who will lead the association in these most remarkable, anxious times.
Chika Okeke-Agulu: Who is Hunter O'Hanian?
Hunter O'Hanian: I'm a guy who has spent a large part of my professional life thinking about the creative process and art making. I've received a tremendous amount of professional satisfaction working in different organizations to make them stronger and help them better serve their communities and society at large.
As an individual, I consider myself an art maker. I'm fortunate to be in a loving relationship with a very special man. I spend my time between Provincetown and New York. I value professionalism and those who have high ethical standards. I have a good sense of humor and have been accused of being an empath. I often wear my emotions on my sleeve. I enjoy the political process and standing up for under-represented communities.
C. O.: Where did you work before CAA?
C. O.: Which of the artists you encountered in the residency programs do you still remember?
H. O.: I was fortunate to meet and work with many artists and writers over the years, from those at the first part of their careers to those at the pinnacle. Many of them have become wonderful friends and I've established and maintained meaningful personal and professional relationships with many of them.
But if I had to pick one, it is the late poet Stanley Kunitz. I had the opportunity to work closely with Stanley for the last decade of his century long life. He was an amazing man, wise and generous—funny and smart. He fully knew what it meant to be an artist, educator and leader. In addition, he is the one who taught me to drink martinis.
C. O.: What about CAA attracted your interest?
H. O.: I went to my first CAA conference nearly 20 years ago and have attended many years since then. When I heard about the opportunity to work with CAA I was interested because I saw it as a natural extension of the work I had done at other organizations. I have enjoyed working with artists, writers and thinkers and thought I could make a larger impact with a national organization. I am particularly interested in looking at how artists and art historians and everyone who works in the visual arts impact the culture around us.
C. O.: CAA is the oldest and largest association in the visual arts in the United States. Like many professional organizations in the arts and humanities, it has faced dwindling membership. So what might be its biggest challenges today? And what is to be done?
H. O.: Those are the questions I face every day. CAA has been around for more than a century. This year's Conference in New York is our 105th. It has tremendous respect within the art field. I can hardly speak to anyone who has a visual arts background – either as a maker or scholar – who has not heard of CAA. It is the go-to organization for the field.
But we have to face the fact that higher education in the visual arts and scholarship has changed dramatically. Colleges and universities have retooled their financial models. There are fewer full time and tenured positions. There are more adjunct and part-time positions, often at lower pay and fewer, if any, benefits. While we cannot control how individual colleges run their respective business models, we can advocate for those in the field. We want to make sure voices are heard as financials shift.
We also need to address the reality that so many artists and scholars are graduating from major colleges and universities with such significant student debt. Given the paucity of employment opportunities in the field this becomes even more challenging.
Finally, we need to recognize that how those in the field view themselves has changed. People are no longer just art historians or just visual artists. To many, those choices seem limiting. It is a binary that many choose not to accept. It is not unusual for an individual to see herself as a scholar, maker, designer, writer, historian, researcher and so much more. They seek problems and look for new ways to solve them. We have to be an organization that can impact their professional lives in meaningful ways no matter how they view themselves at a given moment or project.
C. O.: I have colleagues who always wonder aloud about CAA's relevance, its work. So let me ask you, what does CAA really do?
H. O.: We do lots of things. We offer an annual conference, which, as mentioned before, will be in New York this year. It will be one of the largest in our history. There will be more than 4,500 attendees who will be presenting research on topics ranging from traditional art history topics to contemporary art making. The conference is a major part of many of our members lives as it gives them the opportunity to present their research, learn about new topics and to network with others in the field. We are working now to open the conference to the public more, to students, to those who want to attend the conference but face financial hurdles. Our Pay-as-you-wish Day Pass is designed to support this community of people.
We also publish two major quarterly peer-reviewed journals – The Art Bulletin and The Art Journal. These are considered the leaders in the field. In addition, we publish CAA Reviews and Art Journal Open on line. We develop best practices in the field on relevant topics such as Fair Use, guidelines for hiring part-time faculty, resources for academic art museums, standards for guest curators and many other topics. We also work to make connections between institutions seeking to hire faculty and those looking for work though our on-line career center.
In short—we put professionals in the field together, allow them to present their work, learn new things and assist them in furthering their professional goals.
C. O.: The new Trump Administration may scrap the NEA and NEH. Any thoughts on what this portends for the arts and humanities in the US?
H. O.: Without question, the newly formed government has alarmed many. It appears to have priorities which are different than we've seen in recent years. However, some of us are old enough to vividly remember the lack of support for artistic and academic freedom during the culture wars of the late 1980s.
When the story broke last week about the new government considering proposing cuts in funding for the NEA and NEH, we were one of the first to speak out against it and publically advocate for continued funding. Given the huge impact that this funding has had, both on creative and scholarly output and economic stimulation, it would be foolhardy to cut these budgets. We are just at the beginning stages of knowing what the new government intends, but if they seek to make those cuts, we will be there fighting for continued support.
But your question raises a larger issue that should be of concern to anyone in this country who values a humanity-based society and educational system. If the budgets in the NEA and NEH are cut, those actions will embolden others who may seek to make similar cuts. We will have to worry about state arts budgets. As of this last election, there are thirty-two states with Republican controlled state legislatures. Further, we are hearing rumblings that some in the new government may attempt to reduce the charitable deduction on federal income returns as part of a total income tax overhaul. These are trends that we have been concerned about.
But as I say, we have been here before. We have survived these attacks on the arts and humanities. Many individuals and foundations will step up to voice their support of creativity through their actions, words and checkbooks. Those are the ones to whom we are really indebted. In the end, although there may be a battle, I have faith that we will prevail.
C. O.: These indeed are going to be especially challenges years ahead, and yes it feels like the return of the philistinic 1980s. But I suspect we are entering an unprecedented new order, something that might make Reagan and Jesse Helms' era seem quite tame; and I wonder if perhaps there needs to be a coalition of professional organizations in the arts and humanities with the objective of engaging in active campaign against these coming policies.
H. O.: Without question – and we need to enlist the support of scientists, ethicists and other scholars who have the courage to speak out against what is happening.
Personally speaking, it is important to acknowledge our government is organized around an authoritarian strongman whose sole professional goals have been his own personal aggrandizement and accumulation of private wealth. It has been stunning to see how quickly we went from a government based on acceptance, generosity and honesty to a government under the direction of a serial liar, without an apparent modicum of ethics. Unfortunately, reliance on governmental institutions to keep the government in check is misplaced. Remember, these institutions gave us slavery, institutional racism and sexism, internment camps, eugenics and much more. Within a week of the new government being formed, the government is excluding properly vetted visitors from our airports based solely on their religion and country of origin.
Over the past week however, it has been so heartening to see so many people speaking out and demonstrating in the streets. This is what gives me hope.
Related
Popular in the Community