The first time I saw Janine Brito perform was in Seattle in 2011 when she was opening for Nato Green, Hari Kondabolu, and W. Kamau Bell. She was hysterical and unique. She has wonderful stories and she's so genuine and likeable and quirky. I met her a few times in San Francisco but I was too shy to make friends. Then at Bridgetown Comedy Festival in Portland, I saw her and she mentioned she loved Buffy the Vampire Slayer. I had my in! Out of my backpack I pulled a Buffy comic book that I had already read and I gave it to her. She responded, "Oh my gosh, I can't possibly accept a gift like this." Ps, Buffy comic books are $3. She was so sweet, adorkable, kind, humble, charming, and awesome. I wanted to be friends with this amazing comedian so much, and I got my wish!
Janine started comedy in St Louis and then grew as a performer in San Francisco and currently lives in New York City writing for Totally Biased.
How long have you been doing stand up?
I think like 7 years or so.
How would you compare the St Louis scene with the San Francisco scene and the New York scene?

St Louis = Bud light & fried ravioli. San Francisco = Tecate & burritos. New York = Brooklyn Lager & pizza.
What are your dream/ goals in comedy?

To gain enough self-worth to make the darkness go away. Too real? Respect from my peers! I meant to say respect from my peers!
What do you like best about writing for Totally Biased?

Sometime, if no one's around, I get to use the copy machine for personal use. *shhh* don't tell HR.
Do you think diversity is important in comedy? And if so, why?

Yes! Because I Love Lucy, The Cosby Show, Murphy Brown, The Golden Girls, Designing Women, In Living Color, Chappelle Show.
Essentially, comedy cannot live on Two and a Half (white) Men. BOOM! Subtext!
Do you have any advice for young comics?

Write, get onstage whenever you can, and don't be intimidated by any other comics (we're all just as scared as each other, no matter where we are on the totem pole of success.)
Janine Brito is performing at the All Jane No Dick Comedy Festival Oct 17-20 in Portland Oregon. She will be at the Curious Comedy Theater on Saturday the 19th at 7:30 and 10:00. She is very funny!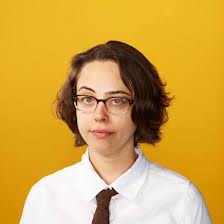 REAL LIFE. REAL NEWS. REAL VOICES.
Help us tell more of the stories that matter from voices that too often remain unheard.