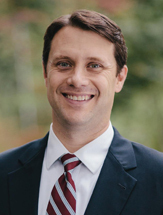 Jason Carter
RPCV South Africa 1998-2000
Jason Carter is a partner at Bondurant, Mixson & Elmore, LLP where he represents clients in high stakes business litigation.  He combines a successful litigation practice with a strong commitment to public service.  From 2010-2015, he served in the Georgia State Senate.  In 2014, Jason was the Democratic Nominee for Governor of Georgia, receiving more than 1.1 million votes in a race that garnered substantial national attention.  He previously served in the United States Peace Corps in South Africa where he worked in schools to assist with their transition out of Apartheid. Jason is the Chairman of the Carter Center Board of Trustees, which oversees the Center's work advancing peace and health across the globe. He serves on the boards of a number of civic organizations in the Atlanta area, including Hands on Atlanta and the Women's Resource Center to End Domestic Violence.
Ann Paisley Chandler: Would you speak on the project you were involved in as a Peace Corps Volunteer in Lochiel, a rural village in South Africa? What would you say were your greatest lessons learned while living and working as a Peace Corps volunteer?
Jason Carter: Our project in South Africa was working in schools at a remarkable moment in the country's history. Mandela was the president, so the country was undergoing this massive transformation, and the schools themselves, which had been used essentially as tools of apartheid to teach people to live within that system and to suppress ambition and things like that, became and needed to become educational institutions that would help people live outside the system and be liberated. That was one of the remarkable aspects of our program at that time, that we worked in schools on the fundamental project of building this new South Africa when Mandela was president.
The biggest lessons learned for me: number one, this is sort of the fundamental lesson of the Peace Corps in many ways, which is people are the same everywhere in the most fundamental and important ways. Interestingly, in a place like South Africa, where it's so beset by divisions and beset by differences, and those differences during apartheid had become the defining element of that community. You still saw white people and black people in South Africa, and I got to interact with all of them in ways that just convinced me even more, even in that really divided community, that everybody is fundamentally the same and has the same wants and desires. That ethic of understanding is far more powerful than all those things that people try to build in that separate us.
Chandler: You moved to South Africa in 1998, four years after the "end of Apartheid." Would you speak about this experience? How did you draw comparisons to life at home with regard to segregation and psychological residue?
Carter: First of all, South Africa, one of the remarkable things about it is that the wounds of apartheid were still really open at the moment that I was there, and they were engaged in a discussion about apartheid through the Truth and Reconciliation Commission and other things that was just far, far better than the discussions we have in this country. Because I missed the Civil Rights Movement here, I really felt like I was lucky to get to experience in different ways what was going on in South Africa at that moment.
The comparisons are clear, except that there they had the ability to look at how America kind of papered over and tried to ignore so many of those differences, and South Africa really went the other way by having a Truth and Reconciliation Commission and doing other things with the remarkable leadership, at that moment at least, of Mandela being there to say, "Look, this is a national project of healing." I just don't know that America has ever engaged in that at all. The other thing that's important about South Africa at that time is that, as you said, it was four years after the "end of apartheid," but the residue, psychological and physical and economic, was still there and is still there. Watching that post-apartheid struggle was remarkable.
Chandler: About 50 years ago, your great-grandmother Lillian Carter became a Peace Corps Health Volunteer in India (1967-69). Would you tell me what you know about her experience?
Carter: One of the neatest things that I got to do when I was in the Peace Corps was that my great-grandmother published a book of her letters home. Even when I went, e-mail was young, but when she was there, it was obviously non-existent, and it took weeks and weeks for them to get letters back and forth. Her letters reporting on her experience were so fun for me to read and see some of the things that were exactly the same about being alone, being far from home, getting a great view of your own community and what it's like, and allowing yourself to be a part of a new community, but also the things that were so different, like she used to write home and say all she wanted was a block of cheese. Where I was, because of how strange South Africa is, I could hitchhike two hours and get a Quarter Pounder with cheese and watch an American movie in THX digital surround-sound.
Her experience really affected our whole family. I said this in the documentary because I think it's true: when she left as essentially a little old lady from South Georgia who'd never really been anywhere and she went to the Peace Corps in India, it let my family know and all of her friends know that this big ol' world, it's still a place where one person can make a huge difference everywhere. When my grandfather got out of the White House, he was in his fifties, and she was sitting there saying, "Look, I turned 70 in the Peace Corps. What are you going to do?" That really inspired him and made it easy to believe that we live in this global community.
Chandler: A Towering Task: A Peace Corps Documentary is in the works. Why do you think it's important to tell the Peace Corps story now?
Carter: I think that same lesson that my great-grandmother taught us, that we live in this global community and what happens in India matters in Plains, Georgia, is even more true now. As the world gets smaller in many, many ways, we also are losing out, I think, in terms of the ways in which we connect as humans. What I mean by that is we've got social media and all these things that bring the world together, but we have a little bit less in the way of authentic human interaction. The Peace Corps is a really unique entity in that it's truly the most fundamental way to build connections between different places, between our country and others and between the people that live there.
Chandler: Why is it important that this is a community supported effort, and why do you think Americans, beyond Peace Corps Volunteers, should care?
Carter: I think, number one, it's important because the authenticity of the Peace Corps and the authenticity of that experience is what makes the Peace Corps what it is. The fact that it's supported by the Peace Corps community and the fact that it's real in that regard is crucial. I think that all of us, whether we've been in the Peace Corps or not, understand that this world is going to require people who can see connections and who can seek those human connections out and forge them in places, especially where you think they might not exist. That, in many ways, is the current most important task of all of our political institutions and communities and even businesses, forging those connections. And the Peace Corps has been doing it for so long so well, so effectively and authentically, that it's one of the crucial organizations in that task. That's the real towering task, in my view, building those human connections.
This telephone interview has been transcribed and edited by Ann Paisley Chandler.
Please donate here to support the making of the Peace Corps documentary.
To support the National Peace Corps Association, the backbone of the Peace Corps community, please donate here.

REAL LIFE. REAL NEWS. REAL VOICES.
Help us tell more of the stories that matter from voices that too often remain unheard.