I met Jim Beaver a few years back because we were both members of Theatre West in Los Angeles. I'd written a play called The Silence of Bees and was about to make a short film out of the prologue. I needed a guy to play a troubled writer. Jim had the chops for the role and I knew he would enjoy working with my company, Into the Fire Productions, because there were some cool professionals involved in my first short film.
At the time Jim was finishing up playing a series regular on the brilliant HBO series Deadwood. I was excited as hell. I loved that damn series. All good. So I sent him the script, he said yes and we were off.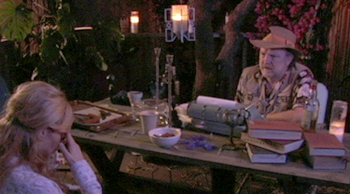 Cut to a few years later. Now Jim is a regular on the TV series Supernatural and he's branching out. He's in a lot of TV shows, making his own short films, And then he gets cast in Guillermo del Toro's new film, Crimson Peak, in production now in Toronto.
So I decided to interview him before he becomes a major film star even though I know that after he does, he will still be accessible. Because Jim is well...Jim.
Here's the very cool interview:
JF: Hey Jim. Thanks for taking some time to answer my questions. I'd like to begin with asking you something I always wondered about. As a kid growing up how did you know you wanted to be in theatre, films, TV? Can you share something of your early background, growing up, the character traits instilled in you early on?
JB: As a child, I was always interested in movies, not so much for themselves as for how they related to things I was interested in. I was a baseball and aviation fanatic as a young boy, so The Babe Ruth Story and Pride of the Yankees and Thirty Seconds Over Tokyo and God is My Co-Pilot and practically anything that sounded like it might have an airplane in it were focal points of my entertainment world. And I was a John Wayne fanatic, in the sense that he was a great role model for me and that I aspired to be as strong and steadfast as the characters he most often portrayed. As I became a teenager, I became interested more and more in movies for their own sakes, or, I should say, in actors for their own sakes. I began to notice that there were other actors whose movies made me feel the same way, to a degree, as John Wayne's did. I began adding them to my list of favorites. Gary Cooper, Randolph Scott, Humphrey Bogart. I determined to watch everything any of them was in. And then I began adding to the list the various character actors who turned up frequently and who had a special appeal for me -- often obscure names like Hank Worden and Frank Faylen and Percy Helton. I began keeping track of anything I saw with *any* of these people, and you can't go very long like that without absorbing an enormous amount of information about movies in general. I was always most interested in the biographical aspects of these actors' lives, and I began to think about writing biographical material and focusing my life on film history. This eventually led to my early decision to study film history in college after I got back from Vietnam. And *that* led me to the theatre, because in those days it was hard to find a college with courses in film history. I "settled" for theatre history and that led me, in college, to my first real acting work. Once I experienced a taste of acting, I never once looked back. My course was set and the wheel tied off.
My father was the most honorable man I've ever known. He was a minister for the Church of Christ in Texas. He was kind, generous to a fault, witty, loving, and universally beloved by surprising numbers of people. He had a streak of honor that could not, would not be tainted. I remember he once wrote a letter to the local newspaper about speeding drivers and how ashamed he was of once getting a speeding ticket, because no matter how much he might need to hurry, he felt compelled by the social contract to honor all existing laws, and that if all men obeyed even the least of those laws, while using legitimate means to shape, repair, and create better ones, the world would be both safer and happier. It's interesting how much my view of life has been shaped by him and by the movie image of John Wayne, surely my two greatest influences as a man. While it's easy as a boy to revel in the toughness and the aggressive and combative elements of a popular figure like Wayne, for me it was the sense of honor, the loyalty, commitment, decency, and high standards for himself and others depicted in most of his films that I saw as reflecting my dad's view of the world and what we should be in it. So when I say that Norman Beaver and John Wayne made me what I am, it's not their ability to throw a punch I'm talking about. The fact that I loved and admired both men despite being politically quite divergent from them says more, I think, about labels than about anything else.

JF: Yeah labels can be dangerous and restricting things. So where did you get your training? How did you break into the industry?
JB: My first acting training was in college. I attended what is now Oklahoma Christian University for a year and was promoted quite rapidly -- perhaps too rapidly -- from bit parts to leading roles. I left that school after that one year in part because I felt like I was having too much handed to me easily. I was being asked what roles I wanted to play the next year, when what I really needed, I believed, was to learn how to fit well into what came my way rather than to have what came my way pre-shaped for me. I transferred to a much larger school, (now) the University of Central Oklahoma, and went back to mostly supporting roles, but I gained a great deal of perspective and perseverance by doing so. My first year there, I got my first professional role ($25 for six weeks' work!) at the fledgling Oklahoma Theatre Center in the play RAIN. It would be another four years before my second paid job, but in the meantime, I did a ton of college theatre in a wide variety of roles, almost none of them leading parts. My recollections of those days are largely of disappointments at not being cast in parts I dreamed of, in one case in a play (One Flew Over the Cuckoo's Nest) I had convinced the college to produce. But I won an award for my performance in it in a supporting role. Still, when I think of Cuckoo's Nest, my first thought is of the severe let-down of not playing McMurphy. But what I gained, without knowing it at the time, was a clearer view of how one's own desires must be subsumed to the needs of the play. I *wasn't* the right guy for McMurphy at that time. I was *absolutely* the right guy for Billy Bibbit. I couldn't see that then, but experiences like that have made my theatre life richer and more filled with understanding.
After college, I did local community theatre in Texas and spent five seasons playing bit parts at the Shakespeare Festival of Dallas, sharing the stage with real theatrical stars and veterans. It was a great, extraordinarily meaningful experience, introducing me to the world and life of professional actors and directors without the pressures of learning on the job in New York. When I did go to New York, in 1979, I was miles ahead of most newcomers to the New York theatre without yet having even seen a Broadway play.
I spent the next few years touring around the country doing stock and dinner theatre plays, almost all of which gave me great knowledge and insight without any of them being remotely meaningful to getting known in the business. By this time, I was playing leads much of the time, but either in out of the way locales (Macbeth in Nitro, West Virginia) or in terrible plays (Natalie Needs a Nightie in Memphis, Tennessee). I got a couple of great roles (Starbuck in The Rainmaker and Lachie in The Hasty Heart) in Birmingham, Alabama, but not even those were enough to put me on anyone's map.
However, I'd continued pursuing film history as a side-career. I'd written a book in college, a biography of actor John Garfield, and I'd worked as a columnist and film critic for the National Board of Review. Working on a biography of TV Superman George Reeves, I put acting aside for a few months to go to Los Angeles to do research. I ended up settling there permanently. I had written a few plays and had been commissioned for three works by Actors Theatre of Louisville, and one of my plays was produced in Los Angeles by the Theatre West company. I settled in there with it as my home theatre, and have stayed there for thirty years. I haven't taken real classes since I finished college, but I've been active over the years in the acting workshop at Theatre West and benefited greatly, especially in my early days there with the late Clyde Ventura leading the workshop. I also studied with Oscar-winner Maximilian Schell in a master's class at USC for a brief time, and gained immensely thereby.
JF: A very great recent loss for you and everyone. So what got your career really going?
JB: What got my career as an actor going was my success as a writer. The play I mentioned, VERDIGRIS, at Theatre West, was the key to everything that came after. It got me one of the top literary agents in Hollywood, and that connection got me my lots of TV script-writing jobs and, more importantly, led to my being cast as Bruce Willis's alcoholic pal Earl in Norman Jewison's Vietnam veteran movie In Country. From that point, I worked steadily (if infrequently enough) as an actor and have never had to take another kind of job.The ups and downs in the interim were enormous, but always with an increasing altitude on the ladder.
JF: That's good to hear. About the ups and downs I mean. It can be tough trying to put yourself out there as an actor or writer. So much steep competition. So since you are a fan of John Wayne, can we see any similarities in your acting styles? Or screen persona?
JB: People have been known to frown on John Wayne's acting abilities. I submit that he was one of the great movie actors of all time. He was not a man of great range as an actor, nor was he given to his reach exceeding his grasp. But within that range, the kind of work he did was, to my mind, unbeatable at its best. He's far more believable as a resolute man of strength, honor, determination, and humanity, in that combination, than any of a dozen actors who've tried to fill that space in the movie consciousness. Sir Ralph Richardson said he always thought Wayne would make a great Falstaff. Well, I don't know about that. Well, Richardson was a pretty amazing Falstaff, but I don't think he could have done what Wayne did in The Searchers. It takes a certain gift to make characterizations of such swagger, strength, and courage believable, and I think Wayne had that gift in ton measurements. I suppose in the past few years, with Deadwood and Supernatural, I've been given the chance to play characters who are reflective of those qualities, and I absolutely owe my sense of how to play that to my years of watching Wayne. I find inspiration particularly in the way Wayne uses his eyes in close-up, and I confess I've stolen certain glares. I don't think he was capable (or willing) of playing roles outside an increasingly narrow corridor as his career progressed, and I'm much more willing to tackle things I'm neither comfortable or familiar with. But what I've consciously used as an actor has been inspired primarily by such players as Wayne, Laurence Olivier, Robert Mitchum, Robert Duvall, James Cagney, and Humphrey Bogart, and I suspect Wayne has been the most prominent inspiration of the lot.
JF: Since you are also a screenwriter, playwright and biographer that gives you particular insights into the quality of a work and whether or not something will work well on the screen. When you read Guillermo's script, what was it about the role that spoke to you?
JB: First and foremost what spoke to me about the role I was being offered in CRIMSON PEAK was just the fact that it was an A-feature with an A-director and an extremely prominent role. That may sound facile, but the fact is I've been doing television almost exclusively for ten years -- really excellent television for the most part, but big feature films and television are very different beasts, and I missed the experience of being on a big movie. But beyond that, I've found myself playing rather similar characters for the past few years. They've all had their significant differences and shadings, but one wouldn't go far wrong considering me pigeon-holed as "rural gruff but lovable." Deadwood, John From Cincinnati, Supernatural, Harper's Island and Justified all fall somewhere within that description insofar as my roles in them are concerned. In Crimson Peak, I'll be playing a wealthy Bostonian industrialist around the turn of the twentieth century, a man comfortable in swallow-tail coats and top hats, a man from an area of the world I am nowhere near as familiar with as I am the bucolic origins of either myself or my most recent TV characters. The character is a widower with a headstrong daughter, something I can personally relate to, but he is an extremely different man from either myself or anyone I've played of late, and that's a great thrill for me in its relative newness.
JF: Please share what you can about the film is being made and your audition, encounter with Guillermo etc. Juicy details?
JB: CRIMSON PEAK will shoot in Toronto starting in January, 2014, I'm told. (Note: Filming actually begins on Monday although Jim is currently there on set) Toronto will stand in for both Boston and central England. I did not audition for the role. I received an email in March, 2013, asking if I would have any interest in the part, and a script was attached. I had no idea how Guillermo knew who I was. My experience is that very few A-list directors have much time to watch television, and that's about the only place I'd been in the last decade. When in June I actually met Guillermo, I stuck out my hand to shake his but he grasped me in a big bear hug and told me I had been the only name on his list for the role. He said the studio had tried to talk him into bigger names but that he insisted, and then went on to explain how things he had seen in my characterizations in Deadwood and Justified had convinced him I was the right man for this role. It was only then that I knew how he knew who I was. Despite the success of these shows, I'm still not used to the notion that anyone has paid enough attention to me in them to know who I am or to think of me after they've finished watching the show. I'm gratified, despite my mystification. We talked about the nature of the story -- he seemed gratified when I brought up its kinship with Henry James's The Turn of the Screw -- and we discussed the nature of the father-daughter relationship at the core of the film. Although I have the smallest role of the five principals, much of the story pivots on an action my character takes, and we discussed the fine line that must be walked between sympathetic and unsympathetic qualities of the character. But what was most memorable to me was the fact that at no time did anyone come out and tell me I had the role! They (Guillermo and producer Callum Greene) just kept talking about how much fun we would have and when I would be traveling and how long I'd be there, and eventually it sank in that I wasn't there to be chosen. I already had been. That's pretty much a first for me in my big feature film experience.
JF: Can you tell us more about your past successes and your current in the works?
JB: More than anything else in my career, I'm proud of my work in Deadwood. It was a magnificent learning experience, seated (sometimes literally) at the feet of the genius David Milch, learning a new way of approaching the work, learning to leap with full knowledge that something, somehow would catch me, and reveling in the greatest dialogue I've spoken this side of Shakespeare. It was also the turning point (or at least the most recent grand one) in my career, the time when people started knowing who I was *before* I walked into the audition room, the time when people started (occasionally) hiring me *without* an audition. That it coincided, in 2006, with my greatest experience thus far as a stage actor, as Henry II in THE LION IN WINTER, made it a spectacular piece of my life. I had had stage and television successes before, but while I fully intend to die in harness at some ripe old age, if that old age never comes, I will at least have had those two experiences to bask in.
I've had success as a writer, none more valuable to me than the reception of my book Life's That Way, a memoir of the year I lost my wife Cecily Adams to lung cancer. The catharsis of writing that book and, most especially, the extraordinary response from thousands of people who say they found help and inspiration in it, is really the crowning glory of my creative life, and while I dearly wish that cup had passed by me, I am eternally grateful for what I was able to do with it and what it has meant to those kind enough to tell me so.
I'm still (!) working on the George Reeves biography that brought me to Hollywood in 1983, slowed immeasurably by my own great fortune in the field he worked in. It's hard to get much done on it with my current work schedule, but I persevere. I will complete it.
In the meantime, I'm still associated with the long-running Supernatural. They killed me off in season seven, but with a title like Supernatural, it's not unreasonable that I've already been back once and may again someday, as the show is heading into its 10th season with no signs of slowing down. I attend a lot of fan events even though I'm no longer officially part of the show, and those have given me the chance to meet incredibly fine people around the world for whom the show has meaning.
I'm very blessed. I seem to keep getting work despite my long shelf-life. And I continue to have the energy and drive to seek work out. It's not always easy, with a tween-ager to raise on my own, but it's always worthwhile. I'm a lucky boy.
JF: What do you to prepare for a part?
JB: My preparations for a part vary from role to role. Sometimes it involves research and exploration of a fairly deep and thorough nature. Sometimes I play a role purely from instinct. I'm probably not the poster boy for any particular approach to acting (except maybe the lazy approach). I'm sure almost any teacher (or actor, for that matter) would take issue with my various means of preparation. As a general rule, I work primarily from instinct. I'm always interested to know what life is like for a character such as the one I'm playing, but I don't go to great depths very often to seek out that information. As a writer, I know that the script, if it's a good one, is in part the result of much of that research having been done by the writer long before I start putting the words into my mouth, and I trust that. But as I've mentioned, the past few years have meant a certain similarity in roles, at least in terms of general type. So the knowledge gained in playing one often bleeds into the playing of another. For me, much more important than duplicating the writer's research is for me to find ways to make lines and gestures and inflections specific to *this* character, to find a way to make him real in his own space and definition. It's not a matter of aping a previous performance or avoiding anything I've ever done previously, but rather of using my instincts as to who the man is to determine how I will make him move and sound and look. But I'm not a man who makes notes. Most all of that work goes on in my head. My scripts are notably bear of margin scribbling. It's not a way that would work for every actor, nor should it. It works for me. Maybe some other way would work better, but I like it.
JF: Your characters on Deadwood and Supernatural sort of catapulted you into the public consciousness. What is it about these characters that you think clicked with people and why?
JB: A columnist recently wrote about me and my characters that they often seem to be people one wouldn't pay much attention to at first but who slide increasingly into the viewer's consciousness. There may be something to that, though I think it's not so much planned as just the way TV works over time. But what shows like Deadwood and Supernatural did very well was cement the idea of me (in character) as a fellow who may not look like much on the outside but has a heart of decency and strength underneath, one who is apt on occasion to bark, but who is also dog-like in his loyalty and commitment. I think both characters grew to be loved because of the love buried not far below their rough exteriors. Something about that really connects with audiences. It surely has in my case.
JF: What is your favorite film and why?
JB: The Searchers, the 1956 Western by John Ford, is my favorite film of all. It's a film that had substantial appeal even when I was a child and was far too young to grasp its many nuances. It's a movie my dad and I always used to point out without even knowing its title whenever it would air. "Look, it's that movie!" Something about it mesmerized me then, and as I grew and came to understand more about the inner workings of the film and of the interior lives of its characters, it became an incredibly moving experience for me every time I saw it. I've seen it dozens, maybe even a hundred times. I learn something new every time I see it. I experience it almost as new every time. At the same time, it's a deeply familiar experience now, so it resonates with past viewings and reinforces those old feelings. It leaves me warm and introspective and very, very sad, in the way that great melancholy drama can.
In its essence, it's the story of a man with nothing who returns to the only home he knows, where the one thing he ever wanted is there, but he can't have it. And then even that proximity to his desire is destroyed and he spends the next years trying at first to recapture a sliver of its meaning and then to destroy the last trace of it and its defilement. And when he is on the verge of destroying the last blasphemed symbol of his loss, he sees it for its true nature, as the symbol of his love, not his loss, and he relents from the action that would have destroyed both it and him. And then, redeemed, but with no place in the world he has restored, he disappears into the desert to wander forever between the winds. It's a Western, it's full of action and adventure and comedy, and it's one of the great tragic stories of American cinema. I love it beyond measure.
JF: Your dream role someday?
JB: I had a dream role early on, and I was lucky enough to get to play it finally. It was that of the dying Scot Lachie in THE HASTY HEART, and it was very much a dream come true. Since then, while there have been many roles I would love to have played -- Cyrano, Hamlet, Macbeth, Richard III, the one that I clung to most was that of Jamie Tyrone in both Long Day's Journey into Night and A Moon For the Misgotten. Eugene O'Neill is my favorite American playwright, and this character in these two plays is O'Neill at the zenith of his powers. Alas, though I worked hard for several years to get a production of Long Day's Journey up, I'm now too old to play Jamie. But that leaves his father, the old actor James Tyrone. And I still dream one day of playing him.
JF: That would be a fabulous time on the stage for you and the audience. No doubt. Thanks again, Jim. Have a blast in Toronto. Can't wait to see you in Crimson Peak.
Photos courtesy of Pete Kelley
Calling all HuffPost superfans!
Sign up for membership to become a founding member and help shape HuffPost's next chapter