When the prestigious 62nd San Sebastián Film Festival announces the winners in its New Directors category on Sept. 23, Hungarian newcomer Marcell Gerő may be a strong contender for first prize with his feature documentary, Cain's Children.
With the world crumbling under the weight of violence, it is hard to imagine a subject more germane and indeed critical to the times than the subject of murder disassociated from all pre-meditated trappings. For a trailer click here.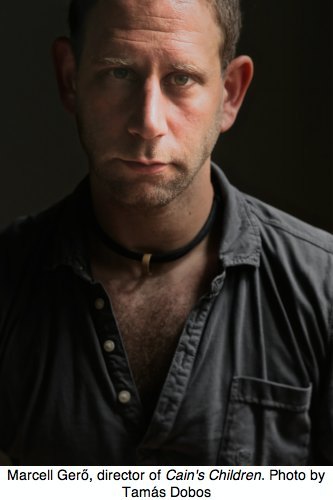 "We found out in July," Gerő told me at a cafe in Budapest the first week of August. "We were waiting for replies from festivals in Venice and Locarno. It was amazing, very exciting, it's a special thing to have my first feature premiered at a major festival."
Cain's Children is about a group of convicted murderers who were underage when sentenced and were all subsequently featured in András Monory-Mész's 1985 documentary called Bebukottak (Failed). Two years of research led Gerő and producer Sára László to three of the former convicts.
Gerő said the project found him. "I was preparing a fictional movie set in part in a prison so I was starting to look for materials, talking to people, watching films when I came across Bebukottak on YouTube; I think it had even greater impact on me because at the time it was made, in the '80s, the film was banned in Hungary."
The way Cain's Children came together "seems like a series of accident," Gerő admits, but adds reflectively, "I don't believe in accidents."
Gerő is convinced that the intersection of his interests in children, in fate, in prisons and in the effects of legacy and generation led him to and through a transformational filmmaking process in which his perspectives on what struggle and soul meant reached into and made severe demands on his own creative being.
As filmmakers do in their uncertain field, Gerő is already working on next projects, but believes that Cain's Children will remain special. "I would never want to put it aside," he says. "It was an important experience, personally and professionally, meeting a world I'd never known before."
LV Would we know the subjects of your film had murdered if we met them on the street?
Marcell Gerő I don't know; their faces have clearly been written on by time, but they are not cruel or evil faces. Life has been violent to them, you might say, but they are not violent. Of course, they are different now than when they were 14; but then, before the murders, they were not different.
"Circumstance and legacy was their bad luck: their parents' mistakes and the mistakes of the generations before them. It was and still is very difficult to push back against their weight, especially for a young 13- or 14-year old guy who is just forming himself and finding his own way."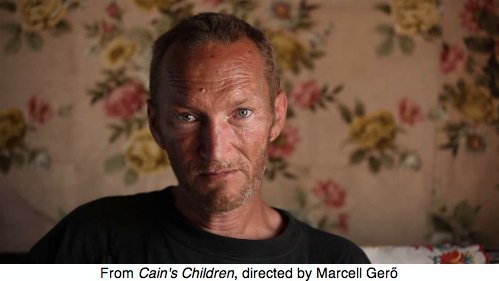 LV Why did they trust you?
Marcell Gerő I had to earn their trust. They had spent at least a third of their lives in prison where they could never trust anybody. The most important thing I did was to be interested in them; usually people despise them. Also, I never lied.
LV What do their lives consist of now?
Marcell Gerő Nothing philosophical. They have very simple questions: how to get money, how to eat, how to manage their difficult lives. You can not restate the basics of their existence enough: they are very poor, and they are despised.
LV What have been your personal takeaways?
Marcell Gerő The finality of fate. These murders were not premeditated; these young men found themselves in extremely difficult situations where they made bad choices. The moment they made them they wanted to take them back. It is important to understand that they didn't understand the reason at the time but they knew they had passed the line. This because when you see yourself as a normal, not an evil guy, not a guy who meant to kill someone else, it's not possible to fully comprehend what you did. In fact, it was not just that there was no other choice but at the moment they believed it was their only choice.
LV What was their response to your film?
Marcell Gerő It was a different kind of watching than I expected. They were seeing moving pictures in which they were in. I wanted to talk about the film but they were watching home movies. It also raised philosophical questions about continuums of violence; if murder is the most severe crime man can commit, why do these murders by young guys seem so very different from crimes like rape or sexual abuse.
LV What did you learn from making Cain's Children?
Marcell Gerő In the act of making the film we tried to avoid saying something big, we wanted to tell simple; it's not my job to say what to take from the reality of Cain's Children. I will never forget again how dramatically I affect my own children.
LV What will you tell your own kids about Cain's Children?
Marcell Gerő The explanation for my kids when they do ask at 10 or 12 will be simple. Once I saw the young guys in András Monory-Mész's film I wanted to find out more about them.
LV Do you have your own production company?
Marcell Gerő My partner, best friend, and co-collaborator Sára László and I founded Campfilm, our production company, together. In other projects we co produced; in Cain's Children I wanted to direct and she wanted to produce. As a director, it's the best way for me to concentrate because, as a producer, I am usually very structured, even too structured, and rarely listen to my intuition. It is not useful to a director.
LV How did it come about that Cain's Children is a Hungarian-French co-production?
Marcell Gerő When Cain's Children still existed only on paper, we were selected for a prestigious producer's workshop called EURODOC; that was almost four years ago. The head of the group was Jacques Bidou, and he became our the co producer of Cain's Children along with his partner Marianne Dumoulin of Paris-based JBA Production. Their presence was crucial in making the film. Their experience and the quality of their previous films gave trust and thus access to funding that wouldn't have been possible for us alone at the time. And they were not just interested in production aspects but also in the process of creating.
LV What other projects are you working on?
Marcell Gerő We are continuing to produce documentaries, although we had a short fiction film called Soft Rain shown last year at Cannes' Directors' Fortnight. It was the first fiction we have done, and we are planning to produce fiction besides documentaries.