I met Derek Haffar at the Museum of Arts and Design during one of his Artist Studio hours last year. He was working on reconfigured, fragmented or broken castings of people. I walked in and convinced him to mask me: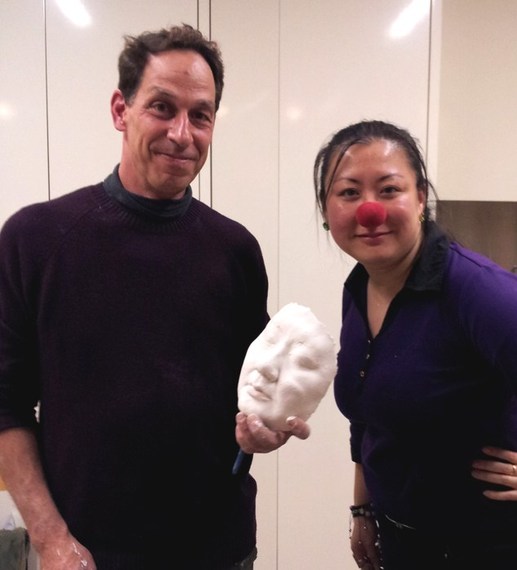 Haffar studied drawing and painting at the University of Utah, where he earned his BFA. He completed his MFA from The Milton Avery Graduate School of the Arts at Bard College. In the past, he has worked with Red Grooms, Matthew Barney and Tom Otterness. This year, Haffar was invited by Museum of Arts and Design administrators, Kathleen Lewis and Molly McFadden to advise on restructuring the Artist Studio program.
I spoke with Haffar about his work.
Please share your thoughts on art and technology.

I think that the transition to digital has led to some interesting surprises for me personally. I am using it to enhance some of my analogue techniques -- I am rediscovering film photography, scanning and reshooting.
Life casting is no longer seen as cheating the way it used to be. Now 3-D printing is the enemy. I hope Polaroids come back.
How much of your work is digital?
Not a lot. I take a lot of digital pictures but it is the film shoots that I can keep in a drawer and really see. Light comes off them, not through, like on a monitor. Digital technologies do not play in my sculpture at all.
What was it like working with Matthew Barney?
I really looked up to Matthew and loved to watch him work, mostly directing and delegating. That's an art-form to me.
I was lucky to get to work for and with him on a few of the Cremaster films -- First a little and then a lot on the last one, Cremaster 3. His ability to raise an army and lots of money is remarkable. He has clarity of vision that fascinated me, as mine can be quite muddled.
Mathew Barney is an artist who works in a variety of disciplines and mixes them all together brilliantly. I love his process but don't always understand his work -- that's alright, though, I don't think many people understand my work. He does things on a grand scale and has the confidence to direct extremely notable and talented people. I was part of the team for a bit, and through him, I had the opportunity to interact with Richard Serra, Bjork and Matt Ryle, his amazing production manager.
After I logged in my longest day ever working with them, 23.5 hours, at the end Matthew seemed like he was just getting started.
How to teach art is a constant challenge. I try to get my students to exercise their eyes, to think of them as muscles. Forget the name of what you're looking at. Turn it upside down and inside out until you forget what it is. Take it apart, put it back together, mix it with something else. Cook by taste and ditch the recipe, make things with your hands. Make mistakes.
How do you teach creativity?
Same as above, not everyone will get it but if it's in there, it will find a way out. Creativity needs to be nurtured and supported or it will wither and shrink away. I watch for signs, jump on teachable moments and hope for the best.
Why are faces disembodied from bodies? (Asked by museum guest, David Lawrence from London.)
I am trying to get as much information across as I can in as short a time as possible. I also have only a limited time with the model, since the poses I choose are less than comfortable. I have to work quickly.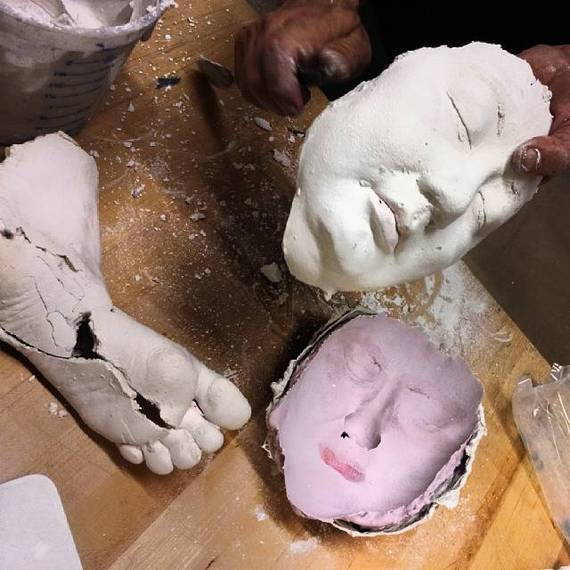 Why are the pieces breaking? (Also asked David Lawrence)
Some pieces of mine got damaged in storage. At first, I was horrified and tried to restore them. Then, I found them to be much more expressive in their broken states -- They were more like me and the way I feel: Half broken or breaking. It could be said they are coming together; it's a half glass full or empty question. My glass always feels half empty even when it is clearly full. If that makes sense to you then you may relate to my portraits and fragments.
What are your future projects?
I'm going back to the figure now that I finished a non-figurative installation in Brooklyn, "The Houses" as part of "Structural Odes" curated by Natalia Zubko. I want to do some sand castings that will dissolve in the rising tide, a nod to Andy Goldsworthy.
Please tell me about the Artist Studios residency at the Museum of Arts and Design.
The residency is unique in New York although there are others emerging. It revolves around an artist working in a glass room which people can enter and engage the artist or simply watch from outside. Depending on what is happening there is an ebb and flow.
Visitors are often a little confused. The studio is the first thing they see right out of the elevator and they expect an exhibit. Instead they see me doing body casting with live models, surrounded by cast body parts. It's pretty enticing and voyeuristic for people in a safe way. For me, the act of being watched goes back to a laboratory school that I attended growing up. We students were observed via remote control cameras. It's nothing today, but think of it in the seventies -- Strange foreshadowing.
I push some boundaries with the body casting and when a mold is happening there is always a crowd. I was surprised by the overwhelming response to the dancer butts coming out of the wall; I don't think I would have pursued this particular series had I not had such an instant public response. I don't think a single person was offended, and that's remarkable.
It's been a really wonderful experience. It has allowed me to get an instantaneous response to my work in progress; people are not all shy with their opinions if you give them a chance to speak.
Calling all HuffPost superfans!
Sign up for membership to become a founding member and help shape HuffPost's next chapter