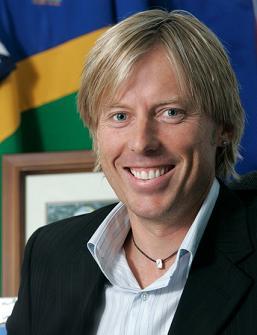 As technology, media and marketing converge; no one is more qualified to talk about how this is changing the grassroots sport experience than SportingPulse CEO and Founder, Nick Maywald. SportingPulse is a sports technology and digital media company that has created one of Australia's largest online sports networks and attracted investment from News Corporation's Australian business, News Digital Media.
A dotcom survivor, thanks to a product sporting bodies could not live without, Maywald has overseen the growth of the business locally and internationally and engineered a business model that has changed many times before finally settling on a formula that benefits the sport, brands and his shareholders.
Four years ago SportingPulse partnered with FIBA, the world governing body for basketball, to revolutionize how grassroots basketball is managed off the court and to create a global online community and an exciting new marketing opportunity for brands.
Here's a transcript of my interview with Maywald where he outlines the journey the company has been on, their partnership with FIBA and its 213 national federations and their plans around the upcoming FIBA World Championships held in Turkey later this year.
PRC: Take us back to the inception of SportingPulse. What inspired you to intersect IT tools with sport?
Nick Maywald: I worked in IT and was always one of those people that wanted to try out the latest technologies that could make life easier and provide richer experiences. I was running my own technology business implementing web solutions for large manufacturing corporations and started to get enthused about how the net was going to change advertising, and how brands engage with consumers. Like most Australians, I loved sport and I also played basketball semi-professionally.
The business essentially began out of my frustration with how essential basketball information was being communicated. Back in 1999, the league where I played, in the eastern suburbs of Melbourne, would print out the draw, results and league table and pin pieces of paper to a notice board at the venue.
If you were lucky no one took the piece of paper from the board. It would also take days for the league to calculate the standings and personal stats were never available. This information is the lifeblood of people who play and are passionate about sport.
Along with a couple of geek mates we decided there was a real need to fix this problem using the Internet. We decided to write a program that allowed the league managers to better manage the competition we played in. Our early competition management software allowed leagues to do everything quicker - prepare the draw, enter results, produce the league table and a few personal stats. We also built a website/portal where the league could instantaneously publish the content they'd produced.
The leagues loved it because it saved them time and money. The players also loved being able to get the basketball information they craved immediately.
Word soon spread among the basketball community and we had more and more leagues in the country wanting to use it, not just in basketball but in other sports too. We continued to develop a suite of integrated IT tools that would help all the stakeholders in the sport from the governing bodies to the leagues, clubs, coaches and players.
After 4 years of rolling out our applications, representatives from FIBA, the world governing body for basketball, witnessed the tools in action in a tournament run by FIBA Oceania.
Fortunately, Steve Smith, the Secretary General of FIBA Oceania and Patrick Baumann, the newly elected Secretary General of FIBA and Zoran Radovic, FIBA's Sport Development Manager saw the potential of what we had created and how we could help FIBA create a global online community of people involved in playing basketball. They believed FIBA could save basketball organizations many millions of dollars by removing duplication in IT development. From this FIBA Digital was created.
PRC: How do your technologies enhance the player experience?
Nick Maywald: Our technologies are aimed at helping and improving the experience of all stakeholders, not just players. We also see a bigger role in creating new digital assets for the sport that can generate significant new revenue. By creating a trusted online community and a new digital communication platform, we are providing global brands with the opportunity to earn customers attention, and provide utilities and content they value, rather than interrupt them with advertising.
For players the enhanced experience comes from being able to access the information they want for their sport quickly and easily and being able to share their sporting memories with family and friends.
For teams, clubs and leagues the enhanced experience comes from having all the information they need and being able use the latest technologies to run their organizations as efficiently and cost effectively as possible.
For national federations and for FIBA itself, it's about using the data to better understand trends in participation by age and gender and make informed management and investment decisions, being able to better communicate and create new revenue streams for the sport.

PRC: Talk to us specifically about your live stats solution. What makes this product unique and how does it deliver value for your clients and marketing partners?
Nick Maywald: We launched FIBA Live Stats in August 2008. It's free-to-download software that enables every basketball association, club or fan the possibility to publish online live results and game statistics on any website in the world.
Essentially anyone can capture game data and statistics in a professional way and provide printouts to teams, media representatives and organizers. The webcast functionality allows fans the opportunity to follow basketball games live online, and for coaches to have real time information courtside, either via a local area network or via the web.
As well as professional leagues that use it in over 20 countries, FIBA Live Stats can be used for local youth tournaments, giving absent family and friends the opportunity to still follow games live online and share in the experience this way.
To date we have concentrated on building the FIBA Live Stats audience, and planning new developments such as live chat, multi language versions and a version for mobiles. We are currently in discussion with potential partners interested in having global naming rights to the property as well as providing unique promotions and transacting online with a loyal and sticky audience.

PRC: You do a lot of work in the grassroots sports space. Looking specifically at grassroots basketball in Australia, what pressing challenges exist today?
Nick Maywald: Grassroots basketball in Australia is actually in very good health. There are over 600,000 players making it one of the biggest participation sports in the country. With our help, communication between players, managers, coaches and leagues is always improving. The success of Australian players internationally, like Andrew Bogut and Lauren Jackson and being the current Women's World Champions also help in keeping the sport popular with boys and girls. Ironically one of the biggest challenge arises from this success with a lack of playing courts being the single biggest challenge currently faced.
PRC: Describe your partnership with basketball's international governing body, FIBA. What kind of initiatives can we look forward to for the 2010 WCs?
Nick Maywald: FIBA Digital is the partnership between SportingPulse International and FIBA. Together with input from the national federations, we jointly plan the suite of integrated applications that can best serve the needs of grassroots basketball stakeholders - the leagues, clubs, teams, players and coaches. Under our business model these tools are provided free to all organizations affiliated with FIBA, worldwide.
We then allow brands to deliver the great experience to players and earn consumers' attention, become part of their lives and provide other useful content to help them enjoy their passion for basketball. Unlike quadrennial sporting events that may only last a few weeks, global brands can engage with grassroots players all year round. 50% of the revenue generated is returned to the sport.
2010 is a very exciting year for everyone involved in basketball. Not only is there the World Championship Men in Turkey but the World Championship for Women in Czech Republic as well as U17 for Men in Germany and U17 for Women in France.
We are planning a series of online promotions and competitions starting from May this year that will raise awareness of the World Championships as well as allowing fans that can't be there to feel that they are still a part of the experience. Unlike the FIFA World Cup, fans won't travel in quite the same tribal proportions to the basketball championships; however, this makes the online experience even more important and makes it very exciting for our marketing partners and us.
PRC: Where is all of this technology going in sports? How do you keep your finger on the pulse (no pun intended) and how do these rapid changes alter, if at all, your vision for the company?
Nick Maywald: As new technologies evolve we need to embrace these and ensure our global stakeholders use them to improve the experience for everyone concerned. Obviously mobile is playing a big role. Video will also be important. We are excited by the release of the iPad and other tablet PCs that can be used with our latest initiative, the integration of our FIBA Organizer product with courtside electronic scoring. This will allow leagues to capture personal stats that we then publish on a player's mobile phone. In 10 years we've come a long way from pieces of paper on notice boards!
Having a huge network of users we are always being asked by our customers to think about the next great thing that will allow them to enjoy their basketball experience even more. Reading lots, attending conferences, meeting new people, being a lover of shiny new gadgets and a parent of three girls playing sport, all helps me keep my finger on the pulse.
Interestingly whilst in the last decade we've witnessed rapid advances in technologies with knock-on effects on social behavior and marketing, our vision hasn't actually changed in 10 years. We focused on grassroots sport participation rather than armchair fans of professional sport. We set out to develop technology solutions to help sports, unite a fragmented community, attract marketing partners that want to add value and provide a sustainable revenue source for sports to grow.

Support HuffPost
The Stakes Have Never Been Higher
Related
Popular in the Community