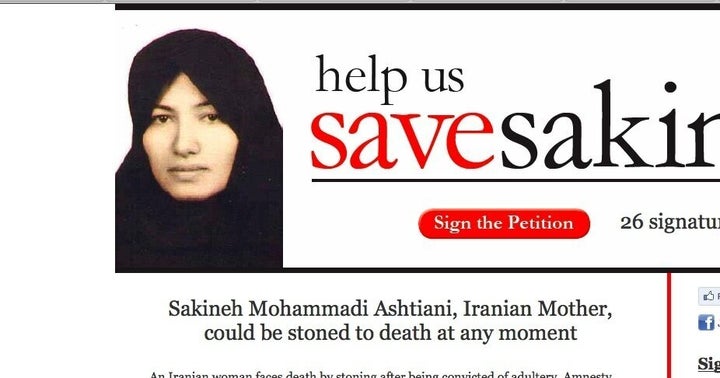 For days and days -- since, precisely, Aug. 15, the day we launched our petition -- we, like all newspapers worldwide, have tried to contact Sajjad, Sakineh Mohammadi Ashtiani's son.
He is the only one who can provide exact news of his mother.
He alone can answer the question one always asks in such a situation, that of the actual effect of this kind of mobilization that we have embarked upon with Libération, Elle, La Règle du Jeu, the Huffington Post and other European newspapers.
And no one, ultimately, can better express himself regarding the terrible accusation that has inspired all this, the accusation of complicity in the murder of the man who is, after all, his own father.
With a good deal of patience and thanks, again, to the network of Iranian bloggers and human rights activists with whom we at La Règle du Jeu are in contact, we have managed to find and then to approach Sajjad. The following conversation was conducted by telephone, between Tabriz and Paris, over two days. I spoke with him initially on Wednesday, Sept. 1, late in the afternoon, and then on the following day, Sept. 3, for the final details. As we shall see, this is an exceptional document. And for me, who heard it from the lips of the man concerned, it is an extremely moving story.
BHL: Dear Sajjad, I am very moved to be speaking to you. Armin Arefi, from La Règle du Jeu, is here with me and will translate our conversation. First of all, where are you right now?
Sajjad: In Tabriz, the city where my mother is incarcerated. I'm in the street, and I'm calling you from a cell phone.
BHL: Do you think we can talk without being bothered?
Sajjad: Yes, I think so. I change the number very often, to try to avoid the telephone being tapped. Let's try. We'll see how it goes.
BHL: How are the authorities behaving towards you? Are you under pressure? Any attempts at intimidation?
Sajjad: Yes, of course. I've received calls from the intelligence service. Two summons, in fact. But I refused to go. For the time being, I haven't been arrested.
BHL: We know nothing of you, dear Sajjad. Who are you? What do you do?
Sajjad: I'm 22. I am the eldest of Sakineh's children. I work from 6:00 in the morning till 11:00 at night as a ticket taker on the city buses. For the rest... all my thoughts, every bit of my will, are centered upon one sole purpose: To save my mother.
BHL: Exactly. Where are things right now? How do you see the situation, today?
Sajjad: I've had my moments of despair. I have written to the authorities. Often. But their response has been total silence. In the past few days, with the campaign that you have launched, I've become a little more hopeful.
BHL: Is your mother informed, in her cell, of this global wave of solidarity and concern?
Sajjad: Yes. She has been told during the rare visits she has been granted. She's been glad for it. And she has thanked you.
BHL: You're speaking in the past tense. Why? When did you last visit her?
Sajjad: Just before her so-called televised "confession." Up until then, we saw each other once a week, every Thursday. Since then, nothing more. Neither my sister, nor me, nor her lawyers. This morning, since it's Thursday, I went to the prison again. But the guard told me, "In accordance with the decision of the authorities, Mrs. Mohammadi Ashtiani has been forbidden any contact."
BHL: What can you tell us about her conditions of detention?
Sajjad: They're very harsh. She is subjected to incessant interrogations by Iranian intelligence. They ask her, for example, how is it that her portrait is posted all over the world and who, in her opinion, has launched this international campaign.
BHL: What kind of psychological state is she in?
Sajjad: She takes a good deal of medicine. Antidepressants. And she prays.
BHL: Is she in an individual cell or with other women?
Sajjad: All of the condemned women in the city of Tabriz are in the same sector of the prison. These are little cells with sometimes fifteen or twenty women crammed into them. But it's possible that, since this appearance on television, they have put her in an individual cell. I repeat, I know nothing more, I have no more news.
BHL: This appearance on television made a considerable impression here. Was it really her?
Sajjad: Yes, of course it was her. But --
Sajjad: But she had been tortured beforehand. Houtan Kian, the lawyer, was the one who heard it from her cellmates. The authorities needed this confession in order to reopen the case of the murder of my father.
BHL: They, the authorities, affirm that the case was never actually closed.
Sajjad: That's not true. They are claiming that so that it will be easier for them to kill her. In fact, the file on the case -- strange coincidence -- has just been mislaid.
Sajjad: The day before yesterday, when I went to the tribunal to ask for a copy, they told me they no longer had it. They sent me to the ground floor, where they couldn't find it either. I discussed it with the attorney, Houtan Kian, who had been searching on his own and who told me that it was not at Oskou, the provincial city my parents came from, either. All that is bad. It could be part of a plan by the Islamic Republic to change the file on the case and to add charges that would justify execution.
BHL: For the second affair, then. Not of adultery, but of murder.
Sajjad: That's right. All the more so because there are two more things. A week before the file was lost, Houtan Kian's house was ransacked and, during this break-in, his portable computer and the briefcase containing the resume of the file was stolen. And yesterday, again, Wednesday, the Intelligence services stormed into his home and took away an outline of the file concerning my father's murder, the last one in our possession. Houtan Kian is the one who has just informed me, by SMS.
BHL: Houtan Kian, did you choose him, or was he appointed by the Court?
Sajjad: Court-appointed. But I see him. I talk to him on the phone. I know, for example, that he just presented a 35-page file to the Supreme Council of the country. Like our former attorney, Mostafaei, the one who had to go into exile in a foreign country, he has done good work.
BHL: You're aware of things Mr. Mostafaei said, quoted in the German magazine, Der Spiegel, this week, that seem to leave some doubt as to the possible complicity of your mother in the murder of your father?
Sajjad: Yes, of course. But Mostafaei did not have access to the file on the murder of my father. So his opinion is worthless, his declarations are not to be taken into account.
BHL: Then why would he have made them?
Sajjad: Because of the pressure the Iranian government is bringing upon his family. He's a good lawyer.
BHL: Let me ask you a more direct question. You are, after all, the son of one (your father, who was assassinated) and of the other (your mother, accused of complicity in this assassination). In all honesty, are you certain that the accusation is unfounded?
Sajjad: In all honesty, yes. A thousand times yes. It's a blatant lie. Added to an incredible injustice. My mother, who has done nothing, nothing, risks being stoned. Whereas the real murderer, Taheri, goes free.
BHL: Because you have pardoned him.
Sajjad: Yes. He is the father of a little girl who is three years old, who cried many tears before us. We, my sister and I, did not want to be the cause of his execution.
BHL: Is it true that you were there when the 99 lashes were inflicted upon your mother?
Sajjad: That is entirely true. It took place at Oskou, in the province of Tabriz, in a chamber of the courthouse. I was ravaged by my emotions. I felt a great deal of hatred, and I cried a lot. I was only sixteen.
BHL: Let's come back to the campaign of mobilization. Do you think it may make the authorities budge?
Sajjad: I don't know. But in any case, you're all we have. There is no one else, except for you, to give us a hand. There, for example, I know that the attorney, Houtan Kian, has written a letter to the authorities requesting a debate with someone who is in charge. No matter who. If he receives a reply, it will be thanks to you.
BHL: Then you don't agree with those who say that this campaign irritates the authorities and can be counterproductive?
Sajjad: Of course not. It is true that Iran is angry. But Iran is obliged to listen to our grievances. The Iranian authorities have not answered any of our letters. If our voice has a chance of being heard, it will be, I repeat, thanks to you.
BHL: What else can we do?
Sajjad: Put twice as much pressure on the Islamic Republic.
Sajjad: By appealing, for example, to Brazil and to Turkey, who have privileged relationships with the Islamic Republic.
BHL: You are aware of the declaration of the President of the French Republic, saying that your mother is France's responsibility?
Sajjad: Of course. It's extraordinary. But it has to continue. For, if not, if you let up on the pressure, my mother will be executed.
BHL: There are great French and international lawyers who are ready to come to assist Mr. Kian --
Sajjad: It will serve no purpose for these attorneys to come to Iran. Mina Ahadi, who, like you, is expending great efforts to save my mother, has asked the UN to provide attorneys. But Iran has categorically refused. Ahmadinejad knows that if these lawyers were to come to Iran, the judges and the country would lose face. The judge of branch number 6 has confirmed the sentence of stoning, without reason, without proof, and thus, illegally. The Islamic Republic is afraid it might be ridiculed if the case file lands in the hands of a foreigner.
BHL: Another question, excuse me for being direct. Despite this global-wide emotion, can your mother still actually be stoned to death?
BHL: Even so, the Iranian authorities have suspended the execution of the sentence.
Sajjad: Suspended does not mean canceled.
BHL: Is it true that one of the prison authorities came, last Saturday night, to tell her that the end was near and that it was time to think about her last wishes?
Sajjad: Yes, it's true. He told her that her execution was scheduled for the following morning, Sunday, at 6:00 AM. Houtan Kian learned this information thanks to Sakineh's cellmates. He is the counsel for all of the prisoners condemned to lapidation. And that is how he has news.
BHL: So, as we speak, everything is possible, everything is to be feared?
Sajjad: Yes. On the one side, you have people who are in no case willing to lose face and who plan on stoning my mother. And on the other are people like Mr. Nobkaht, the assistant to the judiciary in the region of Tabriz, who wants Mr. Imani, the judge who pronounced the sentence, to come out all right and who, with that in mind, has asked Tehran to change the sentence of lapidation to hanging. But is that so much better?
Sajjad: I beg you, don't let go. It is you, once again, we are hanging on to. If you were not there, my mother would already be dead.