Born in Prague, Czechoslovakia in the aftermath of World War II, Shalom Tomas Neuman is the last surviving male of a large Jewish family -- Most of whom perished in Nazi Germany's Holocaust. When he was 12 years old, he emigrated to Pittsburgh, Pennsylvania with his parents and sister. He has lived in the United States ever since.
Shalom earned his BFA and MFA degrees in painting and sculpture from Carnegie-Mellon University. While he studied in France on the Damrosch Scholarship, he received The Beaux Arts painting prize. He completed his post graduate fellowship in painting and sculpture at Indiana University.
Currently, Shalom works out of his studio in Fort Green, Brooklyn. He also spends part of the year working in Prague, where he maintains a second home. His professional career includes teaching at The Cooper Union, Parsons School of Design and Pratt Institute of Technology. Additionally, he has been a visiting lecturer at The School of Visual Arts and Yale. His work has been exhibited in the United States, Europe, Asia, Middle East and South America. This year, he won Italy's Prize for Art, Giglio d'Oro.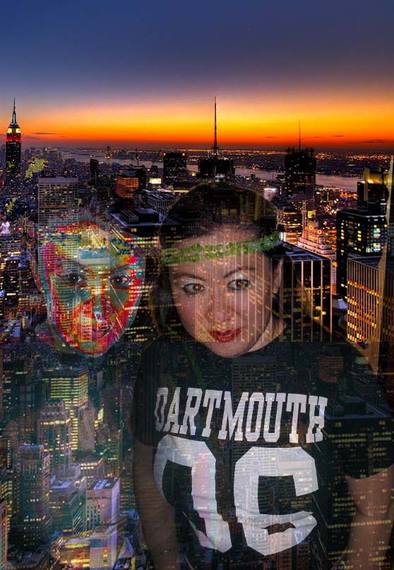 Lisa Chau: Fusion art has been the focus of your work for over 45 years. Please share how this idea originated and how it has evolved.
Shalom Neuman: The study of art history and the philosophy of art in the sixties formed my ideas about Fusionism. Major art movements in the past aspired to capture reality. I was inspired by the Futurists and Russian Constructivists' attempts to capture reality by tapping into current technological innovations and representing our reality by developing the methodologies and techniques to create a seamless and invisible transition between different art disciplines. I wanted to create a multi-sensory art that evolved and changed through time.
Fusionism is expansive, inclusive. There are no limits to the combinations, of disciplines and techniques one can invent. Fusionism integrates and liberates; it creates dialogue and community. It is what we desperately need to bring people together. It is a life affirming experience.

LC: What other kinds of art excite you and why?
SN: All art forms interest me. I particularly like Jean Tinguely and the French New Realism group because they were breaking the barriers between painting and sculpture. In Tinguely's case he added movement.

LC: What are the challenges in teaching art?
SN: The challenge is helping artists discover themselves and find their unique voice. I guide students at The Cooper Union, Parsons School of Design and Pratt Institute of Technology in receiving stimuli from the world and translating that information into art. New York City is an incredibly exciting environment that contributes in so many ways to the development of artists and their ideas.
I aim to be a positive force in the life of students. I want to set a good example and focus on their individual needs.

LC: What kind of influence did the Surrealists have on your work?
SN: The Surrealists liberated and freed artists to find their imagery from dreams rather than from their physical external surroundings. When I was young I created a few thousand surrealist influenced drawings.
Talent is not central to the creative liberating experience. We all aspire to be free. It is central to our being. It is an important lesson that we all need to learn in order to coexist. It fuels our innovative democratic culture.
LC: You like to tackle issues like violence, celebrity culture and transgressive sex. How does this affect your marketability?
SN: I don't think about marketability when I make art. I never did.
I am not a careerist. I didn't go to art school to become an artist; I was one. I went to art school to develop my ideas and techniques as an artist. In my case I didn't want to compromise Fusionism to be more marketable.

LC: Emotionally, what is the most difficult piece you've worked on, and why?
SN: Classical Myth -- I constructed and painted the piece while an undergraduate student. I had a particularly difficult time painting the rear view of the feet of the male figure in the center panel. It took a long time. I had to repaint those feet many times, and at one point I was so distraught that I considered suicide.
LC:What are the three issues that society must confront immediately, and why?
SN: From the point of view of an artist I think we need to integrate and break down the barriers between people of all races and ethnic differences. We need to work together and be vigilant in preserving and protecting our freedom and democracy from the forces that are pushing us towards a corporate oligarchy.
Calling all HuffPost superfans!
Sign up for membership to become a founding member and help shape HuffPost's next chapter