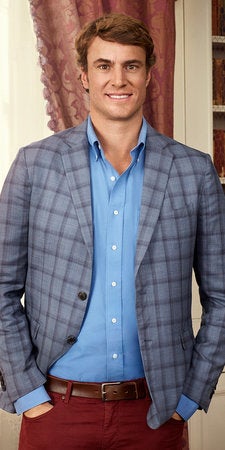 Shep Rose....He's the guy I once dated. Well not literally, but many years ago before I was married, I met my own cultured playboy who seemed fearful of commitment. We quickly went from dating to just friends and I watched and observed his social antics wryly. I teased him about his many many dates and short-lived conquests, his incessant bar hopping, his seemingly unlimited freedom and how others had to maintain a demanding day job and stick to limited alcohol consumption.
Well, my own version of Shep Rose - the actual Shep being a main character on Bravo's reality show Southern Charm - is not someone I stayed in touch with as my circles inevitably changed. However, the familiarity from this past friendship endears me to the person I see on TV. My own acquaintance was a New Yorker rather than a Charlestonian, but in many ways Shep reminds me of him.
Southern Charm is mostly about entertainment and observing a different way of life for me, but it's also sort of a walk down memory lane with a major location change. Also, to be fair, many (but not all) of the surrounding characters in my experience were not as wealthy as the Charlestonians. (I personally was living paycheck to paycheck in a low-rent shoebox of a room in an Upper West Side Manhattan apartment). Watching this show is also a way for me to get to know the South and specifically, a part of the country I've never visited.
The notion of "Southern Gentlemen" is a puzzling one when you look at the eclectic male characters on Southern Charm - especially Shep. Thomas has a political as well as criminal past and now also has two children with his gorgeous ex-girlfriend Kathryn - who temporarily lost custody due to drug usage. Craig was on his way to becoming a lawyer and the rest of the cast is harping on what happened to his aspirations (he recently purchased a sewing machine and we see him embroidering a lot). Austen is the new guy and he's cute. He seems to have snapped up Shep's prior love interest Chelsea. As the biggest charmer, Shep doesn't seem happy about this on the show. Whitney, who was a main character in prior seasons, now seems to sit on the periphery stirring up drama. (He is actually the one who introduced the Southern Charm concept to Bravo.) The guy to get the most questions from viewers and to get me scratching my own head was Shep because things have taken a drastically different turn for him this season. As a longtime fan of the series, you can imagine how excited I was to have the opportunity to ask Shep a few things viewers wanted to know.
SHW: Fans of the show wonder why you seem to pick on Craig for not being ambitious enough and not having finished on his path to becoming a lawyer. Viewers express how it seems like you've never really needed to work-
SR: Not true. I'm certainly not set for life! I have bills to pay and incoming and outgoing cash. My question to those critics and people on Twitter: How does that have anything to do with Craig? I don't get the correlation. I do get guff about that on the Internet, but what is the connection between my 9 to 5 status and Craig?! I'm tough on him personally. I never mention finances. Craig begs to be ribbed. You don't even know the half of it. He's a sweet guy and a nice guy and I really like him. He just begs for it with the things he says and does and we ALL give him a hard time - Cameron and Whitney too. I don't really have any problems with Craig and my relationship today. There are things you don't see on TV. If they showed the extent of Craig's insanity, you'd know he got off so easily. He was very defensive which is one thing I wish he wouldn't be. I want him to be happy and it just so happens that he recently passed the bar exam. I'm very proud of him. There's no conflict there and I apologize that there was.
SHW: We saw that you were interested in Chelsea, had hung out with her romantically and then Austen swooped in. The podcast Watch What Crappens just brought up that you said something in the first season about being "over-educated and under-motivated." Could that be why you're not meeting women with long term potential for you?
SR: No. it's in MY mind. I'm not your Ozzie and Harriet person and that's all I have to go by. I'm not that "Hi Honey, I'm home" conventional man and it's something I grapple with. I think I need to find someone who is unconventional as well. I love this city and there are drop dead gorgeous women here. I've been in love before and I'm a big proponent of it, but the world of relationships is changing Things are different than they were even 15 years ago in this regard. You can be ready for a serious relationship but still not meet somebody. I'm certainly not going to force anything. I know what it feels like when you should get married and I'm not going to sell myself short.
SHW: So that actually brings me to the question of whether or not you think Patricia is telling Landon and Thomas to settle for one another?
SR: Um, I don't know. They both can tell you all about themselves...a lot! Maybe that's good. They can sit at home and be enamored with one another...I do think there were unrealistic attempts...to force them together. Ultimately, I don't think it would work. I don't know who would be perfect for Landon, but I think Thomas is too alpha and there would be a butting of heads down the road.
SHW: Did you really want to go after Chelsea - even a bit after Austen first started seeing her and we didn't know if it was anything beyond a first date - or was that Cameron's prodding?
SR: I've known Chelsea for a while. I know a handful of guys that have dated her so when we kind of made out before I went off to my friend's wedding, I decided to explore potentially seeing her. I didn't reach out enough when I was on the trip. I know what to do to hold someone's attention but I just didn't do it. It kind of bothered me that I was the last one to know about Austen and her. I mean, you see that we were all out and I was whispering in her ear. He saw that and didn't say anything. I'm a free love guy so I certainly didn't tell him to back off. Had I known initially, I would have said 'if she likes you then I don't want to stand in her and your way.'
SHW: It kind of looks like you grab her in an upcoming episode...what's that about?
SR: No. That's something that was blown way out of proportion. You'll have to watch when it airs.
SHW: We see that you went to the doctor and he told you there was a "wandering enzyme" in your liver. You were previously doing TONS of drinking. How's that situation now?
SR: It was of my own volition. I was probably in the worst shape I had ever been in.The funny story is that I just ran into my doctor at a party and he goes 'I just got my liver checked out and it was worse than yours was.' I actually think he may just have been kidding to make me feel better. I definitely have curtailed my behavior to a certain extent and I am being healthier now. I exercise and I bought a house on the beach. Since I moved out of downtown, I've been going out less but just enjoying myself right now.I am a part owner of three bars so I can't completely avoid alcohol.
SHW: Going into this season, were you at all nervous due to the political environment? There were some reactions to Thomas and Kathryn's (pro Trump) Twitter posts.
SR: Oh my god! The opinions expressed there were not my own. Everything is out there so you can find out exactly what I think about the political situation. People who will agree with me will agree with me, and others, I can't change their mind anyway! It's just crazy today. That's what I think.
SW: Do you see Kathryn regularly? I know she was going through very hard times. How is she doing these days?
SR: I don't know. I sent her a message about someone wanting to find a dress store in Monk's Corner, but didn't hear back. I have no problem with her and when we see each other, it's hugs and we kind of go into the corner and talk. But she keeps to herself. I am concerned about her well being as always and if she reached out, I'd be happy to talk to her. I think she's doing fine, but I couldn't fully answer that right now.
Southern Charm airs Monday nights at 9/8c on Bravo. Shep will also star in a spinoff to Southern Charm titled Relationshep. The Bravo website states the following about the upcoming series: "We've watched Shep Rose date and woo ladies on Southern Charm, and now he's out to see if he can find 'the one' in his new series, Relationshep. He'll leave Charleston behind and travel the country in search of true love and a committed relationship. Along the way, he'll call on his friends in the various cities he stops in to see if they'll set him up with potential matches who can fit into his life — which includes black tie galas and travels around the globe."
Calling all HuffPost superfans!
Sign up for membership to become a founding member and help shape HuffPost's next chapter
This post was published on the now-closed HuffPost Contributor platform. Contributors control their own work and posted freely to our site. If you need to flag this entry as abusive,
send us an email
.