Digging Deep is an innovative journal that guides seriously ill children and teenagers through writing exercises that help them explore their feelings about being sick, and develops their coping skills. In writing Digging Deep, my friend Sheri Brisson drew on her own experience as a cancer survivor. She and her co-author, Rose Offner, have created a beautiful book that helps sick kids be honest about what's happening to them, and feel heard.
Initially, Sheri came to me, a bit overwhelmed, seeking advice on how to finish Digging Deep. She showed me some pages from the book last fall, when we were having lunch at the Good Food diner on 14th Street in Manhattan. I was flooded with memories of one of my former students, Kathleen Gonzales. Kathleen was beautiful high school kid who contracted a terminal case of lupus. Despite her diagnosis, Kathleen became one of the most enthusiastic young entrepreneurs NFTE has ever produced. She even took our teacher training, and began giving entrepreneurship lessons to other terminally ill children in the hospital.
I went to see Kathleen two weeks before she died, and she had all her students around her in groups, working excitedly on their business ideas. I will never forget what she said to me: "Our businesses will live forever."
I looked at Sheri, with tears for Kathleen in my eyes, and declared, "You have got to finish this book!"
Sheri and Rose did finish Digging Deep, and it's really something special. Each page is filled with bright and engaging art, and the questions get kids writing and talking about the very issues on their minds and hearts. Most seriously ill kids want to talk about their illnesses -- but too often, their parents don't know how to help them do that. Digging Deep makes exploring difficult issues a bit easier, and functions as a launch pad for important family discussions that otherwise might not happen.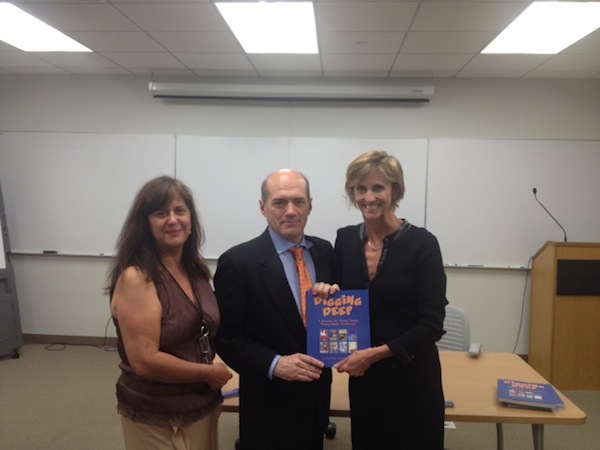 Steve Mariotti: What prompted you to write Digging Deep?
Sheri Brisson: Years ago, Rose and I had presented a journal-writing workshop at the National Brain Tumor Foundation annual conference. After witnessing the power of the stories shared by the kids, we knew we had to write a book specific to the needs of these special kids. We used the same format of as Rose's other best-selling journal writing titles, and tailored the questions especially to kids with health issues.

Steve: What makes Digging Deep unique?
Sheri: Digging Deep is a simple-to-use tool to help kids express their feelings. This book is not a storybook about how a character copes with illness. It is their story. Their journal becomes their keepsake and tribute to their courage.

Steve: Who is the book for, specifically?
Sheri: Digging Deep is for children and teens from about 10 to 16 who are facing health challenges. It is for hospitalized children, kids in outpatient treatment, children with disabilities, kids at special medical camps, kids in palliative care, kids in remission, kids in physical rehabilitation, kids on dialysis, and the list goes on, unfortunately...

Steve: What is your goal for the book?
Sheri: We want to get Digging Deep into the hands of kids who need it. Our model is to partner with large children's health associations, hospitals, and philanthropists to make this happen. This year we will develop the family companion books for siblings and parents too.
Steve: What are the biggest obstacles that sick children face?
Sheri: Too many, really. Dealing with the child's complex, mixed emotions around their illness is huge. The fear of being separated from their family, fear of the unknown, resenting that the illness interferes with their lives and hating feeling different are often very important concerns for these children. Kids can safely explore these and other feelings in Digging Deep. The kids are taken through a process to hopefully reach a place of peace, strength, and resilience.

Thank you Sheri and Rose for writing a beautiful book for young people.
REAL LIFE. REAL NEWS. REAL VOICES.
Help us tell more of the stories that matter from voices that too often remain unheard.