#MomConfession I dreaded the mountain of ribboned tissue paper and bags at my baby shower. I was grateful, but. So. Much. Stuff. I was already having trouble fitting the essentials into my tiny living space and didn't know how the stuffed animals galore would be integrated.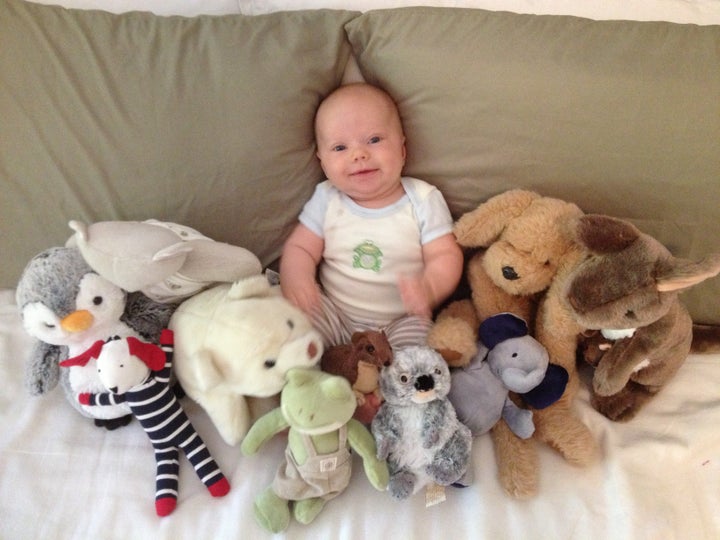 I get it- stuff is what you get and give during a baby shower. But, what if there was another option? A great gift that would create lasting value for the baby, and wouldn't give the mother an additional thing to find a home for? Enter Stockpile, a gift card you can purchase and load with stock from a company of your choice.
I was able to interview the mind behind Stockpile, Avi Lele, and he didn't disappoint.
Bailey: What was your background before becoming the CEO of Stockpile?

Avi: I started out as an engineering major at MIT, got a law degree at Harvard, and practiced law for 16 years before founding Stockpile. My specialty was patent litigation, and our cases involved complicated, cutting-edge technology. But technology can be intimidating to many people, so every time we went to court, we had to find a way to make the technology accessible – easy to understand and even entertaining – so lay judges and juries had the information they needed to decide the case.

At Stockpile, we're doing something similar. We're making it easy and affordable for anyone to own stock in their favorite companies. 86% of America has never owned an individual stock because it's intimidating and expensive to get started. Trading screens are full of jargon, and you need thousands of dollars just to open an account. We've simplified the experience and made it affordable by letting you buy a fraction of a share (say, half a share of Disney). Our trading commission is just 99 cents – iTunes pricing – and there are no monthly fees or account minimums.

Bailey: What was the initial thought or experience that sparked Stockpile?

Avi: A few years ago, I was Christmas shopping for my nieces and nephews, and I thought, "Wouldn't it be neat to give them stock in their favorite companies instead of more stuff that they'd just play with a couple of times and forget about?" I started the process but it was such a hassle, I gave up. To open brokerage accounts for my nieces and nephews, I needed their Social Security numbers, which of course I didn't have. And the stocks I thought they'd like – Apple and Google – were hundreds of dollars a share, too expensive to give as a gift. So I went back to the toy store that year, but couldn't get the idea out of my mind. I figured there had to be an easier way to do this, and that's how Stockpile was born.

Bailey: What is the benefit of Stockpile as a baby shower gift, versus a gift card, or prepaid debit card?

Avi: Most baby shower gifts are forgotten in a few months. Clothes and toys that are bought with a gift card or prepaid debit card aren't around when the child is older. Stockpile gift cards are different. Our customers tell us our gift cards are special because they represent an investment in someone's future – a gift that can grow over years or decades to help with college or the down payment on a home. A gift that the parents and other family and friends can add to over the years. A gift that has appreciated by the time the child is old enough to appreciate it!

Bailey: What would be your advice for individuals struggling to decide what company to buy stock in?

Avi: In terms of deciding which stocks to buy, many people have done very well by sticking with the companies they know and love. Enjoy Disneyland? Buy Disney. Love your iPhone? Buy Apple. Shop at Target? Buy Target.

That said, no one can predict which stocks are going to go up, or when they'll go up. But if you invest in stocks over a long enough period of time, you'll probably do very well based on how the stock market has done in the past. The key to making money in the stock market is to start early, invest small amounts regularly, and diversify.

Let's take that piece by piece. Since the market has gone up an average of 9.8% a year from 1928 to 2014, starting early will (on average) be better than starting late – which makes Stockpile gift cards the perfect baby gift. (Our youngest account holders are only a few weeks old!) Investing regularly means buying small amounts of stock every few weeks or months. And diversifying means buying small amounts of several stocks instead of a large amount of one stock, so you don't end up putting all your eggs in one basket. It's easy to do all three at Stockpile because there's no minimum age for Stockpile gift cards or stock accounts, you don't have to buy whole shares, and you don't have to pay an $8.95 trading commission every time you want to buy another stock.

Bailey: Any other advice, or unique aspects of Stockpile, you would like to share?

Avi: 20% of Stockpile accounts are owned by kids and teens, and 50% are owned by people under 30 – stats that are unheard of in brokerage. That's because Stockpile is the only brokerage that makes it ridiculously easy to invest in someone's future when they're born, and helps them become financially savvy as they get older.

You can pick up a physical gift card for a baby shower at your local store, or order them online at stockpilegifts.com and have them shipped to your door. Or give an e-gift in just a couple of minutes.

As children become older, they learn by doing. They can get their own login to check up on their stocks using the Stockpile app. They can even request trades ("I want to buy $20 of Nike") that trigger an alert on their parent's smartphone. If Mom or Dad approves, the order is routed to market and executes. It's almost magic!
*The author is not affiliated with Stockpile.
Related
Popular in the Community