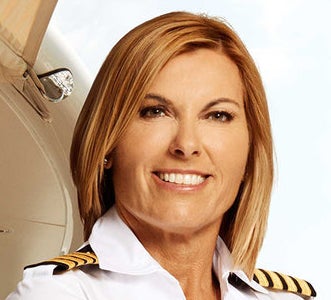 Bravo's Below Deck and its newer offshoot Below Deck Mediterranean both show drama-filled dynamics between members of a ship's crew. Each season, familiar and newer faces appear on our TV screens. In previous years, male captains oversaw young, attractive, horny-at-sea deckhands, chief stews, bosuns, chefs, et al. The stern and stone faced Captain Lee presides over the charters on the original Below Deck (an ongoing series) while its Mediterranean counterpart introduced us to Captain Mark Howard last season (in May of 2016).
Since Lee has had more seasons, he is the most well known, distinguished for his quiet management style and ability to induce some fear and grand respect with a mere grunt of disapproval. As the shrewd observer, he entrusts his crew with the responsibilities of running a ship and makes his presence known when things are not operating as thy should. As strange as this may sound, a serious and no-nonsense paternal figure garners reverence on a reality show and Lee is much-beloved by Below Deck fans. So this season of Below Deck Mediterranean, when a female ship captain was introduced for the first time to Bravo viewers, reactions were mixed.
It was hard to tell whether initial criticism was due to gender bias, a "chauvinist edit" reflected by the crew's reflexive reaction to Sandy's hands-on style, or legitimate gripes about micromanagement. I wrote about this in an earlier article at the start of the season: http://www.huffingtonpost.com/entry/female-bosses-as-seen-on-tv-is-bravos-captain-sandy_us_59192435e4b0bd90f8e6a6e6. Other viewers and I thought Sandy made a terrific first impression. We loved seeing that she is willing to jump in, help the crew and get her hands dirty (so to speak) all for the greater good of ensuring a charter is running smoothly.
With the help of a Facebook group for Below Deck fans , I posed some questions to Sandra Yawn, AKA Captain Sandy, about the current somewhat-controversial season (Season 2) of Below Deck Mediterranean. I also asked her what it's like to be a female boss in a male-dominated industry - add to that, with chauvinistic crew members on board.
This is the first time we're seeing a female captain on the Below Deck franchise. How common are female captains in the industry? What do other female captains tell you about how they're treated versus male captains?
There are not many female captains in this sector of the industry. Once employed, we are treated equally but just as with any other male dominated industry, it's not easy to navigate.
Emily H. wants to know: You and Hannah seemed to have a rough start. Did you not trust her until after the first charter?
I have a reputation in the industry as a top charter captain and as I had yet to work with her, it of course takes time to build trust. That's not something you develop overnight. You can call it 'micro-managing', I call it being a smart captain.
Had you known how Adam and Bobby were talking about Malia as an "it" (they literally once said "it". I have to rewind the video and capture that) & an object to compete for, would you have had a talk with them? If so, how would that conversation have gone?
I do not get involved in crew relationship dynamics below deck.
On a related note, Jennie M. asks: Did you address how Adam was speaking to Hannah? We only see that on camera you made a small comment when Adam said Hannah had "resting bitch face" and then you're shown walking away. Maybe we didn't see your full reaction?
I actually took Adam aside and I gave him shit.
What do you now see as fireable offenses from this season's charter?
Onion tampering and promiscuous behavior with charter guests.
Mary B. wants to know: Was Malia ever addressed regarding anchor watch when the chain was twisted and she was in the galley with Chef Adam?
It wasn't Malia's fault. Anchors twist often when you're in deep water and you don't have a large enough V.
Which of the crew would you yourself choose to work with again (I'm not referring to on-camera, but in real life)?Are there crew members from other seasons you would select?
I would work with everyone again from this season's charter. I like them all. (Obviously, not if someone isn't going to respect the rules such as the food preferences. I wanted to fire Adam when that happened but we were mid-charter and the chances of replacing him were very slim, but if that were a non-issue).
Kelly B. wants to know if you would do the show again.
I know you read my piece about the "chauvinist edit" because we tweeted back and forth about it after it was published. Do you think there was an emphasis at the beginning of the season on the cast having to adjust to the newness of a female captain? Do you think they got over any prejudices they have?
Keep watching and let me know your thoughts. We can definitely discuss that again when the season is over.
Leigha M. wants to know: What has been the greatest obstacle to overcome as a female captain?
Navigating everyone's doubts about women being in charge.
Skye L. just wanted to say: "Captain Sandy: We appreciate seeing a strong female leader in an otherwise super misogynistic show!"
Below Deck Mediterranean airs Tuesday nights at 9pm/8c on Bravo.
Calling all HuffPost superfans!
Sign up for membership to become a founding member and help shape HuffPost's next chapter
This post was published on the now-closed HuffPost Contributor platform. Contributors control their own work and posted freely to our site. If you need to flag this entry as abusive,
send us an email
.