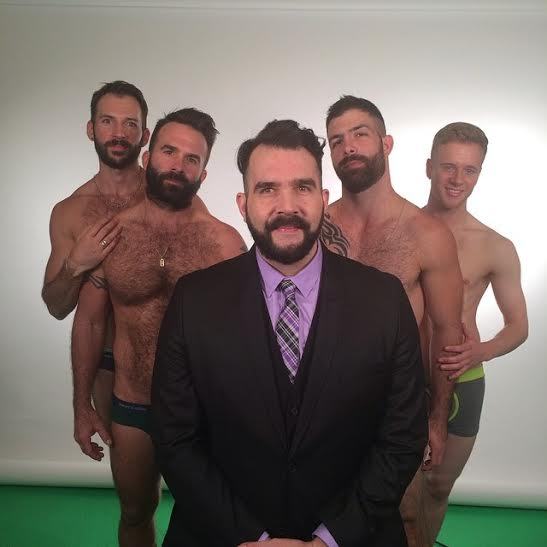 When I first began digging a bit deeper into the available information about queer artists, it became clear that Jonny McGovern's Hey Qween is an amazing resource. Finally, I found a place where the interviewee was treated as a three dimensional person -- not just a drag queen or a porn star or a transexual actress. A long-time staple in the gay-entertainment community, Jonny is able to get from his guests completely candid, genuine dialogue, which is sorely missing from most media representations of queer artists.
I had the opportunity to turn the tables a bit and ask Jonny a few questions about the life and times of the one and only Gay Pimp, from his high school graduation in front of the Sphinx (really) to working on Ricki Lake. Sit back, relax and enjoy the tea.
You had a very unique, kind of "Cady Heron from Mean Girls" adolescence. What was it like for you living abroad as a kid and being the most fabulous high school student in Egypt?

I was more goofy than fabulous in high school. I was a truly faggoty drama club kid with a rattail. I was senior class president, but definitely not a "cool kid." When everybody else was listening to "cool" music, I was obsessing over Martha Wash and Loleatta Holloway records and watching The Golden Girls on VHS tapes my grandmother would record and send to me. I loved living overseas. My dad is an amazing artist and art teacher who immersed himself in the cultures of where we lived and learned the languages.
My mom was the director of Planned Parenthood throughout Asia and the South Pacific, braving the world advocating for safe sex and women's health. At eight years old, we moved from my hometown of Brooklyn to Thailand. At age 13, we moved to Egypt and lived there until I graduated from high school. We had our high school graduation ceremony in front of the actual Sphinx -- now, that was pretty fabulous. Category is international glamour, darling. Going to an international school and traveling allowed me to observe and learn so much about the world at a young age. I saw and did so many exotic things that "America" was almost fetishized to me. Fast food, American TV shows, pop culture and the mall were the exotic things to me.

How did you get started doing the shows in New York that would eventually lead to the creation of the Gay Pimp?
In the early 2000s I was hanging out in the lower east side. The hub was a theater called Surf Reality, which was a laboratory for experimental performance of all kinds, cutting edge comedy, performance art, burlesque and home to Faceboyz Open Mic. That stage was the first place I really found my voice and started to develop an audience doing multi-character solo shows. Several of us from the scene got together and created a series of midnight musicals called Grindhouse A Go-Go. The shows were dirty, trippy, messy, edgy and hilarious. "The Wrong Fag To Fuck With: The Gay Pimp vs. Eminem" was part of that series.
A cartoon-ish campy musical in which a glamorous uber-gay pop star, the Gay Pimp, battled a homophobic Eminem at the MTV Video Music Awards. I was pissed off that everyone in the mainstream media seemed to be giving Eminem a pass when hating on homos. What better way to protest than a midnight musical at a tiny theater on the lower east side? It struck a nerve and we ended up having lines around the block.
People started to ask me to come and perform places as the Gay Pimp. It was at the height of Britney/N'sync era of bedazzled teen pop stars and big production numbers. Gay Pimp was like a hyper-sexualized, dirty, gay parody of that. With a posse of soccer boys and drag queen cheerleader back up dancers dubbed "The Dirty Gay Teen Pop Superstars" I would show up to these tiny bars like The Cock, Larry Tee's Club Badd and even the legendary rock club CBGB, and put on these crazy elaborate shows. A Broadway director/producer named Richard Jay Alexander saw us and loved it. He offered to produce my first music video. "Soccer Practice" was a song in which I turned up the volume on the homoerotic to be found in every "manly" pastime. That video became a pre-YouTube Internet phenomenon.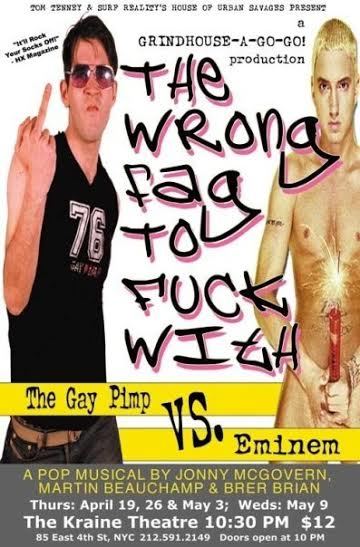 When did you realize that the Gay Pimp character had become a phenomenon?
It wasn't like today where you could just count the views on YouTube or get placed on one big blog and have everyone discover it at once. It truly was viral. I wasn't even fully aware it was happening when it was happening. It began in the video bars across the country where people kept asking the VJs to play the video over and over. People were emailing it to each other; it was being downloaded from my website millions of times. Suddenly, it was in heavy rotation on MTV Europe and Asia. I went on tour to Japan and was mobbed.
What started out as being a parody of a pop star for a joke became crazily real for awhile. In the video the Gay Pimp was super gay AND in charge. He was in the power position turning the typically homophobic characters of frat boys and jocks into video hoes performing to please. We hadn't really seen anything like that in a music video. It was a power flip that gay men found empowering and sexy. To this day, I still get guys telling me that video helped them come out. Or just to cum. I get told that the guys in that video were the first thing on the internet some youngins jacked off to!

I know a ton of hilarious gay men, and almost no well-known gay male comedians. Is it harder to get work in comedy as a gay man?

Certainly until recently gay men on screen were, and a lot of time still are, relegated to sassy gay friend, sassy gay secretary, sassy gay assistant, etc. But I'm really heartened to see shows like Looking, Transparent, How To Get Away with Murder, Empire and Modern Family, among others, where we can see some fully fleshed-out gay characters. I also think the explosion of scripted gay web series will lead to more opportunities for up-and-coming comics to change that. When we have a place to write our own experiences and share them with others our voices start to become louder and louder and Hollywood will take notice. After the next season of Hey Qween! my next project is a scripted series called Ooooh Bitch . It's about the super-candid conversations you can only have with your homo homies, the real T, the stuff that makes you say..."Ooooh Bitch!'

As far as the fact that there is no gay comedy superstar yet, I'll say this: Gay guys can be a tough audience for each other. We've never really put our weight behind someone. Funny straight ladies are easy for us to love, we adore drag divas and worship perfect-bodied porn stars, but as far gay men relating to a "regular" gay comic on stage, the gay comic often has to work harder to win them over. Naturally we as a people are funnier, prettier and more interesting than everyone else, so we are a tougher judge of each other. But when you get a gay audience you get them, and it's the best feeling ever.

I used to regularly fake sick from school so I could stay home and watch Ricki Lake (I was obsessed after a childhood viewing of Hairspray). What was your favorite experience working on the show?
It was a delight! Ricki Lake and Executive Producer Michael Roarke really gave me the freedom to completely be myself, not a caricature of what it meant to be a gay man on a daytime TV show. The show was done very off-the-fly. You wouldn't really know what you were doing that day until you got to the set. One day I arrived at the studio to find the "God Hates Fags" devils: Fred Phelps' daughter and her hell spawn were going to be on the show. They told me backstage that Ricki didn't want to be on stage with them and wanted me to be the one mainly interacting with them.
Now, I knew that they would at some point start quoting the bible as to why homosexuality was so evil, and I certainly don't know any pro-gay bible verses to come back at them with. So, instead, I wrote a little note and put it in my shirt pocket. When they started quoting the bible and coming at me with hellfire and old testament bullshit, I pulled the note out of my pocket and said, " Well, I actually have a lil' note here in my pocket from a friend it says, ' Dear Jonny, Gay is A-Ok! Keep lookin' cute and feelin' cute! LOVE, JESUS!'" The audience went wild, Ricki cracked up, and the guys in the booth cut to commercial as the Phelps family fumed next to me on stage. Thank you Gay Jesus!

What's the story of how Hey Qween got its start?
I had just co produced my web series Whoa, Dude, a clip show about the best intentionally and unintentionally gay footage from across the internet with "thestream.tv" and it had gotten over a million total views. We had a meeting where they asked what I wanted to do next. Off the top of my head I said, "I wanna do a show called Hey Qween!"
The initial, very basic, concept was almost Charlie Rose-esque, just a conversation that would start with me greeting my guest by saying, "Hey queen!" and we would talk. When I had the brainstorm to add Lady Red into the mix as my drag Ed McMahon, it all started to come together. Then the idea of each guest snatching a trophy, in the tradition of voguing balls, and getting a lap dance at the end of the interview really started to get us in direction that it ultimately took. I love the idea of comedy talk show where LGBT stars can sit down and GET INTO IT!
Our guests get to tell their stories in ways we don't get to hear in mainstream media. We get to have drag and performance legends teach the children through their experiences. It's a place to be positive and upfront about sexuality and the gay experience but also a place to cut up, kiki and have a gay old time. It's a continuation of what I've always done. Taking something typically "straight" and giving it a queer twist. I wanna get it on broadcast TV, but in the meantime we are launching a new HEYQWEENTV YouTube channel.
We're raising money to not only make the next season of Hey Qween! but if we are able to raise enough funds, we wanna expand the Hey Qween! brand online with spin-off shows. A monthly "Hot Tea Hey Qween!" where me and and Lady Red will be joined by a panel of queer comics taking on the hot celeb gossip of the week, a go-go fitness show from Hey Qween! lap dancer Greg McKeon, and JUDGE LADY RED where Lady Red will solve couples arguments as only she can.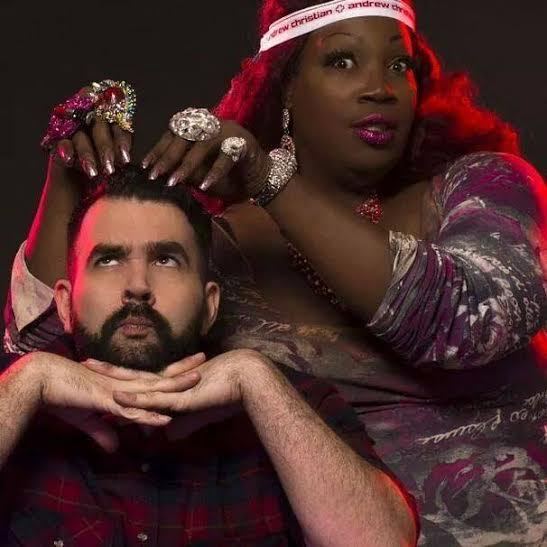 Anyone who has seen an episode of the show knows you are always joined by the positively ethereal Lady Red Couture, who also sings the Hey Qween! theme-song. How did the working relationship between you and Ms. Couture develop?

Before we get into how much I love Lady Red let me tell you a lil' secret. The theme song is actually written and sung by a lil' white hummingbird named Adam Joseph who has been my go-to music producer and collaborator for a decade. Lady Red does give us what we call "Black Lady Screamin'" at the end of each episode as the guest gets their lap dance and she riffs on the theme song. I'm Lady Red's #1 fan. She bold, hilarious, gorgeous, and ALWAYS keeps it 100. I first saw Lady Red doing her act in Calpernia Addams' variety show and thought she was a revelation. She sang a version of R. Kelly's "I Believe I Can Fly" called "I Believe I'll Get High," and I was hooked!
Later I asked her to appear in the video for "Dickmatized" as one of the banjii girls at the basketball court. I produced and wrote a song for her called "Rich White Woman." Even after that we still didn't really know each other that well but I just thought she was so talented and funny that she was the perfect match to be my Hey Qween! co-hostess. I called and asked her if she wanted to do the show with me and she accepted on blind faith. Our chemistry on screen just clicked. She definitely didn't know what she was getting into, though! One week I was asking her to do some lil' web show and the next week she was sitting with RuPaul having a conversation about her makeup. Talking about gagging, hunty!
It thrills me to be able to introduce her to a bigger audience because she is truly a star. I never have to script anything for Lady Red. She just a quick wit and naturally funny. I've read internet comments that say things like, "I don't like how they MAKE Lady Red eat during the show." Honey, you don't ever MAKE Lady Red do anything. If she's eating on the show its 'cause the bitch wants a snack! I just let her be herself and that's more than enough. We've become the best of friends through the last year of making Hey Qween! and we wanna go on tour together this summer hosting Pride Festivals and bringing our Hey Qween! nightclub show to cities across the country. Plus you can see her in my upcoming music video "Gay Questions."

One of my favorite things about your public persona is how unabashedly sex-positive you are. What do you have to say to people who might be concerned that a song like "Dickmatized" (which has over a million YouTube views) perpetuates the stereotype of gay men being hyper-sexual and promiscuous?

I refuse to subscribe to the idea that we have to neuter ourselves into a non-sexual, non-threatening box to be accepted by the mainstream or to deserve equal rights. I refuse to think that doing a song like "Dickmatized" somehow sets us back. It's actually the opposite. For so long we weren't allowed to express those feelings in the media and some people would like to keep it that way. But I will continue to come from a sex-positive place because there is nothing shameful about gay sexuality. It's been a double standard. We should be able to express gay desire as freely as straight people do with their desire in the media. Stay scary, stay sexy, be safe, and keep boners alive. Like it says on the needle point I have on my desk on the set of Hey Qween! "Every Boner Is a Blessing."


Who have been your favorite guests on Hey Qween!, and who are some people you'd love to have on in future seasons?

I've really loved all the guests but it was the thrill of a lifetime to have RuPaul as our 2nd guest. I had interviewed him once before on my podcast but never in person. I had written him an email just before we started shooting and asked him to appear, not necessarily expecting to hear back. But like a beautiful gay dream he wrote back personally and said he thought it sounded fun. When he showed up everyone was nervous, but once we heard his iconic laugh in the audience during our opening segment we knew things would be alright. When he came to the couch he was so open, funny and so wise. It was like a masterclass. I have loved him and everything he has done since the beginning. He was extremely inspiring to me as a role model, as someone who was able to carve out their own lane in show business where one didn't exist before.

For Season 3 we'll definitely have more of your fave Drag Race qweens. Adore, Jinx, Raja and Alyssa Edwards have all said they'd love to come on. As for guests I'd love to have, just to name a handful that I hope will read this and contact us...I'd love to have Mathu Andersen, Miss J Alexander from Top Model, Brent Everett, Brent Corrigan, Sean Cody, Big Freedia, Kevin Allison, Jeanne Livingston, Martha Wash, Suzanne Bartsch, Kid Fury, Chris Crocker, Kevin Aviance, Lady Bunny, Dink Flamingo, The Cast of Looking. My ultimate dreams, Andre Leon Talley and Jackee from 227. Truly, the list goes on and on.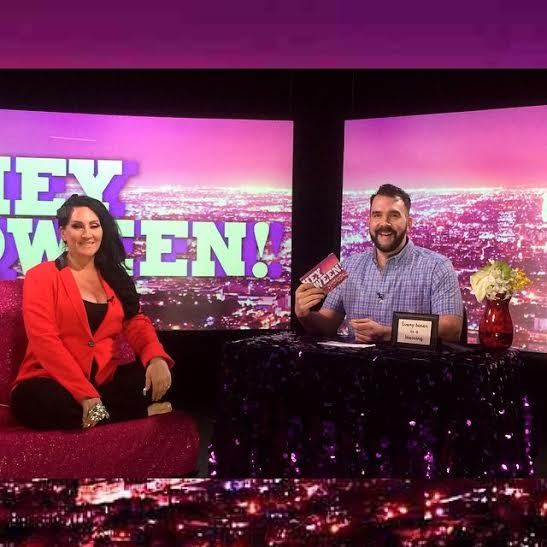 Of all the fabulous things you've been able to accomplish in your career, which one are you the most proud of?
Through all the projects I've done, especially the nine years (and still going) I've been doing my podcast, "Gayest Of All Time," I've gotten people telling me that what I was doing made them feel more confident and secure in their ability to be whoever they wanted. Because I was so comfortable with myself it helped them do the same in their lives and that's a pretty cool thing.
Popular in the Community